While ski resorts across the nation are packing up and ending the season, Mt. Hood is getting more snow than ever! Timberline sent over this picture of Palmer, and yes, the chairlift is completely buried. Talk about a lot of snow! Mt. Hood Meadows set records this month for the most snowfall in April with over 4ft in just the first week. The storms keep hitting and it doesn't look like the snow will stop anytime soon. You know what this means right? Even more snow for our park during the summer months!
Spots are filling up fast, so hurry up and fill out your registration! We know you want a taste of that record breaking snow.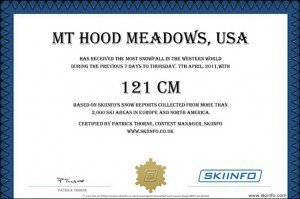 Windells - BMX. Skiing. Skateboarding. Snowboarding.