I love Summer, and I love skiing in the Summer. I took some time off of coaching this year so I could enjoy summer and attend the camp up in Alaska. My Alaskan adventure took me skiing, back to my home town, Halibut fishing, Camping in a wall tent and a family wedding of my Girlfriends (in the rain, but thats to be expected in Alaska!)
So when I finally made my way to Mt. Hood it was the end of June, things are just starting to heat up with session 3 going on while Sammy's event is in action. Sammy helped build one of the funnest and floatiest jumps that the mountain has seen. It was a real pleasure to hit on the Practice day, until i overshot by a bit and was sent down on a stretcher. But I am A-O-K, here is a video from the days session.
Oh well, you make one to few speed carves going in and the tangy booter sent me an extra 50 feet lengthwise, sending me into the flats where I commpressed my back. I am ok, and things will be pretty mellow for the rest of the summer, but thats how I planned it to be anyways, so considering my situation I am just happy I got to hit the funnest jump of the year, at the funnest place on earth.
July 1st, the day slated for the comp the day after practice was haulted by ill-fated winds and fog that creeped down the glacier. I think things should look good for the next day, I hope the event goes down, because people were really having fun hitting that jump and I expect to see some new moves go down on it. I won't be able to compete, and will not be skiing hood, but the good news is my sister Erica Durtschi will be coaching Session 4 in place of my absence so if she is your coach, be stoked. Also Witt Foster, Collin Collins, Nicky Keefer, and Steve Stepp and snowboarder Corbin Clement are all out at Hood coaching, filming for Session Videos, and representing Saga all summer long.
I big thanks to Sammy Carlson for Inviting me to his event, and a Huge thanks to windells for all the support during my skiing career, this place really helped me build my skills to be where I am today.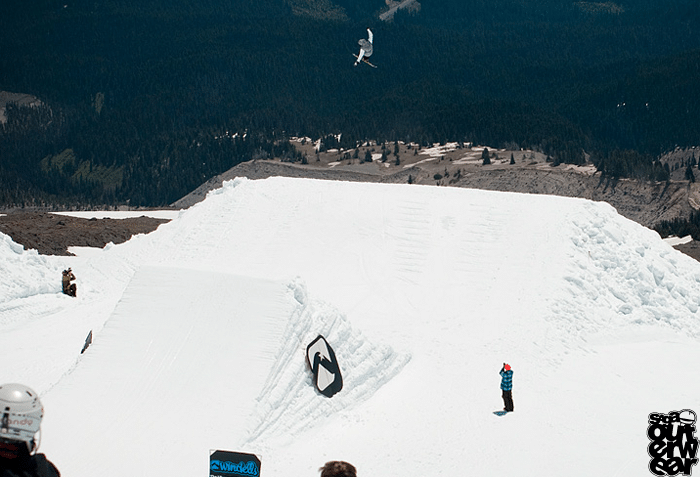 Wearing the new Smoke and Mirrors Vest, Tail grab over this monster felt like a 360 but was a 7
No related posts.