Words by Dave Pires
Max Hill is defined by his drive to be different. It is his creative fuel – the foundation of how he thinks, dresses and skis. Ask him about his riding and he'll tell you bluntly, "Once someone does something even relatively close, I won't touch it again." His uncompromising method has fooled some of his critics into believing he lacks the skill to keep up with skiing's best young talent, but don't let the illusion fool you. Max is an artist. He isn't motivated to be good at what everyone else is doing, in fact he couldn't have less interest. His passion is doing what no one else has done before. "We try to get the shot that we can only do once, to get away from it," he continues, "If we fuck up, the shoot is over. It's sketchy, but amazing. One shot, one off. It's everything you ever wanted to capture."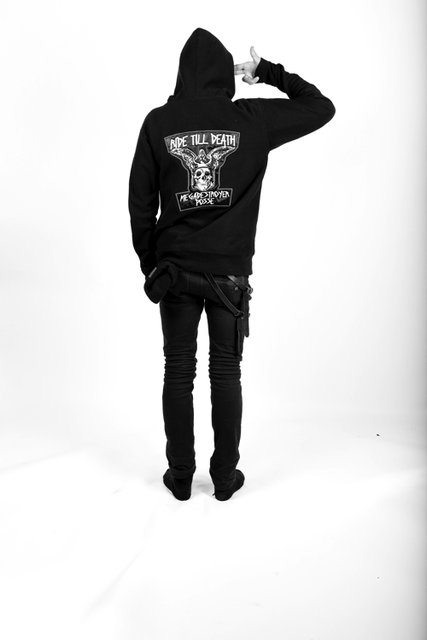 Photo: Dan Brown
One winter, two falls
Last winter Max's be fresh or die trying mentality was more definitive than ever. In September, 2009, he was at IF3 in Montreal when Chris O'Connell, the editor of SBC Skier, informed him that he would be on their next cover. It was Max's first magazine cover, and at the time he was also featured in a major ad campaign for Whistler-Blackcomb. Being unexpectedly appreciated and legitimized by a mainstream ski media that he had never put much stock in was a huge encouragement, and going into the winter momentum was at an all-time high.
Max's first filming mission of the season was a trip from Vancouver to Edmonton with the Voleurz crew. In Clearwater, BC, he was towed off the roof of a school in an attempt to gap over a road and bordering fence, but came up short on his first try, dropping 25 feet, landing on the fence and fracturing his tibial plateau in two places. He returned to Vancouver, packed his bags, and disappeared to his home town of Collingwood, Ontario to nurse his wounds.
After two months in bed Max was ready to start skiing again. He flew out to California to do a spring shoot for his ski sponsor Line, and from there traveled to Whistler for the Orage Masters. In practice on the day of the competition, Max went superhumanly big on the hip, overshot and broke his back. "I fractured my L1 [vertebrae], and some F-word, fundamental something, I pulled it off my spine," he says. His mother was watching the event's online stream back home in Collingwood and saw his fall happen live. She immediately called his brother in Toronto, his brother called his closest collaborator Cole Drexler, and while he was still lying on the snow, Cole handed Max the phone.
"She was watching me talk to my brother, smoking a cigarette because I was really stressed out, while they were trying to hook up oxygen to my face. She was really mad about that. (laughs) They were trying to hook the tank up to me and they were getting really mad at me, and I was getting really mad at them. I didn't want the back brace, the neck brace, all that crap. I was trying so hard to get up, but it just fucking hurt so bad, and my brother just kept me calm and told me I would be alright. I just wanted to get somewhere where I could lay down that wasn't on the snow. I was getting so cold, because we were in costumes and it was raining. It was a bad day."
Max arrived at Vancouver General Hospital in an ambulance late that night, was blasted with 70mg of morphine, and passed out. He had to wait most of the next day to see a doctor, and then with himself in a wheelchair and Cole carrying his ski boots, checked out of the hospital that evening. Ordered by his doctor to take three months off, Max was once again on his way back to Collingwood. This time he was there for five weeks before he hopped in a car, drove across the country to Mammoth and started skiing again.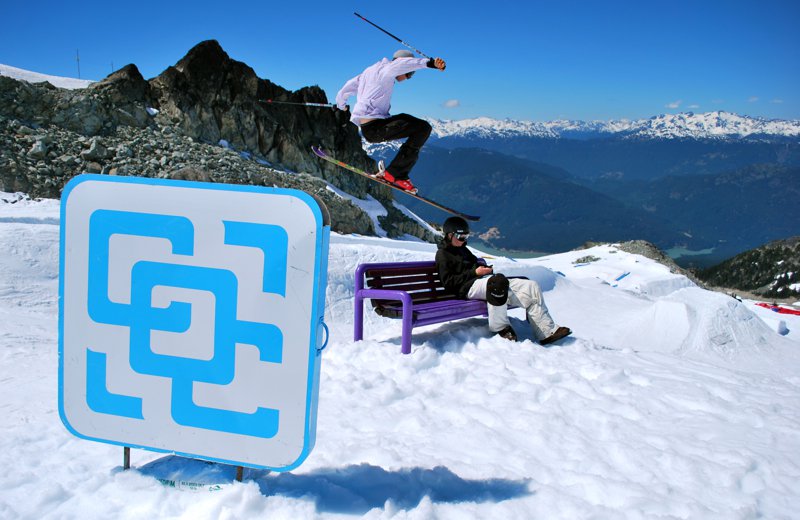 Photo: Jeff Schmuck
365 days, 365 ways
Max has the well-earned reputation of being a bit of a rock star. When we spoke he mentioned, "I'm on day 11 of partying for 365 days straight. I've probably been partying for straight longer than that, but I just started counting." Now it's possible to write this off as part of his self-destructive streak, or to being raised in the woods by Doug Bishop, but to really understand Max you have to know about his older brother.
Taylor Hill, known almost exclusively as Trash, is Max's biggest influence. He is a man Max (also known as Axe Kill) speaks about often, and always with love. Trash is also a bit of a rock star. Until they broke up earlier this year he was the drummer in Fritz Helder & The Phantoms, a successful Toronto-based "high-fashion pop" band, and currently he's drumming live with local DJ and producer Conor Cutz. Max shares his brother's ear for a beat, and is notorious for his ability to kick a genuinely good freestyle when he's in the mood. "It's basically just when we drink now," he says, "It's definitely not something I'm pursuing, but it's really fun when you get the right words flying our of your mouth." Trash is also a very stylish man, and is clearly the origin of Max's love of fashion and emphasis on style. Max even has Orage ship his outerwear straight to Trash, who chops it up and stitches it back together refitted, before sending it to wherever his little brother's two suitcase life has carried him.
After his cross-country drive, Max began his summer at Mammoth and Mt. Hood before traveling back to Whistler to do some skiing at Camp of Champions. He arrived unannounced, with no passes and nowhere to stay, and promptly moved in with some friends staying in the camp's staff housing. When his friends checked out, Max made himself at home. He enjoyed a personal room for over a week before Camp of Champions, assuming the room was unoccupied, moved people in. Never one to be fazed by details, when Max discovered strangers in the room he was squatting, he simply found another empty room.
Eventually leaving Whistler, Max finished his season skiing and filming at Mt. Hood until he couldn't tolerate his bootleg winter anymore. "At one point I just packed up my shit and left that day. I was sick of skiing, the snow was brown slush, and the kids kept getting younger," he says, "We went to Portland for a day or two. I was supposed to sleep in the car, but at one point I spilled something all over the seat and took off running. I passed out in the street and woke up to a street sweeper about to crush me."
If at this point you have the impression that Max is fearless, it's because he appears to be. He takes nothing seriously, and is never worried. Asked if he's feeling healthy, his deadpan answer is, "No. My knee is probably going to blow out soon. (laughs) I'm going to do something stupid." As his injuries (or disregard for them) and the occasional looming street sweeper will indicate, in addition to making Max a brilliant skier, his fearlessness can have consequences. But in the tradition of others who have lived the fast life, for Max to have worries they will have to catch up with him first. The truth is, labeling Max fearless is like labeling Trash a scenester or labeling the skiing we do extreme. It's not a distillation of what our subject is, it's throwing a blanket over it and saying it looks like a blanket. Max is human. He has fears just like the rest of us. To his benefit and detriment he's good at suppressing them, and the roots of his relentless partying likely have less to do with his brother's lead, and more to do with what truly scares him.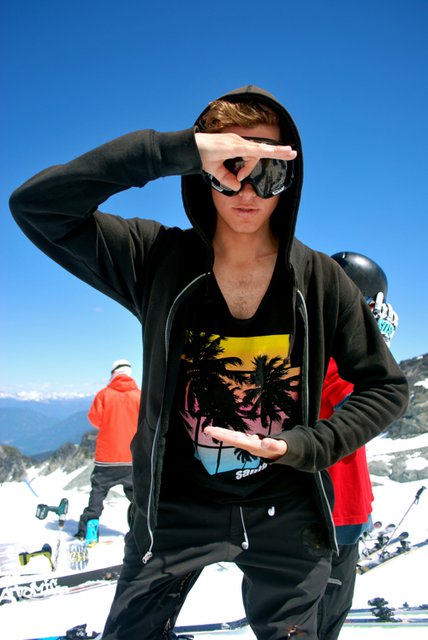 Photo: Jeff Schmuck
"This is it"
This winter Max began his most promising season yet by moving to Salt Lake City and continuing his popular online video series CASG Sundays. "I'm moved in with Ian Compton," he says, "We're going to try and bang out a CASG edit every Sunday, but it'll probably end up being every other Sunday. We're going to do a lot of street at night, and during the daytime we'll ride Canyons mostly." As for his strategy, "I'm going to take it pretty mellow, but I'm definitely going to go hard when it's time. I'm just going to ride with three people tops, because the more people I ride with, the more people's style gets caught up in the wash. I'm going to stick to a smaller society, that's what I like. In SLC it will be me, Ian Compton, Jeff Kiesel, and probably Ian Wade… We're going to be doing a lot of over the top things this year."
What you have glimpsed through this brief window, positive and negative, is simply Max being Max. Everything he has accomplished stands for a belief that requires rare courage. A belief in prophecy before profit. A belief that even if you are doing something differently than everyone else, and especially if you are doing something that has never been done before, as long as you are true to yourself you will succeed.
If Max has one forebear in skiing it is J.F. Cusson, our sport's founding rock star. Cusson was the guy who did every trick first, and had talent in buckets. In Oakley's seminal team movie Session 1242, he was not the skier with the most style or the biggest tricks, but he was the first skier to ever film an entire segment (save one trick) spinning unnaturally. Unfortunately that masterpiece was Cusson's final real segment. He eventually succumbed to a combination of injuries and mental pressure, and disappeared to pursue his equally exceptional talent for golf.
Asked what he would be doing if he wasn't skiing, Max replied, "I would have graduated university by now, probably in law like I had planned, and tried to travel as much as I am now." Surprised? You shouldn't be. "The reason I was so interested in law was because I was introduced to wrongful law enforcement at an early age. They could pull jurisdictions right and left on me and I could only reply with, 'Sorry Officer.' So I was interested in law at a young age to basically learn what rights I had in my pockets to walk around with. I truthfully can't answer what I am going to do after skiing because I can't kick my old habits. When I do, I can imagine it will be some sort of 'Blinded by the Light' opportunity that I will seize in the moment and run with as far as I can. Basically I'm on some Michael Jackson shit right now… 'This is it.'"
It's difficult to shake the feeling that, if his dice land the wrong way, Max's ski career might come to a premature end for the same reasons as Cusson's. If so, his attitude and talent ensure that he will excel in fashion, music, law or anything else he puts his mind to. But Max isn't worried and you shouldn't be either. He is on the cusp of turning 23, and while most kids his age are wondering what to do with their incubated lives, Max is living a work of art. Relax, raise a toast to his health, and enjoy the privilege of watching this artist at work. If you could do what he does he wouldn't do it, but you can't, so he's got no choice.
Photo: Dave Pires