For those wanting to earn good karma by taking part in an effort to keep our environment clean, Bio Skieur (http://www.bioskieur.com) and Verbier (http://www.verbier.ch) are organizing a Mountain Clean-up Day on June 6, 2010. Volunteers of all ages are welcome to join in this fun outdoor activity to clean up litter left behind as the winter snow melts. The meeting point is at the base of the Le Châble gondola at 9h30.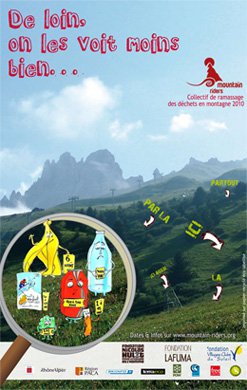 Look closer!
Schedule:
9: 30 AM: Welcome and defining cleanup sites, distribution of picnics by Reichenbach catering.
10 :00 AM: Bus ride up to Verbier and beginning of mountain clean-up (free bus ride to Verbier and gondola ride to Ruinettes for clean-up participants)
13 :00-15 :00 PM: Meet back at Médran for group photo, refreshments, organic food stands and information at the Mountain Riders stand. Enviro Quiz prize draw, with an organic cotton Picture T- Shirt (http://www.picture-organic-clothing.com) and a pair of Faction skis (http://www.factionskis.com/gear/skis) to win!
15: 25: Bus ride back down to Châble from Verbier post office.
How does the mountain clean-up work?
The mountain clean-up will take place on the slopes from Ruinettes to Médran. Each participant will receive gloves and garbage bags to collect the litter that was left behind as the snow melts away. Participants will form pairs, with one person collecting recyclable waste and the other one collecting non-recyclable waste.
Environmental information and entertainment:
Throughout the day, the environmental association Mountain Riders (http://www.mountain-riders.org) will have an information booth set up with all sorts of exhibits on environmental issues in mountain areas.
Don?t forget to sign-up for the pic-nic on the Verbier Mountain Clean-up event page on Facebook (http://www.facebook.com/event.php?eid=123711060977786&ref=ts) or email william@bioskieur.com! In case of bad weather, the event will be cancelled. Check this page again the day before, to find out.
Related Links : Verbier, Bio Skieur, Mountain Riders, Association Elements, Picture Organic Clothing, Faction Skis, Summit Foundation
Watch this short video about the journey of a cigarette butt traveling up the food chain…