Images: Will Derrick
Words: Faith Robinson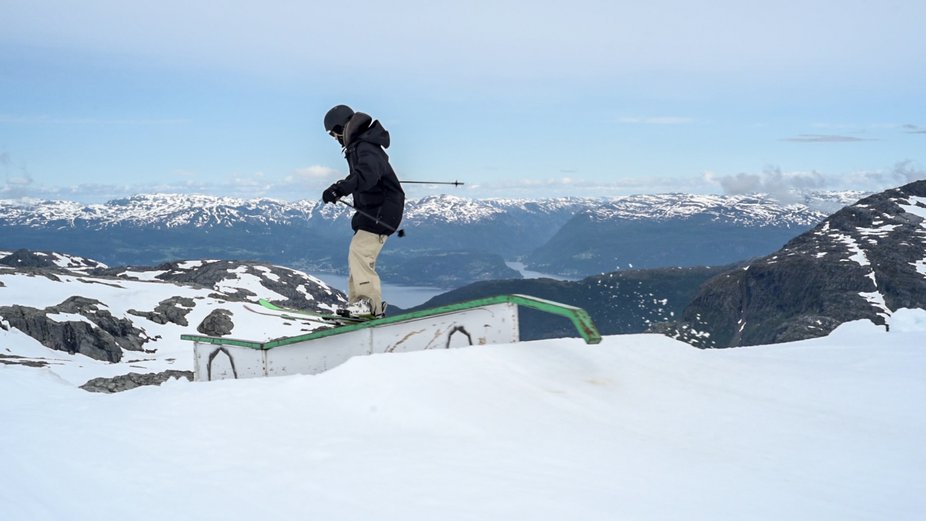 Will enjoying one of Fonna's rail features - as well as the amazing view of the fjord
Summer skiing in itself sometimes warrants a mixed and often confused reaction from those not in the know - but as far as holidays go, there's pretty much nothing better than a week or two in the sunny slush having fun with your friends in the park. For the mainstream UK freeskiing scene, resorts like Les Deux Alpes in France call the names of many, enticing us there in our hundreds with that well known promise of glacier riding, partying, heaps of fun activities post-ski, and a relatively easy drive / flight / train time door to door. Despite the huge amount of positives that racked up in L2A's favour however, something still felt missing as I anticipated a week's annual leave from work this summer to ski – and as the weeks grew closer during the year, I realised that it was adventure I was craving. So in an attempt to satisfying something more, we packed the car for an ambitious drive from London to Jondal, Norway, to explore the Fonna Glacier and the incredible national park area of Folgefonna that surrounds it.
Two ferries, around twenty hours driving and four countries later (UK, France, Belgium, Germany, Denmark and Norway), we followed the final fjord around and down into Fonna's base village of Jondal, where we'd be staying for just under half of our ten-day trip. Immaculate waterside cabins in pale yellows, reds and blues made up the picturesque town, which consisted of a handful of shops and a regular ferry connection to the nearby city of Bergen. Snow-capped mountains cradled the flush, green valley in exactly the way you'd expect from a remote Norwegian village near the Telemark region: which itself is allegedly where skiing first became internationally recognised as a sport. The presence of this history (people have been skiing for more than 4000 years in Norway) – and the ice-age evidence of the land - could be felt at every moment of our trip, which admittedly made for a pretty magical experience in sync with the breath-taking summer scenery.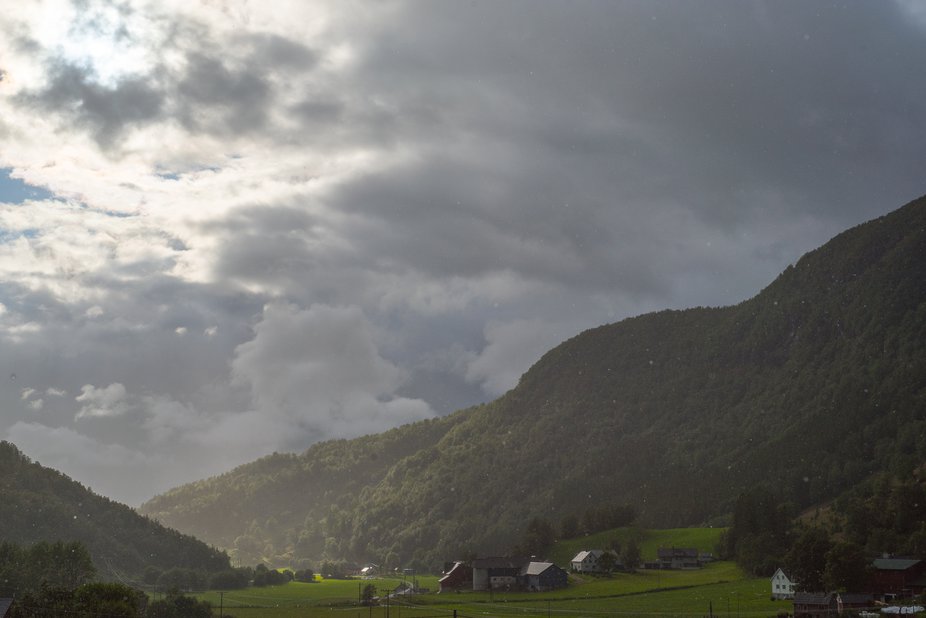 Some of the magical scenery around every corner of Folgefonna
Despite the excitement of what surrounded us, there was one thing that we could not escape: the rain. After three or four weeks of insanely idyllic conditions – which made for a number of tempting, viral images of sunset shoots and glacier lake surfing – our trip (as well as our vision) was literally clouded by the weather once we arrived. Blue skies and sunshine may have been evident in Jondal, but the (amazing) 40-minute drive up the mountain towards the slopes changed everything through the presence of fast-moving, low-lying cloud that threatened us with rain every day. Even so, the snow was fantastic. Compared to the riding in some European summer resorts, Fonna allowed for skiing from 9am right through until around 4pm – even if there was an almost consistently fine drizzle.
One drag-lift paved way for either a single line of park on the glacier, or a single piste – but despite the area being a little bit limited, the set up was brilliant. A handful of easier rails, boxes and kickers warmed up the line for some slightly more challenging rail / wall ride features, before two large jumps completed the bottom of the park. Everything was great and well maintained; although one downside was that the park didn't usually get shaped in the mornings until around 11am. Seven days riding did not get dull in terms of the features however, and the park – on top of the welcoming and friendly vibe from other tourists and locals alike – made for an amazing few days on the hill.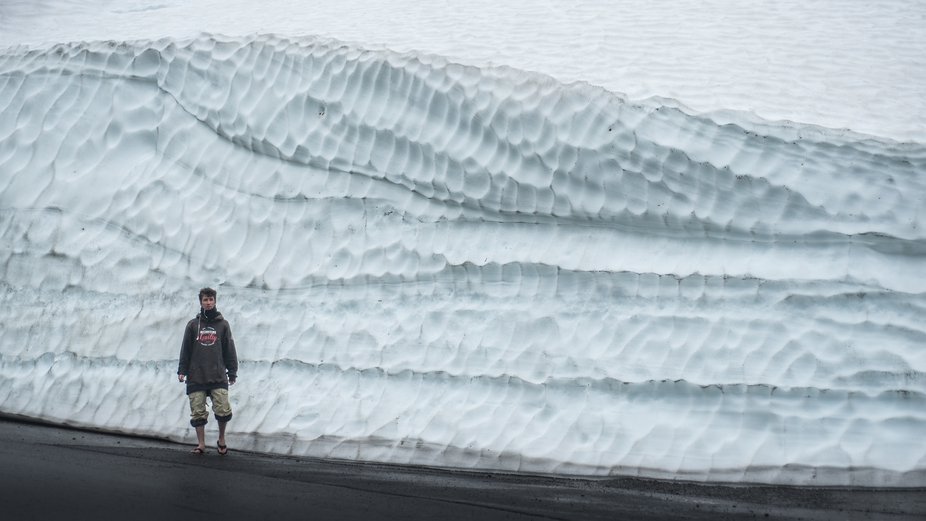 Evidence of record level snow fall from earlier in the summer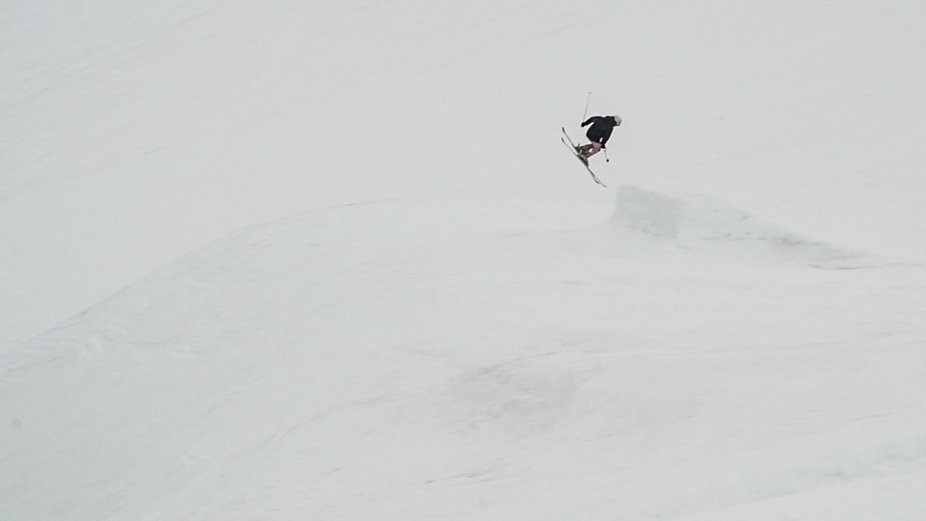 Faith flying over the first of Fonna's two larger jumps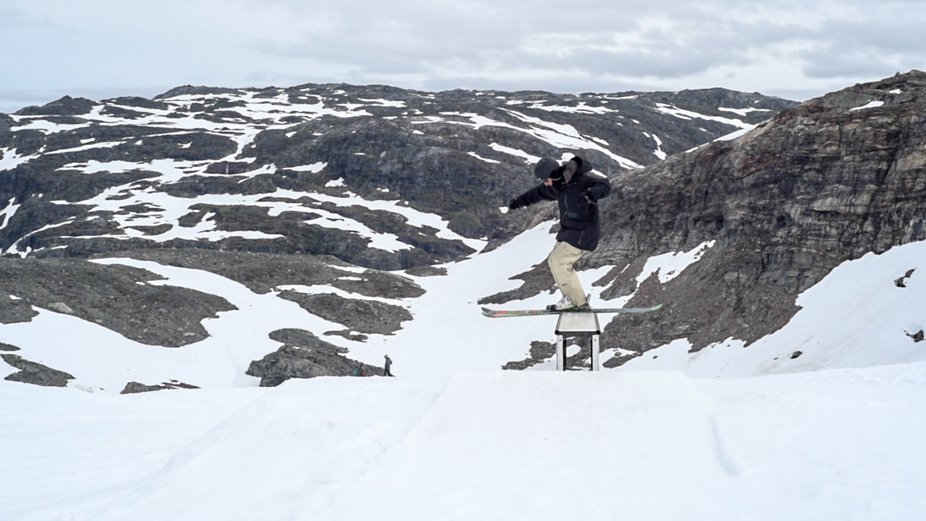 Jump, jump, rail, wall-ride, box..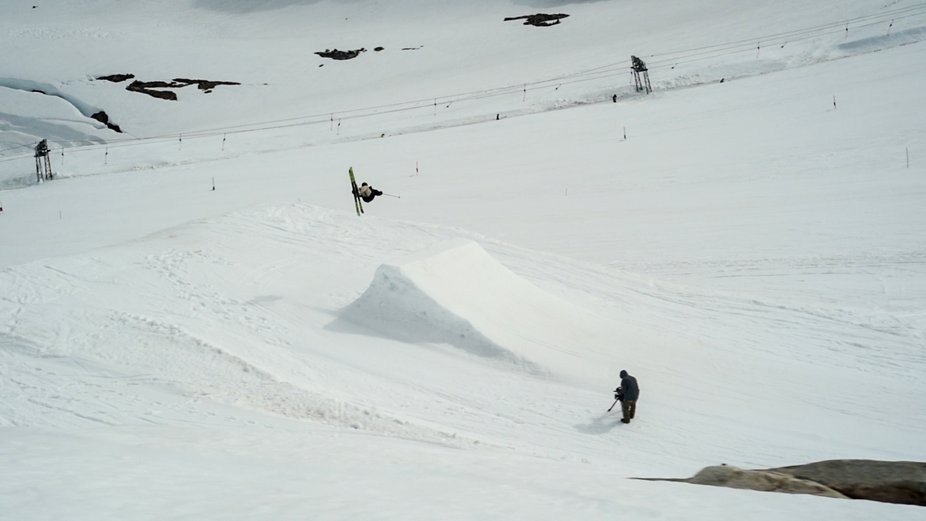 Will getting some shots on the second kicker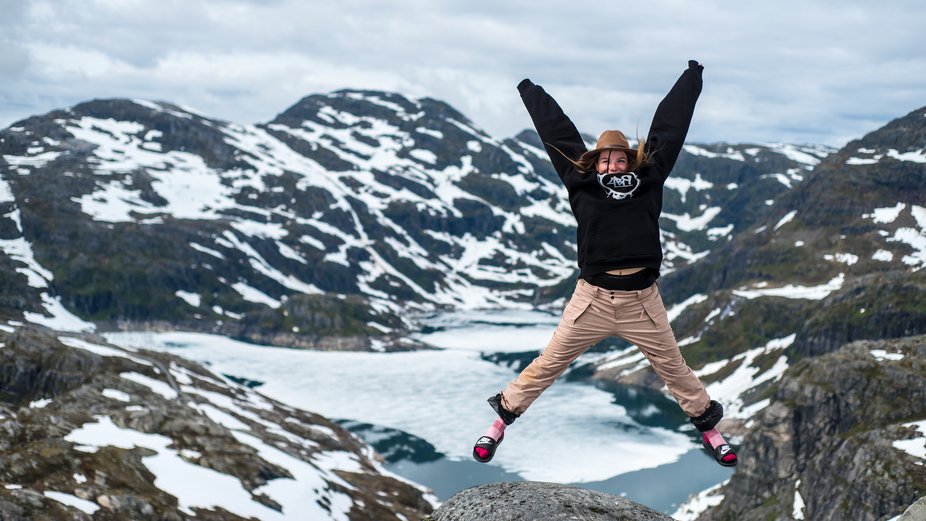 I really couldn't hep myself with this one
Other activities were just as adventurous, with a huge range of stunning trails that only led to even more beautiful views. Aside from the park, cross-country and racing skiing were both options, as well as guided glacier treks – but for us, the fjord back down in Jondal provided the best post-ski fun. Complete with a picturesque pebble beach, ample washed up wood for a fire and a perfect diving board into the water, we spent many hours chilling out with some beers watching the sun finally set so much later than in the UK at around 10:30pm.
In Jondal, we stayed at an absolutely perfect hostel – which seemed completely set-up for tourists like us who just wanted to explore and ski. Breakfast, packed lunch and dinner were all part of the (pretty cheap) package, and what really topped off our stay was the sunken trampoline in the garden, which we tried as best as possible to use more than the numerous groms staying in the same place. After a few days, we tried another accommodation option, which was reportedly "as close as you can get to Folgefonna without camping". Across a bridge over a waterfall and along an empty road halfway up the route to the glacier, we found ourselves occupying the ground floor of a family home that had been converted into a (incredibly affordable) holiday apartment. The village, named Flatabø, was mostly an agricultural hamlet, but its location between soaring green mountains and glacial waterfalls made it insanely idyllic.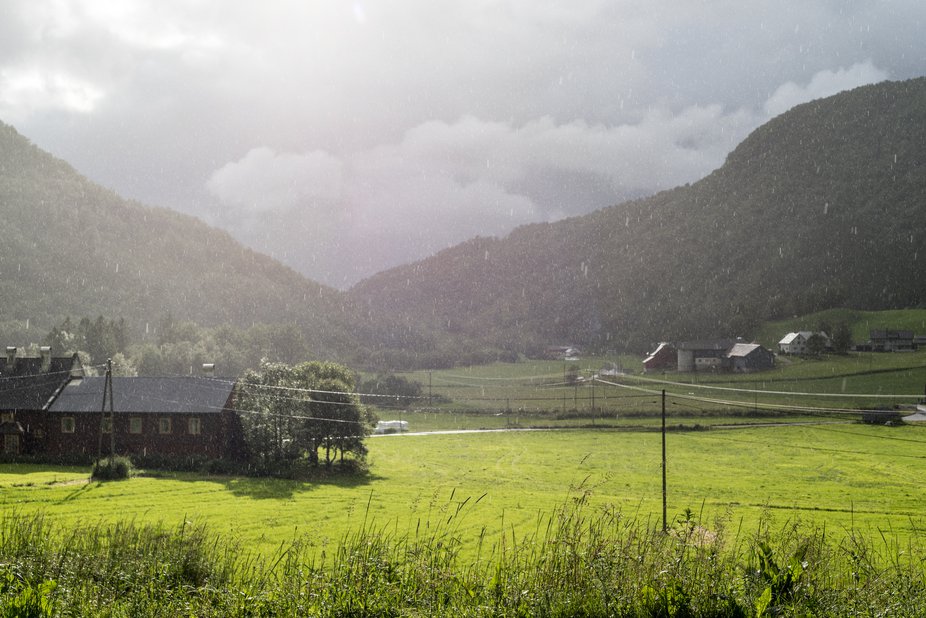 The afternoon view from our apartment in Flatabø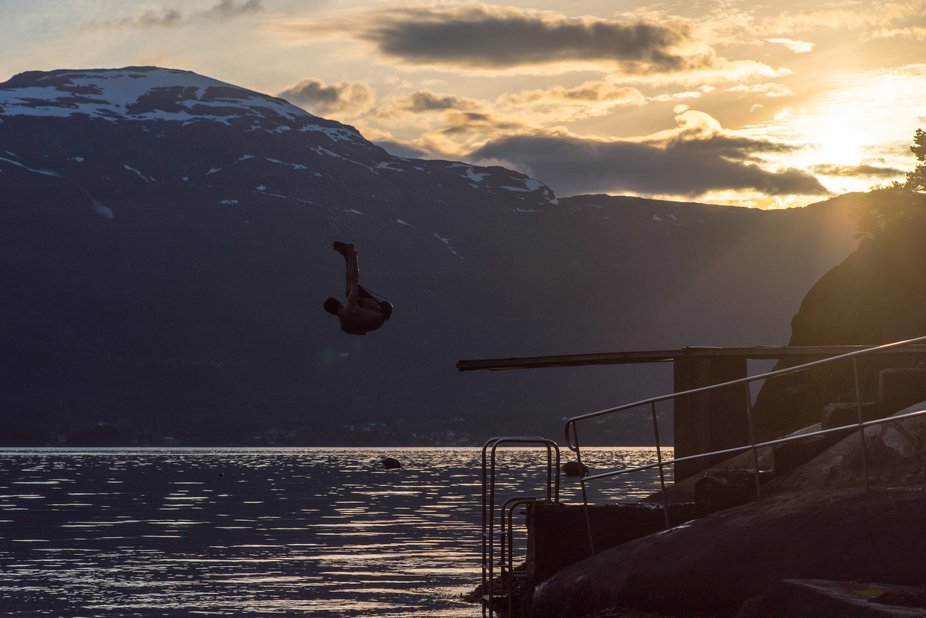 Sunset diving into the fjord at Jondal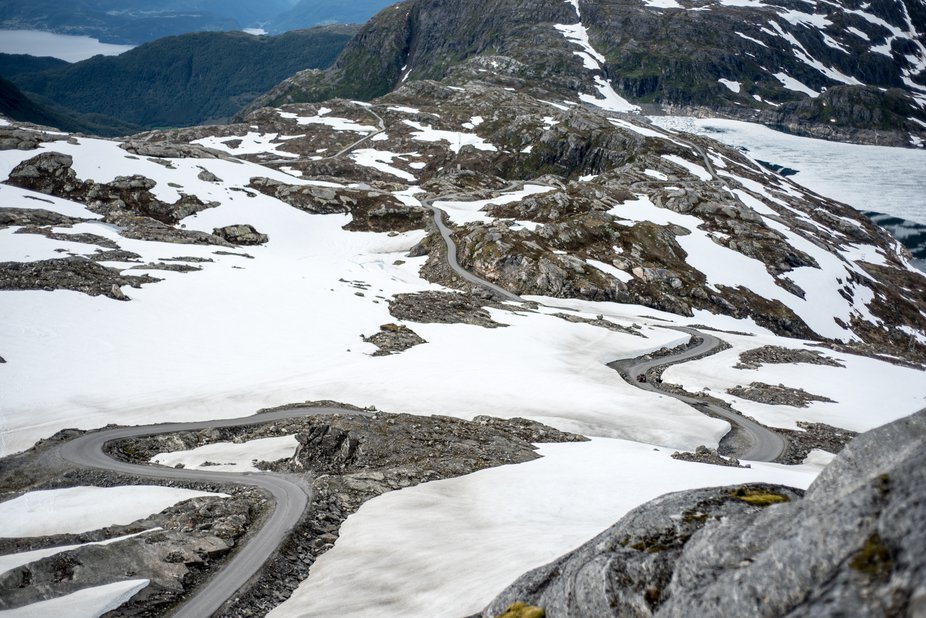 Journeys to the hill every day could never get dull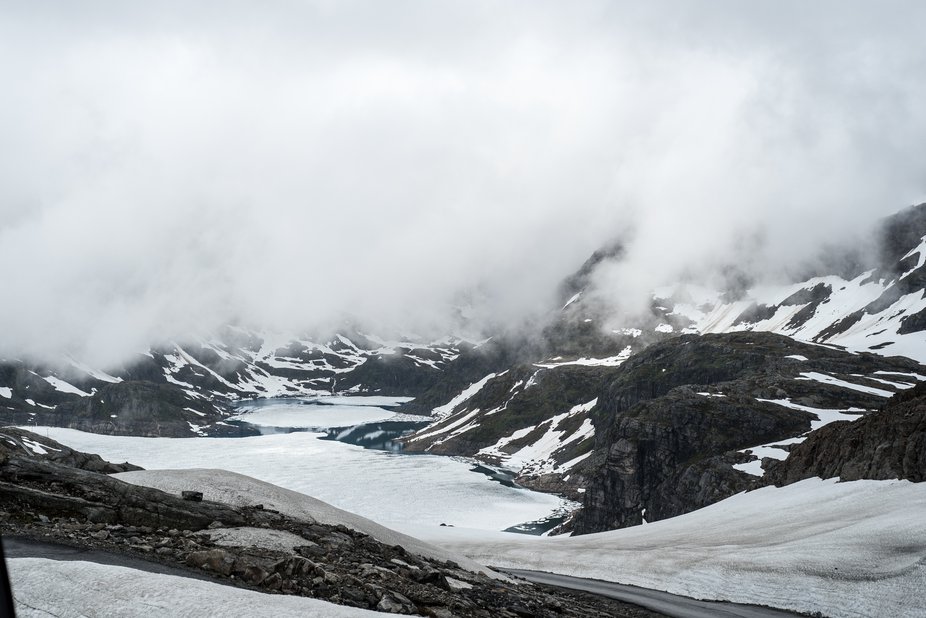 Stunning frozen glacial lakes occasionally revealed by the clouds
After such a long journey to Norway, there's no question that the journey home was both long and kind of miserable: the flat, featureless motorways in Denmark immediately felt a world away from the awesome landscapes we'd inhabited back North. But what's for sure is that our trip not only allowed us to pursue something we love (skiing); it also gave us an amazing opportunity to embrace the nature and the culture that skiing finds itself within here. I couldn't recommend the adventure more, and I hope to explore every new ski area with the same sense of curiously, respect and wonder that we felt in Norway.
Questions and comments about the trip below welcome – or you can find us on instagram: