words and photos by Jeff SchmuckMonday at the Molson/Coors Brewery in Vancouver started out like any other typical day. The factory workers clocked in, brewed up some golden goodness, bottled it, packaged it, and shipped it out to frat boys and alcoholics across the country. But as day became night and the factory shut its doors, hardhats and hairnets were replaced with toques and bandanas as a different breed made themselves at home in the brewery's lounge.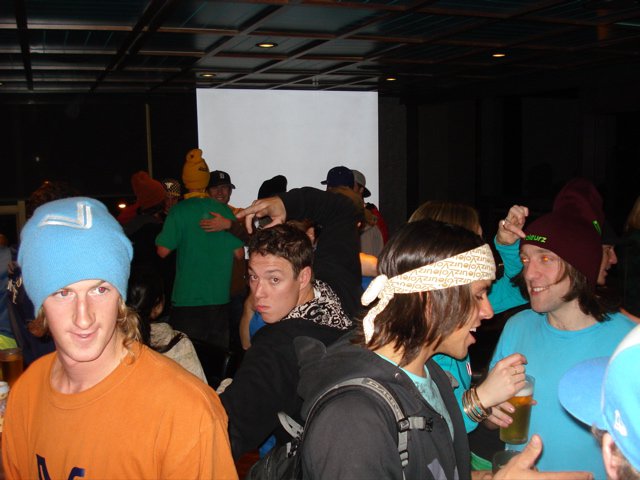 Coors Light hooks it up.This was the unique scene for Voleurz' world premiere of their new flick More For The Astronauts. For those that have been hiding under a rock for the past year, Voleurz is a BC-based crew of skiers, snowboarders, skateboarders and mountain bikers whose mantra in life is just having a damn good time. The group of friends (who also produce an up-and-coming clothing company of the same name) includes riders from Victoria, Vancouver, Whistler, Vernon and so on, with notables TJ Schiller, Josh Bibby, GT'ing superhero Josh Stack and Joe and Cam Schuster holding it down on the ski side of things.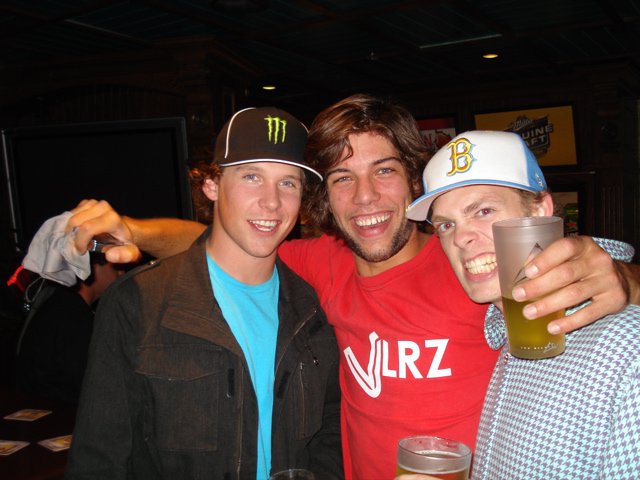 TJ Schiller, Jan Schuster & Scott TolanLast year's successful and critically acclaimed film, Yes No Maybe, mixed the four sports together in a surprisingly well-oiled manner, as most multi-sport flicks now-a-days tend to fall flat. With that in mind, More For The Astronauts was expected to be nothing less than a huge step up for the crew, and even a blind man could have seen that it was.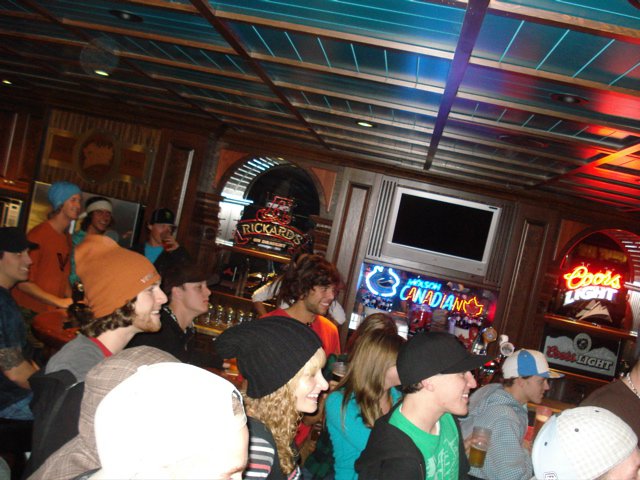 Remember the old Batman TV series from the 70's where the Penguin, Riddler and Joker's hideouts were always filmed on an angle? That's what I was going for with this picture. The setting for the premiere itself was intimate and refreshing, with an invite-only crowd of under fifty people and being that it was at a brewery, free beer. The snowboard side of things opened the film, with each and every boarder having more fun shredding Whistler/Blackcomb than everyone there was having drinking free beer. The boarding was followed with extremely impressive skate segments from Corey Klim and Jan Schuster (who also co-produced and directed the film), proving that the Schuster family might be one of the most talented action-sports families in the game.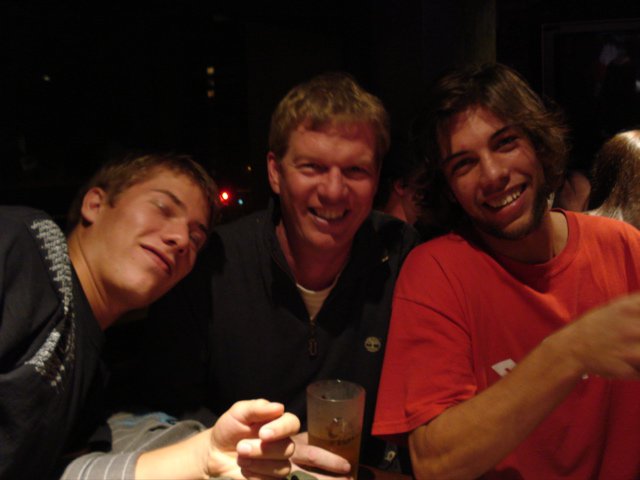 The Schuster family: Joe, Don & JanAfter the skating, skiing took center stage and TJ showed off his unquestionable skills to pay the bills while Bibby's part let everyone know that he's one of the most unique and fun skiers on snow. The closing segment belonged to a Schuster of another name, the increasingly infamous Joe, who proved that last year was his breakout season in a big, big way.
Voleurz co-founder Darren Rayner and Josh BibbyAfter the lights came on, the party spilled out onto the mean streets of Vancouver, which the Voleurz crew proceeded to take over like no one else in this town can. The crew is now en route to Victoria for two shows to tear BC's capital city a new one, and then the cross-Canada Deep Space Tour begins. You can check out all the info, complete with antics and tour dates at http://www.voleurz.com, and if you see that the boys are coming to town, check it out. You wont be disappointed.