The first day of The Mora Banc Skiers Cup, the big mountain portion of the event, went off in Andorra yesterday. The snow conditions, a semi-hard crust which was thawing throughout the day on top of lots of rocks, were off-putting for a group of riders with their whole seasons in front of them. But they put on one hell of a show regardless. I know some guys felt disappointed they didn't have a chance to show the full level of their skills but the head to head format, the Europe Vs America face off and some very creative skiing all combined to make for a competition afternoon that everyone in attendance will remember for a long time to come.
The teams lining up at the peak. In the red corner, North America. In the blue, Europe!
The text below is a recap of runs as I called them live, there may well be some mistakes in there but be sure to check out the full replay of the event, it was a great watch.



The face, a map to help understand my words a bit
Run 1:
Loic Collomb-Patton Vs Sage Cattabriga-Alosa

Loic opened the Skiers Cup with a captain's run down the centre of the venue. Big straight airs up top and a smooth three off one of the medium drops at the bottom. Flawless. Simple linked turns from Sage are a thing of beauty and his run down the looker's left was something to behold but he didn't have the technicality or stomps of Loic. Europe 1-0.


Seth Morrison Vs Sam Anthamatten
Seth started his run strong with a fast technical section up top but got hung up on a trademark backflip off what those of us who had watched the Junior Comp earlier had come to know as backflip cliff. Sam however did not take it easy despite Sage's fall, sending a huge run with three massive airs and a massive cross slope 360 in the middle. Probably run of the day. Europe 2-0.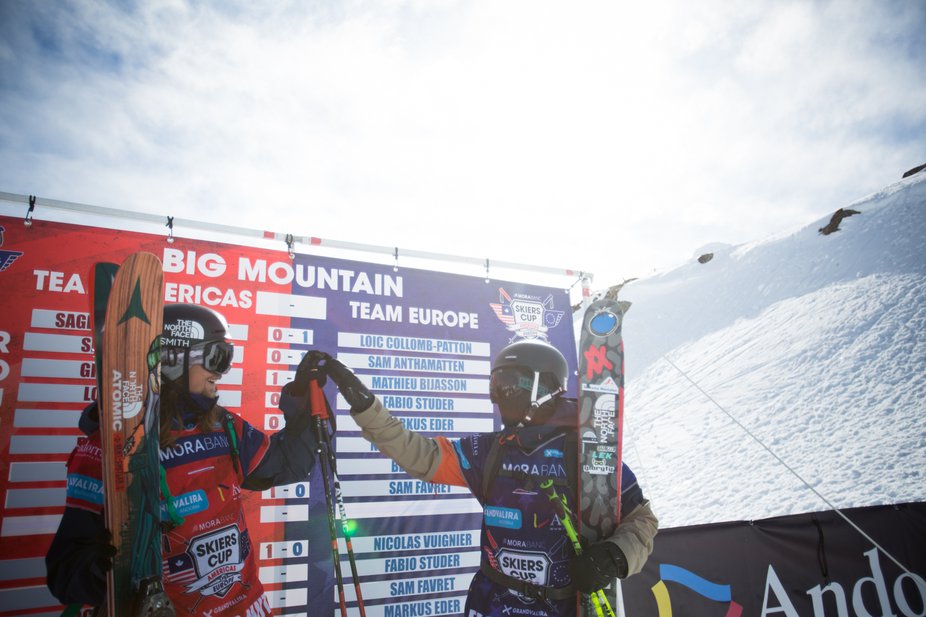 Friendly rivalry. Good vibes after the first run.
Mathieu Bijasson Vs Grant Howard
Mathieu sadly went down about halfway through his run, having nailed a technical top section but Grant Howard nailed pretty much the exact run Mathieu was going for, technical down the middle up top, 360 off backflip cliff, smooth down the bottom. Europe 2-1.


Logan Pehota Vs Fabio Studer

Logan had an awesome run going on before stumbling on his final hit, a massive cliff that had been designated 'out of bounds' for the Juniors, he didn't crash just caught an edge and spun out 360 ski ballet style, best save of the day for sure. Fabio Studer put down a clean run with a smooth 3 in the middle and a clean double stager at the end to take the win. Europe 3-1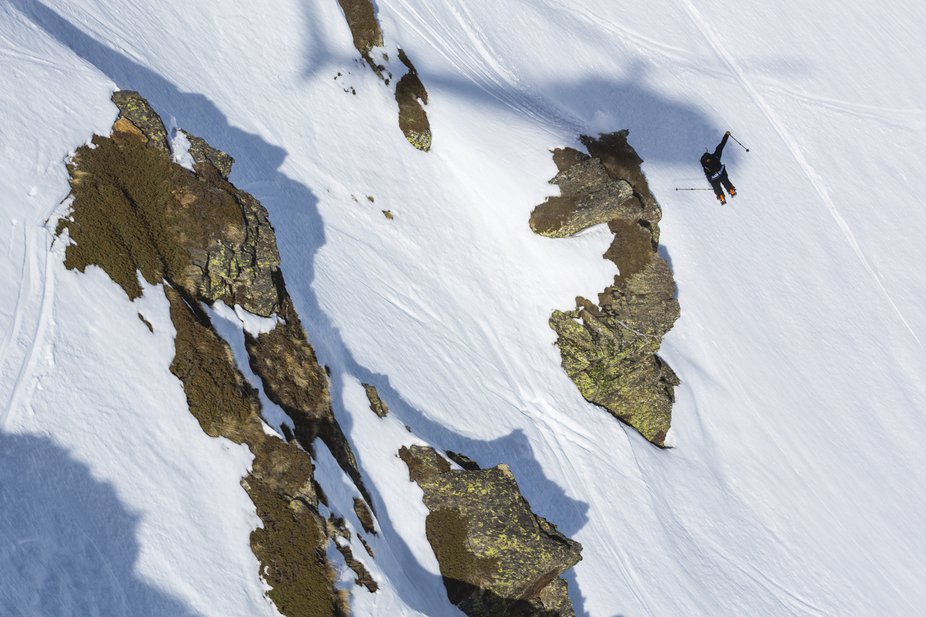 Grant Howard boosting a big three off backflip rock
Markus Eder Vs Tim Durtschi
Markus set the bar really high with his run which had some bug drops and a rodeo 5 off the windlip in the middle of the looker's left section. Tim started his run off with a line nobody had yet figured out through the top section to cork 3 on a windlip but sadly went too big on a backflip off backy cliff, killing his chances. Europe 4-1
Parker White Vs Nicolas Vuignier

Parker White, in his grudgingly borrowed but very fetching teal helmet, set a super high standard in his run. 3 into the face off the top wind lip, the shuffle to switch carve butter 180 (hard to explain), big laid out backflip out of the left windlip and then a big drop to finish. Nico had a clean, stylish run with a cool windlip wallride up top but couldn't match Parker. Europe 4-2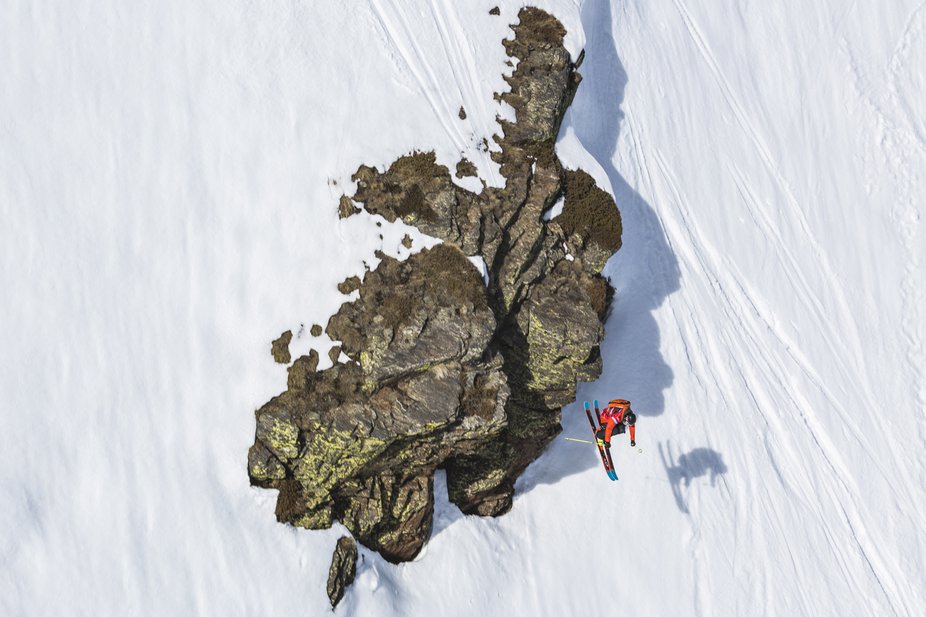 Logan Pehota going big
Benedikt Mayer Vs Tanner Rainville

Bene had a little hip check up top on his first hit but then threw down a pretty stellar run including a flat 3 off the left windlip and a big drop to end. Tanner had a very smooth run and characteristically stylish run, but didn't really have any standout moments and so the judges awarded the win to Bene. Europe 5-2.
Nick McNutt Vs Sam Farvet

Nick Mcnutt had the best opening combo to a line out of everyone, carve down slope 180 up the windlip to switch 180 back in. The rest of his run was banging to with a flat 3 off the left windlip and a nosebutter 3 off a drop to end that had me on my feet. Sam Farvet couldn't match the line and the point went to Nick, leaving the scores 5-3 to Europe at the end of the first runs.



Run 2:


Nicolas Vuignier Vs Grant Howard

Nico stepped it up for his second run, three in to the venue up top and then the same cornice wallride from the last run and a cork 3 midway with banging style. But it wasn't enough to deny Grant 'The Secret Weapon' Howard his second point of the day, for a run with a tech top section to big drop down the centre, a semi-corked 3 off backy cliff, and a rad 180 stall 180 back in on the lowest windlip. Europe 5-4.
Nick McNutt Vs Fabio Studer

Nick McNutt put down the same run as his first but couldn't stomp it quite as cleanly with a couple of bobbles, which opened the door for Fabio Studer to put down a clean, fast run with a big 3 for the win. Europe 6-4.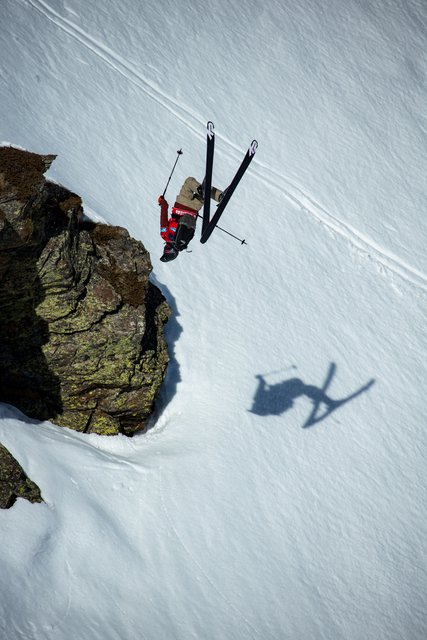 The unmistakable Morrison
Sam Farvet Vs Logan Pehota 

Sam had a great run going on but went too big on a 3 on backy cliff and crashed. Logan started off his run with a nosebutter 3 off the top cornice and then put down a smooth run down the looker's left with multiple stomped drops to take the points. Europe 6-5.
Tanner Rainville Vs Markus Eder
T-Rains stepped it up for run two with a 180 in from the top cornice, and then skiing the top section of the face switch in to a switch 180 cliff drop. He kept it smooth all the way down ending with a pretty big drop way to the looker's left. Markus Eder put together a technical run with a couloir to drop on the centre of the face, a big three over the blind roller to the looker's right and a sizeable drop to end. This was a tough call, I thought the judges would give it to Markus but in the end T-Rains took it and leveled the scores at 6-6.
Benedikt Mayer Vs Parker White
Facing up to P-White based on his first run was a big task. Bene went big both on the drop out of the technical zone up top, on his backflip cliff backy and at the bottom of the course. It still wasn't enough though, Parker came out firing with a nosebutter handrag 5 off the top cornice, a smooth run with a big backflip on the left windlip and a big drop line to end. Points to Parker. 6-7 North America.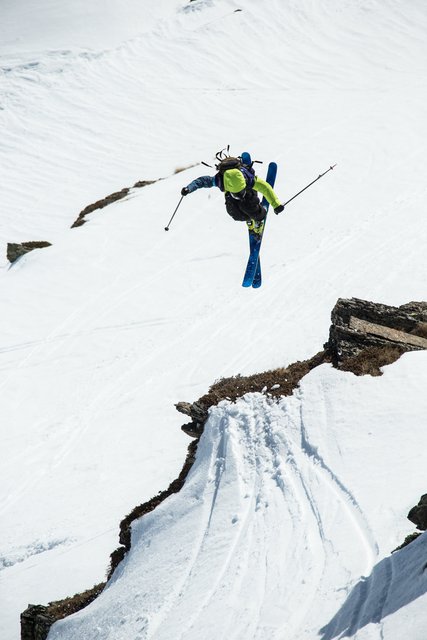 Mathieu Bijasson, late invitee, underdog... killed it.
Seth Morrison Vs Mathieu Bijasson

Seth got some redemption on his first run, riding out from his backflip on backy cliff, albeit slightly sketchy. Nobody does backflips quite like Seth though. Mathieu took pretty much the identical line to Seth but skied it cleaner to level the scores at 7-7.
Loic Collomb-Patton Vs Tim Durtschi

This was probably the hardest call of the whole event. Loic skied fast and hard down the centre, stomping two big drops like they were nothing and then shuffling to switch for a switch 180 off the final drop on the looker's right, a great run. Tim got redemption on his first line, stomping the creative route to corner three again, landing his backflip cliff backy perfectly and ending with a smooth drop. The judges took a while on this but eventually gave Loic the points. It was harsh on Tim who put down one of the better runs of the day but that's how head to head can go. Europe 8-7.
Sam Anthamatten. Europe's MVP got sendy!
Sage Cattabriga-Alosa Vs Sam Anthamatten

The final duel of the day was a banger. Sage makes skiing look so easy and he put down a great run with some airs and drops and creative line through a narrow gap and off a drop at the end. He came up short, tranny'd the rock and rode out clean. Good run. Sam Anthamatten however blew everyone away with the final run of the day, massive clean air up top, followed by an insane grass/rock ride in the central area every rider had stayed away from and then the biggest air of the day by far to finish off. There was a hipcheck/backslap on the final one but clearly the judges decided to overlook it because Sam took the points and the win on the day for 9-7 to Europe.
Watch all the runs here: http://www.skierscup.com/live-score/ Embed below but it's way easier to just view the runs at the link.
http://www.dailymotion.com/video/x3pf4zx_replay-big-mountain-mora-banc-skiers-cup-grandvalira-2016_sport
I'm so stoked for backcountry slopestyle to go off tomorrow, we have heli rides in, beers and BBQ at the venue and 16 of the worlds best skiers to watch. Hype. Read all about it right here on tuesday!