With the rising popularity of backcountry skiing, more people than ever are getting out there. Whether you're building a jump, or skinning to a sweet line- please understand how your equipment works. Take an avy class, and know your tools, and proper backcountry procedures. So many people come to MSU to ski. We have a backcountry club (Backcountry Club at MSU and Backcountry Squatters for ladies looking to ski with ladies!) to help prevent these kind of incidents. If you go to school in Bozeman and need a partner to ski with, please use these awesome resources!
From the Gallitian Sheriff's Office:
"On Thursday, February 4th, 2016 at 2245 hours, dispatch received a 911 call from the girlfriend of an overdue backcountry skier. Nathaniel "Alex" Wright age 20 an MSU student from Alaska was skiing alone in the History Rock area of Hyalite Canyon and was supposed to be home by 8:30 P.M.. Temperatures overnight in Hyalite were in the single digits above zero. Sheriff's Search and Rescue responded with snowmobiles and backcountry skiers and used night vision from Reach Medical Helicopter. At about 6:30 A.M. Rescuers located Wright deceased. He was off the trail well north of History rock near Hyalite Creek.
Sheriff Gootkin extends his condolences to family and friends and stated, "Sometimes we let the closeness of the backcountry in Gallatin County lull us into a false sense of safety. You may be able to see town but you really are in the back country and if something goes wrong it can turn tragic. In this case it appears he had an equipment malfunction which led to a cascade of events ending in his death."
Remember; be prepared to stay out over night, take a partner and let someone know where you are going and when you expect to return. The exact cause of death is being investigated by Deputy Sheriff/Coroners."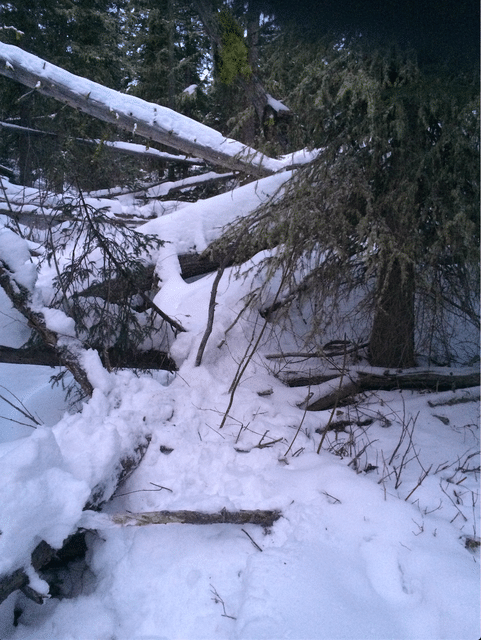 Photos courtesy of the Sheriff's Office: The area where Wright was found.