By Elijah Lee
In The Beginning, There was BEER.
"The Molson Canadian Freeskiing Challenge, attended by more than 100 athletes, ran off stellar lines in stormy weather. The Red Mountain staff and production team pulled together a fabulous competition.� So quoted chief of staff Jack Carey, and so it was. Many props must be given to the organizers, headed by the illustrious wizard, Jack Carey, without whom this remarkable event would not have taken place at Red Mountain, BC January 14-18.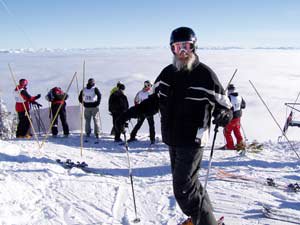 As the fog drifted in, athletes' determination to compete diminished. At the same time, organizers buckled their boots, zipped up their jackets, and weathered the storm with nonchalance and the drive of seasoned skiers. Red Mountain Ski Area, located in the heart of the Kootenay mountain range, rivals any resort out there for hospitality AND skiing. Deer Valley meets Jackson Hole-or something like that. For steep, sustained pitches, granola, amazing tree skiing, incredible snow and complete friendliness, look no further than Red.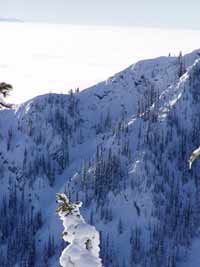 Seven o'lock in the morning, day of the finals. Athletes loaded the frosted chairs in a fog thick enough to actually have substance. In the lead, Kootenay locals Moss Patterson and Stephanie Gauvin could feel the heat of charging competitors breathing down their necks. The fog forced judges to separate and spread down Roberts Peak in order to watch the entirety of competitors' runs. With tough conditions on one of the toughest venues, the women led the charge. Fernie local Sarah Oakden, coming from sixth place, smoothly ripped the steeps to finish in third place. Sharing the podium and the limelight, veteran Kit DesLauriers of Jackson Hole and newcomer Victoria Cole of Whistler deserve credit for throwing down. Kit charged the upper section with aplomb, rivaling the best of the men for her intensity and strength. Victoria Cole stuck a fifteen-foot drop, the only woman to do so, proving her skills are to be reckoned with.
Then along came the men. Coming into the final run, Moss Patterson held a commanding four-point lead. Tough on his heels and tied for second place, Frederick Luytkis of Norway and Brice Rollet of France demanded attention. Attention they received, but props they did not. Brice skied maybe too aggressively, lost control and fell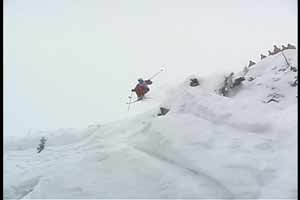 twice. Luytkis took a no-holds-barred attitude right from the top, launching himself down the rocky face without fear. Enough? Not quite. Pete Velisek of Nelson, BC skied incredibly well, super-fast and fluid to score the highest run of the day and climb from seventh place to take third overall. Another local, James Heim, smoothed his run, flattening the venue to bunny-hill size with his ferocious attack, to finally stand for second place overall. Rounding out the triple-threat and barely holding on to his lead, Moss Patterson skied a relatively safe line to hold on to the overall title and take home the cash!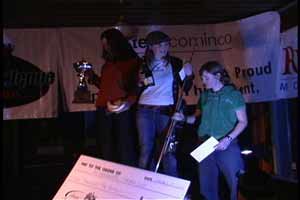 Awards followed, the band played, Molson bottles were up-ended and broad smiles plastered the tired faces of all involved. In the end, one of the oldest ski lodges in Canada weathered another freeskiing assault with graceful style. May we do it again.
Author Elijah Lee eats twelve almonds a day and abhors high-fructose corn syrup. He is happily sponsored by Volkl, Granite Gear, Cloudveil, and Leedom.
Mother Nature threw curve balls, athletes countered with big air.
Watch the video