I've been a MobileMe subscriber since it was released with the launch of the iPhone 3G a year ago. I suffered through the initial hiccups and Apple rewarded me and many others with almost 6 months of free service! I'm not sure MobileMe is really worth the money I pay for it. I don't really care about the iDisk since I already have my own web hosting. The MobileMe email is used only for my Facebook account and I rarely visit the MobileMe website. Essentially, the only thing (and it's a pretty powerful thing) that MobileMe buys me is the "push" sync of my contacts and calendar between my mac, iPhone, and the cloud. This allows me to go months without plugging my iPhone into the laptop and keeps all my important things instantly in sync.
Two weeks ago during the iPhone OS 3.0 keynote Apple showed off a feature that really impressed everyone! This feature was called "Find My iPhone" and allows MobileMe subscribers to locate a lost or stolen phone from their MobileMe homepage. From the Account tab, choose "Find My iPhone" and then you will see the page begin to locate the phone. In order to get this to work, I had to enable the Find My iPhone option in the MobileMe settings on my phone. Once I had this setup, it quickly located my phone and then proceeded to "refine the location". It doesn't seem to be able to pinpoint the location exactly but it gets pretty close. It might not help you find it in your house, but it will surely tell you if it's at home or work.
The other neat feature allows you to send a message to the phone. Apple suggests that you use this message as a way to tell whoever finds the phone that it's lost and provide contact information. There's also the ability to set a sound which will play regardless of whether the phone is on silent. I tried this out and the sound is really cool… and worked with my silenced phone!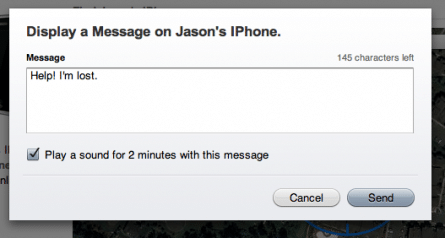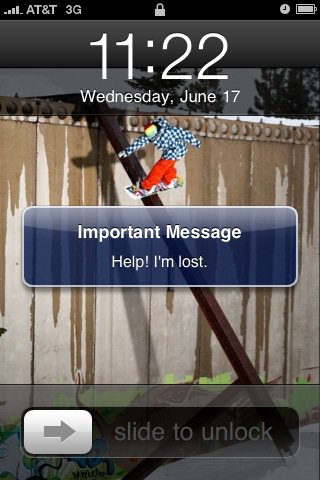 There's also a cool "Remote Wipe" button which will completely wipe the phone the instant you click it. I decided I would trust that it works and not try this one out. It's a great feature to have though if you discover that the phone is gone forever.
In conclusion, I think that this new feature really adds some value to the MobileMe subscription. This could theoretically save you hundreds of dollars in the event that you lost your iPhone. I'm going to take this into heavy consideration when I decide whether or not I'm renewing my subscription in December.