By Mike Hopkins
There is something about bathing in the sultry succulence of Canada's Fall weather. My fair skinned linage, surely rooted in some form of rich Scottish heritage is inherently ill designed for weathering the desert perils of the southern North American longitudes.
Over the week I watched as the barren, shrubbed, segmented mesa's of the Utah outback, morphed into something compatible with an "Indiana Jones" set. Like stone tree rings, the sedimentary layers carrying Earth's crusty history, laid home to more than tumble weeds and rattlesnake havens, it was given a pulse. Stimulating anxiety, dilating pupils and pores, the geological blemish that is the Rampage venue, was brought teeming to life.
Read on,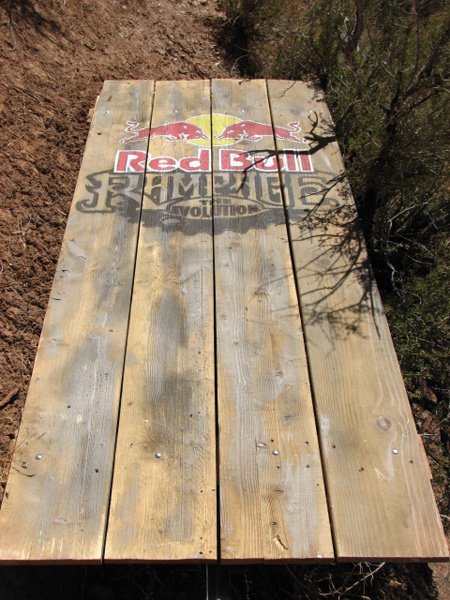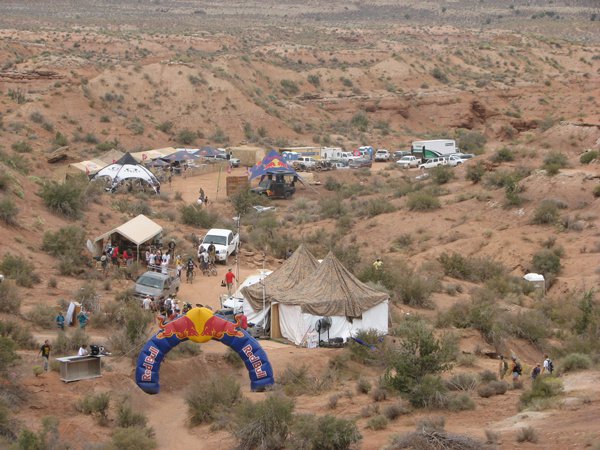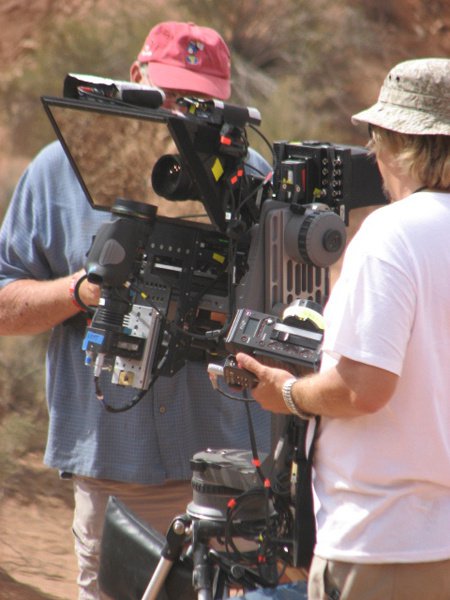 Production crews, 3D cameras, media mobiles, helicopters, athletes, builders, and the odd family member, plundered the three vertical bowls, chiseling, packing, picking, and scoring ribbons of rowdiness. Committing to a line at Rampage initially feels much like being the mastermind of a really bad plan. This year I made the necessary arrangements to counteract the, "jank" if you will, arriving to the venue a week in advance giving an ample hourglass of sweat equity to invest.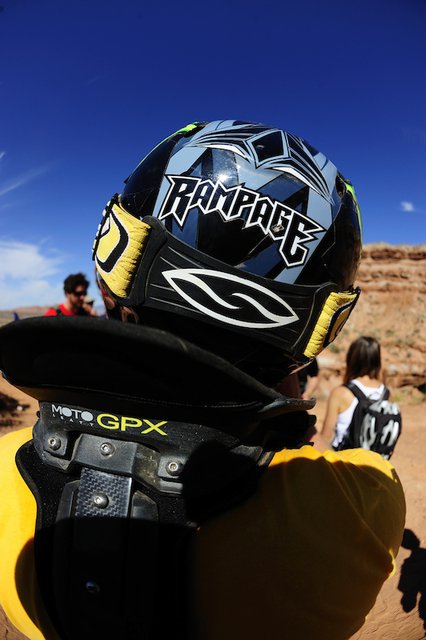 Photo by Margus Riga
Being pre-qualified for finals, I was left to mentally meddle over the soulful Sunday of the 3rd. My first order of business, locate and construct my finals line… Second, ride some of the smaller features on the course to acclimatize … Third, segregate and session, each individual aspect of my line … Fourth, link the puzzle… and 5th lay it down in Finals.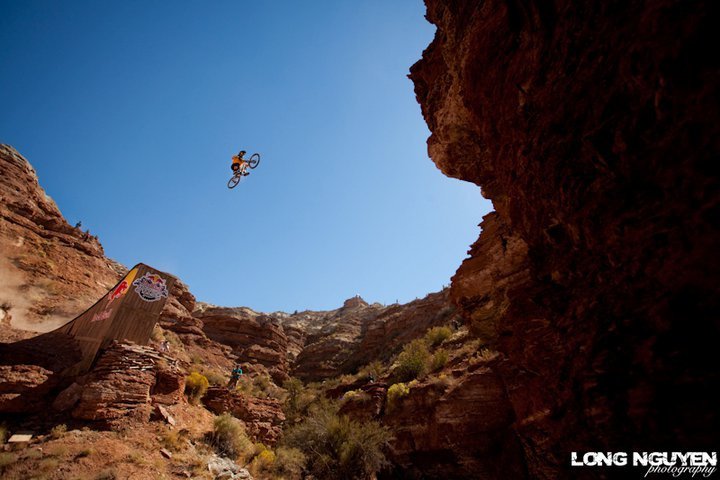 Photo by Long Nguyen
I approach Rampage much the same as I do a Freeski competition, I look for lines that are aggressive, which usually correlates directly with the fall-line, providing seamless avenues between features, and register high on the amplitude scale. I felt my line this year, spoke the language of my riding. After pushing the blood pressure on a handful of the manufactured features, I found myself perched atop the Minotaur of ridges (ridge three, being the haggard beast it was), slowly and collectively buffing kinks into shimmering platinum. A mid-day session on the Canyon Gap with Aggy, Thomas, and Kurt, put more than a few of my over stimulated sleep depriving nerves at ease, and by Saturday afternoon, I had 3/4's of my run linked and in the fine words of Grandma "Sis", looking "Spicy".
To contend at Rampage one very reliable and character rich resource is necessary… a crack team of top notch talent, aiding one through the processes… The Zion River Resort Monster RV Team, consisting of Super-Mega- Awesome-Multitasking Team Manager Dave Phillips (who is huge in Japan), Photographic Doucumentaire Extraordinaire Fraser Britton, and the most reassuring and confidence inspiring force at the event (and quite possibly the most overwhelmed) known commonly in tight circles as "THE DAD", my Dad, The Norman Frank Hopkins.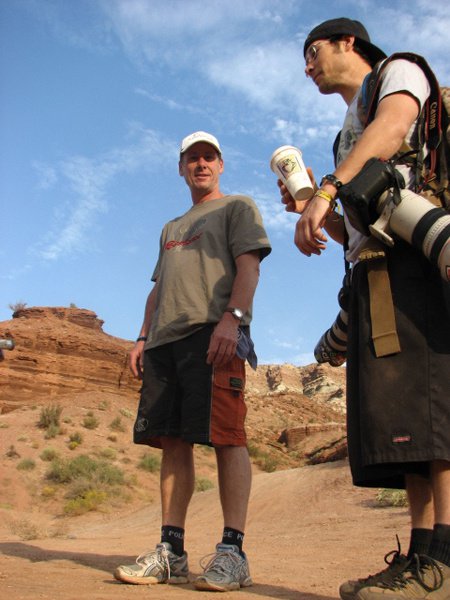 From building lines to carrying bikes to pushing pickles, the team made the entire trip a "Mastercard Moment"… Priceless.
By now the story has unfolded and the multitudes of viral media have spun the events of Sunday's final in every which direction. So I will keep this quick and first hand. Both of my runs began with strong appearances until the gaping spance of canyon stood in my way.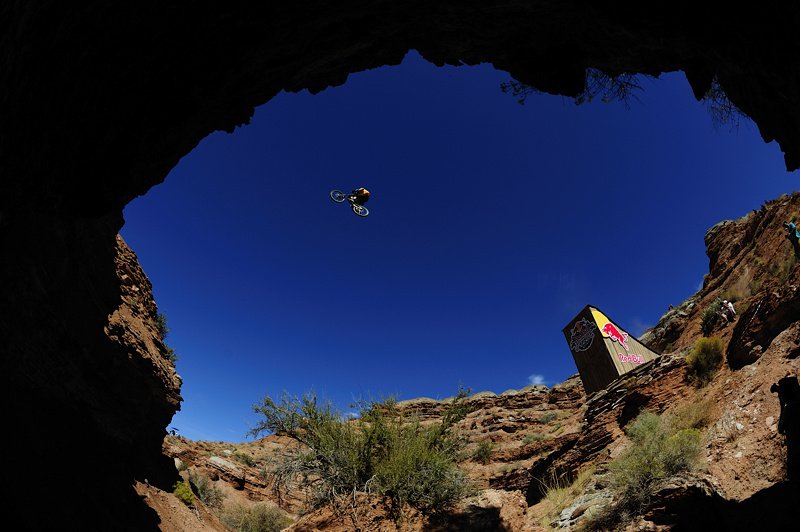 Photo by Margus Riga
Run 1 - What many of you could not see from the confines of the computer screening, was the invisible weasel known as wind. Wind can spell great disaster especially when a run consists of such lofty elements as the Canyon Gap, making the windmill conditions of Sunday quite deceptive. As I approached the lip a costly headwind hindered momentum, ultimately dealing me a mixed hand. Instead of folding I anti-up'd put in two hard pedal strokes to compensate for the added resistance, and not to mention a little insurance/assurance of making the leap. As I apex-ed I could no longer feel the taxing force of the gust, momentarily prompting a sense of relief as I comfortably hung in the balance knowing full heartedly I would have no issues making landfall. Relief quickly turned to trouble shooting, as my approach to the "LZ" was high and long, way long. My initial thought… muscle it out and continue, but unfortunately I was treated to the joys of being "Over Insured". I touched down three feet clear of any and all transition. But even as my wheels made contact with the flattest piece of soil on Earth, my brain naively sent optimistic impulses of "We Got This!" to my body, and well… we didn't. My toes folded into my shines, and were ripped from their respecting perches, while "my boys" and lower stomach took the penance of 75 feet to flat. Run 1 was brought to an abrupt end. Although, even as I write this, I am still somehow convinced I could have cleanly ridden away in a poised position… apparently I still have my optimism.
Run 2 - For those who haven't seen the numerous videos, my second run met its end at precisely the same point as run one, but coincidentally lacking one vital piece of equipment, my bike. Yes, Run 2 much like run one, commenced with a near perfect upper section, only to be stifled once again by the ominous, little Canyon that could. Bucked off the lip, I was noising heavier than Pinocchio on a first date. I hit the eject, tossed my life line and put my grade 4 long jump skills to work. To be truly honest I am still perplexed to what happen next, I did not hit my head, but by the time reality settled, I was cruising around dodging medical staff on route to defining the term "walking it off". Personally I couldn't believe my legs were in motion and for that fact operational. Post limb check, the conclusion was drawn that not only could I walk but I was in relatively good health.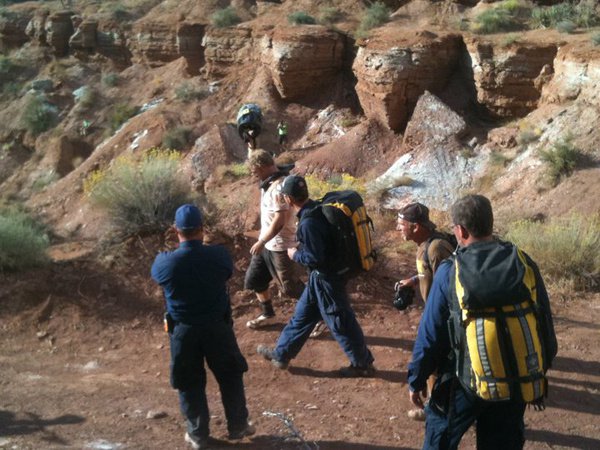 War wounds aside the heaviest hit, was the disappointment and frustration of not putting together a quality finals? run. It made the entire preceding week of prep, feel obsolete (of course it wasn't). This is the true nature of competition, with pressure and expectations riding on one day consisting of two runs, it is hard not to feel the extra weight. But with that said, I don't feel as though, I buckled under the excess load, I felt confident throughout my Rampage experience, even going into my second run I was more motivated than ever, but sometimes, the day is just not yours, and this was the case. On a closing note, my event did not conclude on the highest of pedestals, but leaving the competitiveness at the venue, and looking at the peripherals, I can say this was the best project I had the pleasure of being apart of. From the course (Paddy Kaye and Crew Killed It!!), to Todd Barber and H5 for making a dream concept a reality, to friends and family (not to mention, surprise visits from a certain girlfriend), to the ZRRMRVT, and of course, the questionable consumption of "Vidration" at the RV, Rampage is one of a kind, and a true mountain bike competition.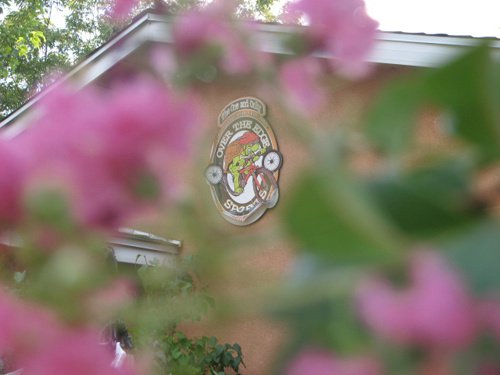 Huge thanks to my sponsors especially Dave Phillips at Monster, Shimano, Marzocchi, Titec, Michelin, Skull Candy, The North Face, Dakine, Rossignol and Smith Optics. Fraser Britton, my Dad, Jody, The Coastal Crew, Clinton At Over the Edge (who once again went above and beyond on every level to ensure my bike was running smoothly all the way to its bitter end) and everyone else for all the support!
-Cheers Mike