Words: Brian LandriganPhotos: Erick WalquistVideo: Alex Horner Even though most of us Midwesterners had written the 2007 season off, we still had Superpark to look forward to. This year's Superpark did not disappoint. The theme was Yooper Steeze and it was fully embraced, everyone showed up sporting their blaze orange and flannel proudly, and like true Yoopers, everyone wanted to get their hands on the coveted motorbike and antlers. First off was the rail jam, which included some of the best features appearing in any Midwestern comp this year. The Setup included a DFD, C rail, urban down box, hitchin' post, log jib (what else would you expect in Michigan), and the giant butter box. The highlight of course was the butter box, all kinds of crazy stuff was thrown off it. Kids were trying flips (see video) every which way off it, it was quite fun to watch. The overall vibe of the day was quite chill ( no… not bro-rape), everyone was feeding off each other's tricks to push themselves and the sport. Rail Jam Results1. Kelly Armitrout (K-Day)2. Evan Rutford3. Tony Seyffer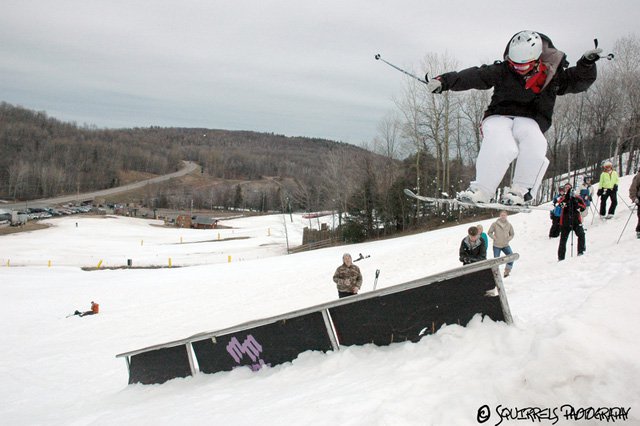 Evan Rutford demonstrates proper "I already know I'm gonna stomp this" steeze.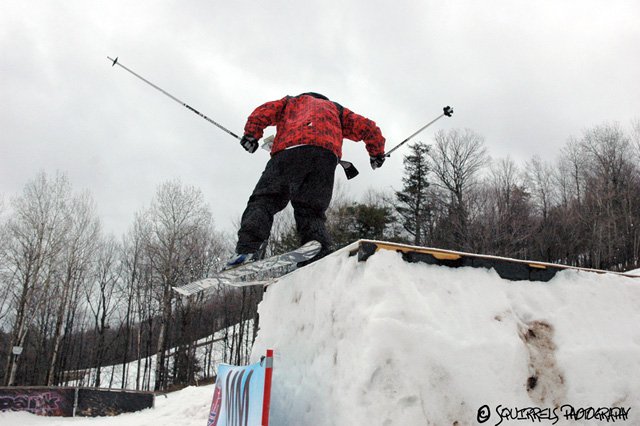 The infamous butter box... check the video, you won't believe what went down on this!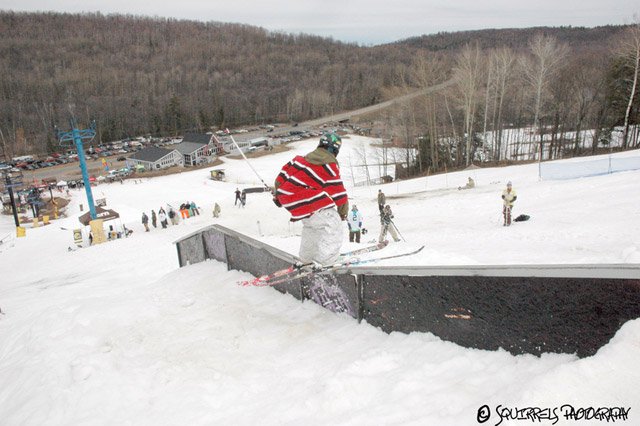 Cody Ling sporting Red Wings colors.This year's Big Air jump was an exceptionally (for the amount of snow available) crafted 55' stepdown. Yet again, everyone threw down, proving that the Midwest has some of the best skiers in the country. Everyone was going as hard as they could in order to win the Bern Pocket Bike. Eventually the winner was decided: to no one's surprise, Kelly Armitrout cleaned it up on the jump, not only winning the Big Air, but also being awarded Best Trick and the Pocket Bike.Big Air Results1. K-Day2. Noah Schwander3. Zane Paquet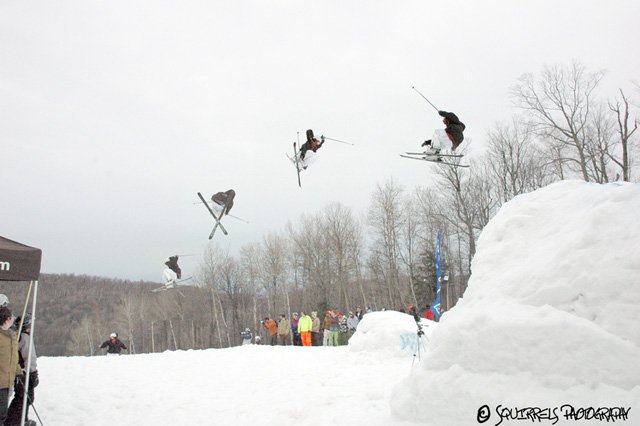 Chris McKeever, switch 7 to fadeout.
The girls killed it too!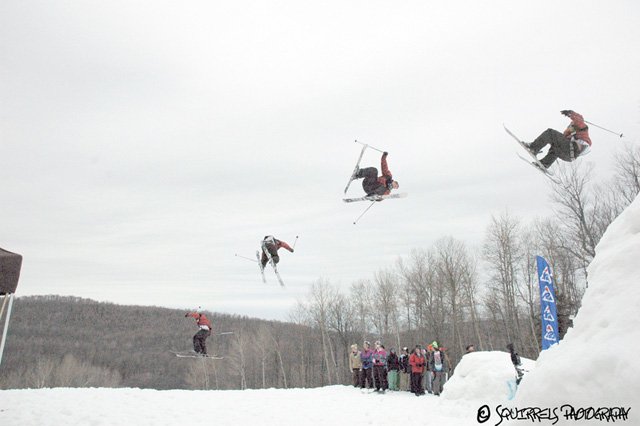 The artist formerly known as Tony Seffyer.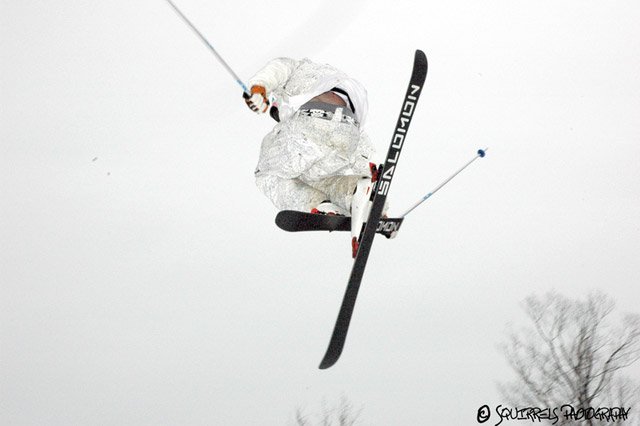 In the Midwest, grabbing within a foot of your bindings is like rooting for the Colorado Avalanche...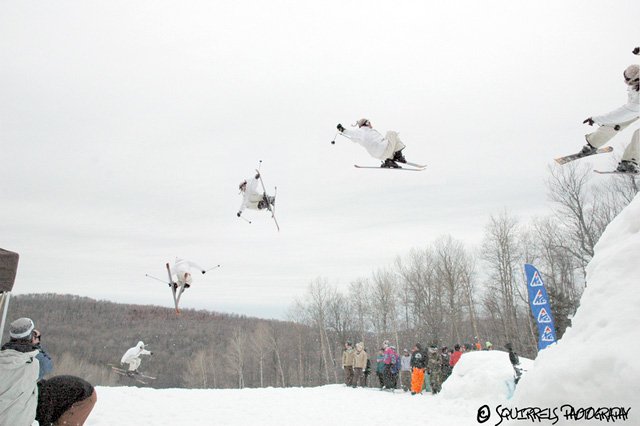 ...you just don't do it. Drew Cziok demonstrates.
K-Day has his cake and eats it, too.K-Day, was so stoked on cleaning up Yooperpark, that he bought everyone full glasses (yes, full!) of Jim Beam with a side of cola. Nobody walked away a loser though, the product toss at the end of the day kept everyone happy. T-shirts, hoodies, hats, and wax were thrown out in order to keep everyone happy, and the highlight? A freeskier won the snowboard, causing all the boarders to hang their heads low.Special thanks: Brandon Luedtke (BcL), Luke Voss (Fujaskier06), Brandon, Erick, Alex, Marquette, and all the event Sponsors. See you all at Spring Jam!Watch the Midwest Superpark video here! (34.2 MB .mov)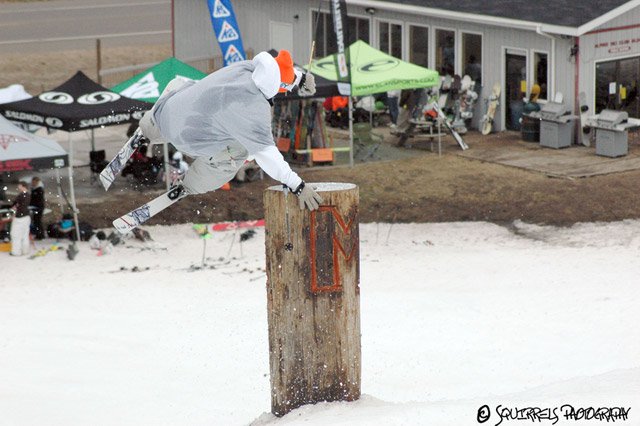 This photo makes me think of the 'bloop!' noise from Super Mario.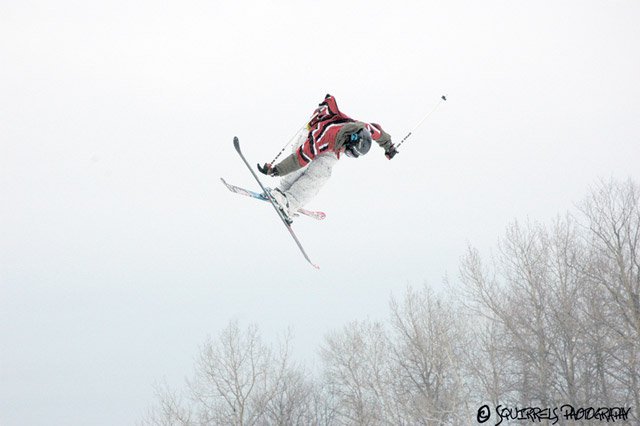 Cody Ling.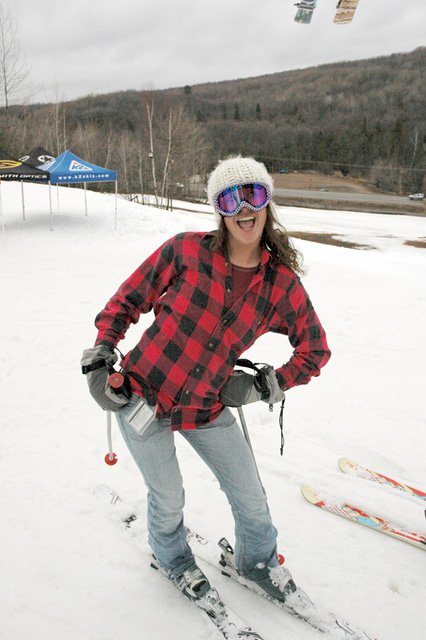 Yooper pride!