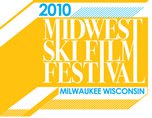 Fall is in the air, which means Winter is just around the corner, but more importantly, it means it's time for the Midwest Ski Film Festival again. The Midwest Ski Film Festival, also known as MWSFF, is the largest pre-season skiing event in the Midwest, and this year we are out to show skiers all over the Midwest and beyond another great time. This year some of the best talent in skiing including Tom Wallisch, Mike Hornbeck, Matt Walker, Nick Martini and Wiley Miller will be joining the fun in Milwaukee, Wisconsin.
Mike Hornbeck and Tom Wallisch at last year's MWSFF.
This year's festival is being held at The Times Cinema on Milwaukee's West Side. The impressive line-up of films includes Minnesota Collective's Too Nice, Stept Productions' Network, Inspired Media Concepts' Like a Lion, Poor Boyz Productions' Revolver, and Level 1 Productions' Eye Trip. Daywalker will be keeping the festival going with beats throughout the day, and attendees can also look forward to the return of one of the largest raffles in the Midwest, where you could walk away with some sweet new gear.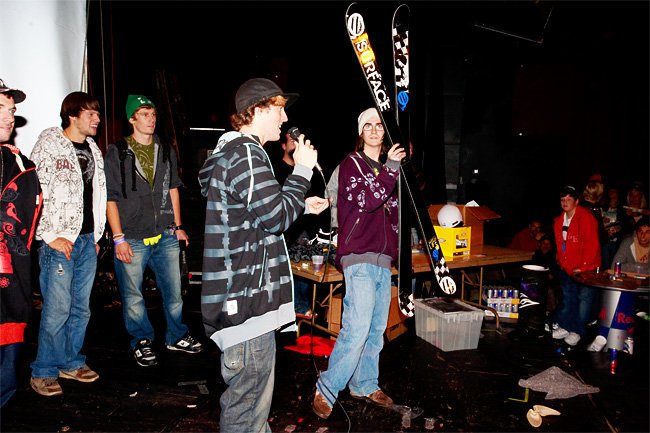 Who doesn't love free skis?
An afterparty hosted by Red Bull will immediately follow the festival in Downtown Milwaukee, featuring the Midwest premiere of 4bi9 Media's Gunnie Season and a live and sure to be exciting performance by Hathbanger.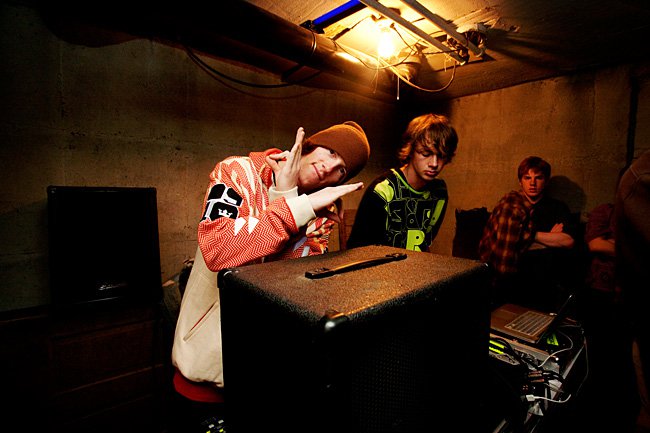 Daywalker and Hathbanger will be providing the beats once again.
The Midwest Ski Film Festival is an awesome chance to celebrate a new season with the entire ski community including locals, pros, and industry folk alike. Keeping with the same tradition as past years, the Midwest Ski Film Festival will be held at an intimate venue allowing for a relaxed vibe. This year we recommend pre-ordering your tickets to ensure you can join the fun. Tickets are available at MWSFF.com for $15, and additional tickets will be sold at the door for $20 the night of the premiere.
See you there!