The Milwaukee Event was rather epic, Tornado warnings, inch and a half of rain per hour for two hours, Me getting Food poisoning again (thanks again WackArnolds) Enough Krispy Kreme Doughnuts to send an army into diabetic shock, and to top it all off Midwestern kids slaying it! Roads were flooded, bridges gone, babies eaten, but that didn't stop a big crowd from coming to Laacke and Joys on the outskirts of Beertown. Lots of local talent. Shout out to the thirdward crew and a big shout out to Emma Hermanek being the First Female skier to EVER spin onto a rail at one of our jams and she did it on the flat down no less she couldn't quite get it locked down until after the comp but she still took third place and Steve Janisch driving all the way from St. Paul Minnesota to let everybody know that being a Jibber from the NoCoast isn't a joke, with 270 on pretzel 270 out on both the Chopper, and the Cannon. then two on Four out to wrap it up he walked away with the win and qaulified for the Finals at SIA in Las Vegas. all going down the day before he left for Hood for the Summer, so all you kids up at windell's tell Steve hi as he is murdering whatever rail line the diggers can throw at him.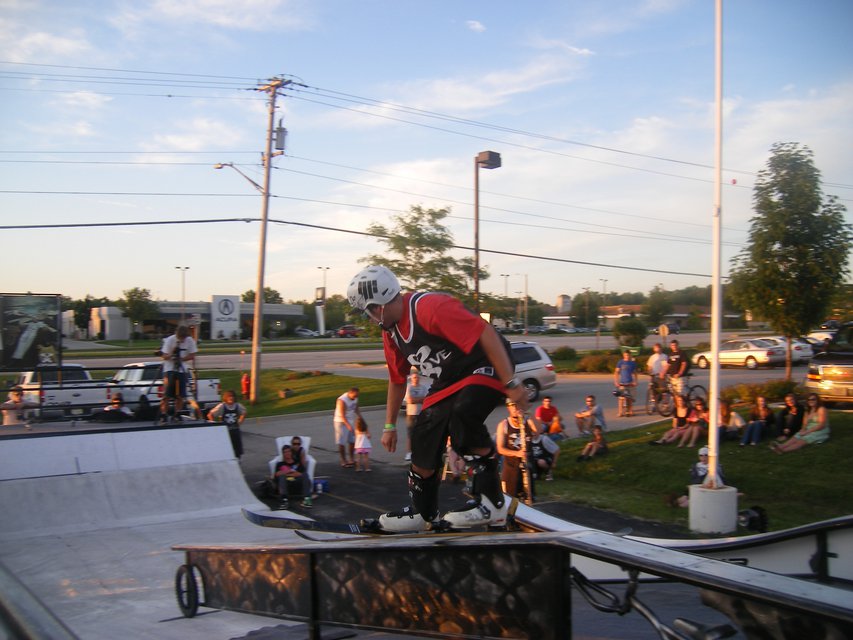 Another University of Utah Kid in the Midwest, Kyle Sjolberg killing it with the sickest blind switch up blind 2 out I've seen on the tour.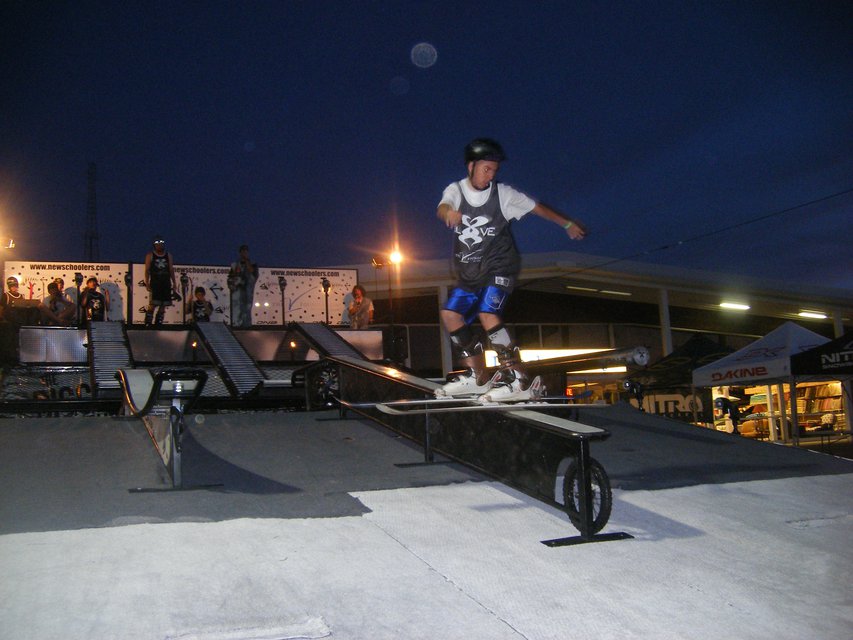 Aiden Smith Switch on 4 out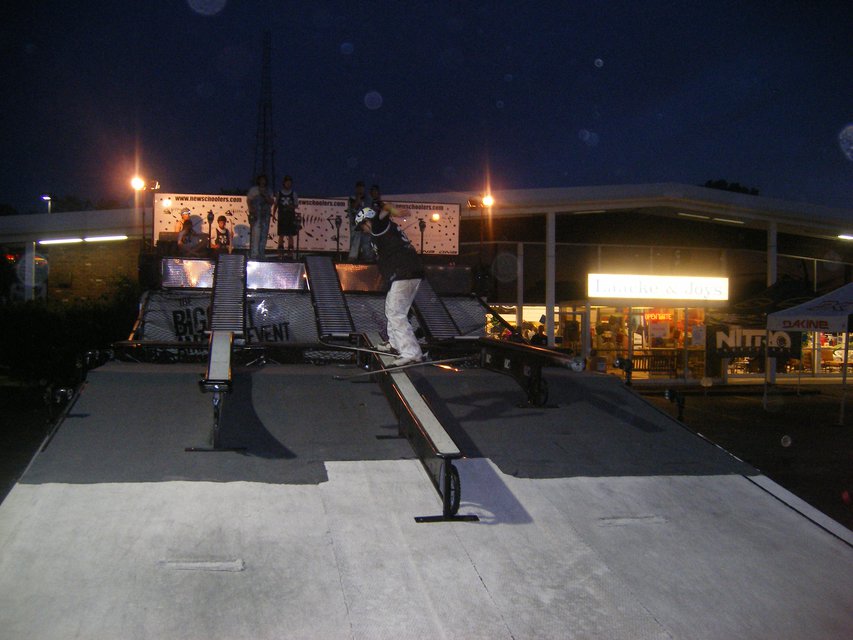 Steve Janisch 2 on pretzel 2 out We busted down the system and caught a boat ride across Lake Michigan on our way to Boyne Mountain. From my perspective Boyne was a dope little gem up in the boonies of Northern Michigan with a full on water park and Flow Rider to enjoy and considering the mere 250 vertical feet the kids kill it. We definately didn't expect a large crowd with it being a sunday and fathers day to boot. Luckily for us Kids there love skiing more than their dads. with the contest going late into the night, the resort forcing us to turn off our music and our mikes in the midst of the finals. one of our largest contests yet. First place went to Kevin Manning with a barrage of switch up pretzel two sev out combos, and his fair share of right side 450's out. also props to Ty Wellman spinning onto the set up with his shoulder still in a sling from a blown Rotator Cuff taking second. We also had another Female Skier slaying it Haly Kanasakie had her Pretzel switch ups on lock down on the Flat down box. the over all talent at this event was formidable and the win could have gone any direction. Thanks again Upper Michigan kids for coming out and helping spread the good times around.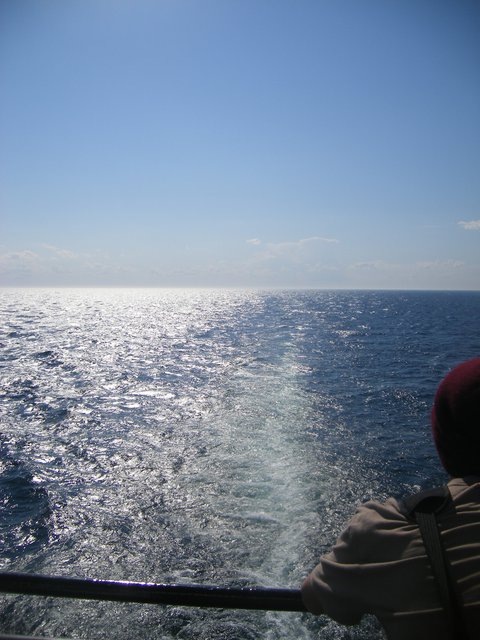 View aboard the SS Badger, probably the best soft serve Ice cream cone you'll ever have, its probably even worth the grand it costs to get our trucks across.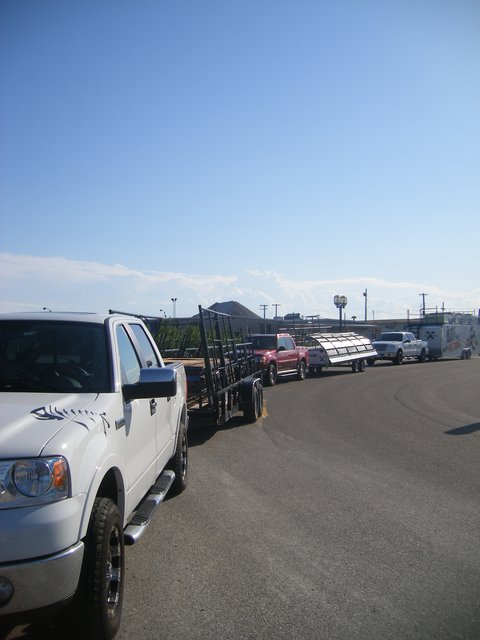 The Tour convoy, give us a honk if you see us and ladies show us your big beautiful eyes.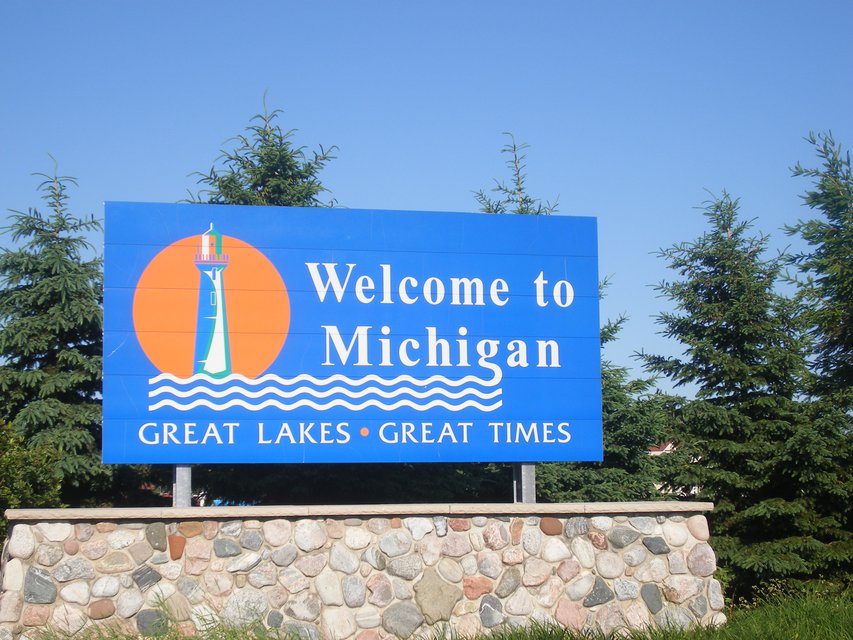 Oh so true.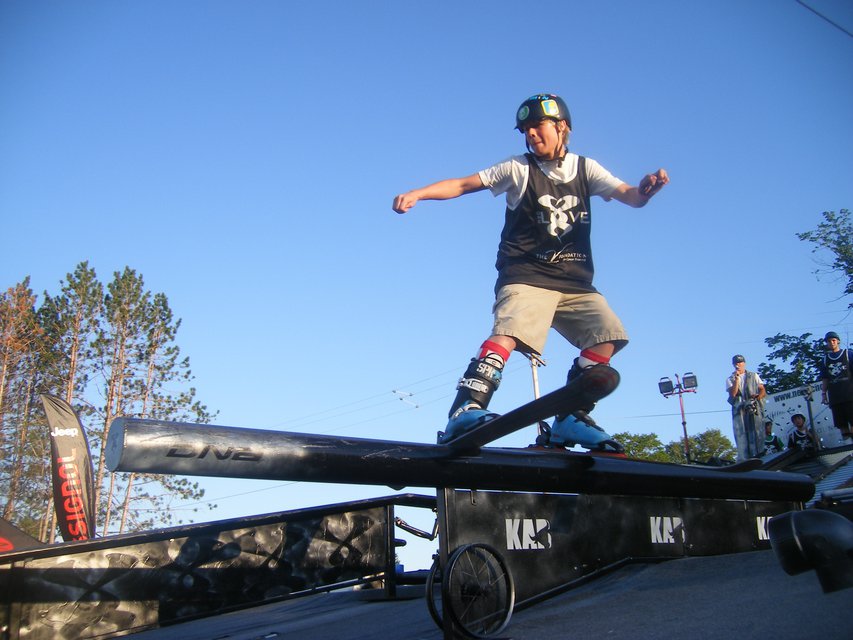 Pretzel 4 out[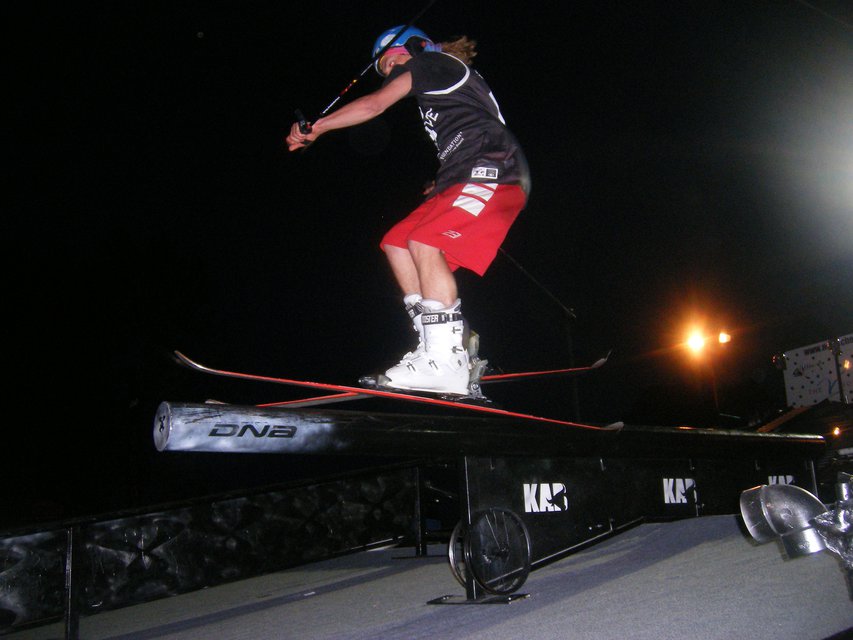 Kevin Manning looks a lot like Kfed on the cannon doing a Kfed on the cannon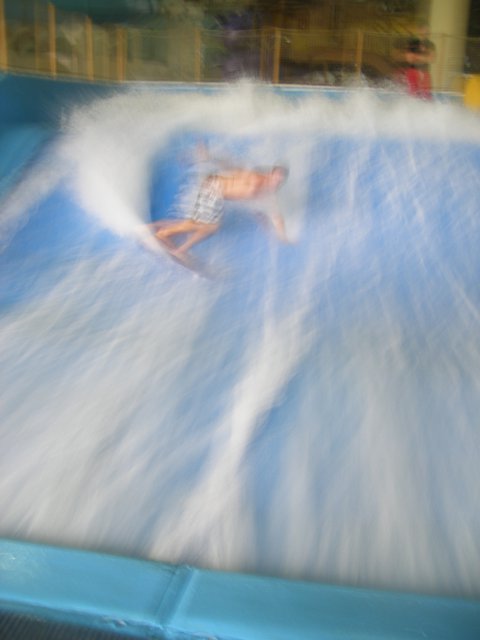 Brad on Michigan's Jaws After taking the chance for our first break on the midwest trip to surf it up for a couple hours we headed on to PA, after nearly getting killed several times by taking out power lines we finally got the rig to Willi's and after setting up once and having to tear it down because we didn't have enough room we got the rail field finally in place around 2 a.m. got back the next day around 10 and got things rolling around noon. we had a really unique venue on this occasion because Willi's is right on the edge of a major route through Pittsburgh and its also apparently acoustically perfect with the surrounding mountains, we had the the cops called on us 17 times in 20 minutes by one pissed off neighbor and almost had the mayor called on us, apparently they could hear the commentating several miles away in their precinct station word for word. Willi's didn't disappoint on their part, breaking out an old skiing arcade game and supplying beverages all that was left was the riders, and Pittsburgh delivered bringing out a large portion of the Seven Springs crew, and a large portion of the PA Cougar guild lots of Beautiful women of all ages were seen. though even they couldn't distract the crowd from the show being put on the rail field First place went to Tyler Pence with a large variety of switch on and switch ups to pretzel out going down on all the rails it was a tough battle but pulled it off over Noah Killen who couldn't quite nail his 270 on pretzel 270 out on the cannon.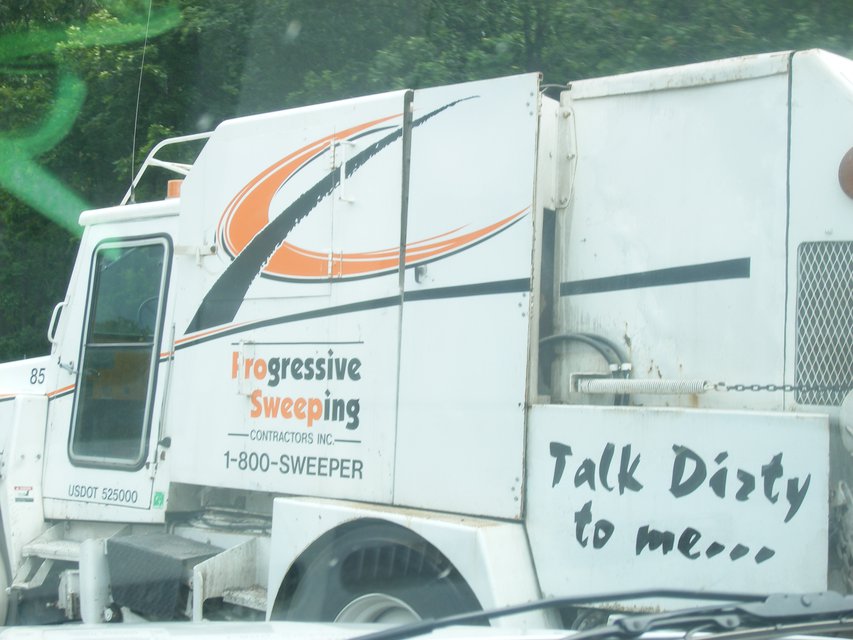 I love turn pike sweepers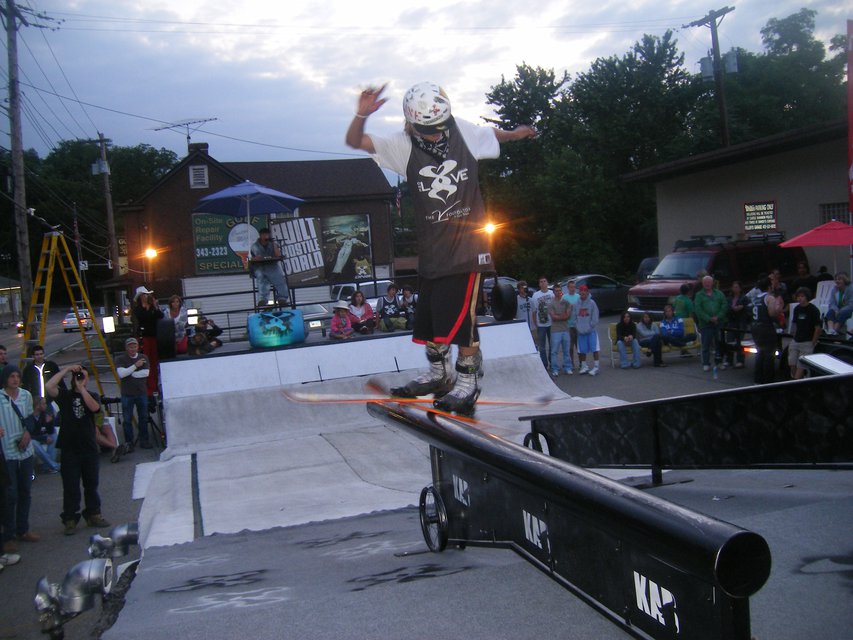 Tyler Pence going switch pretzel blind 2Four Flat tires later we arrive in the west side of Cleveland and set up at Geigers in Lakewood. It was by far the hottest day we've had yet and it was definately the dedicated that came out to ride. we had a few kids from the PA comp Drive into town including first and second place skiers tyler Pence and Noah Killen. Line, Salmon, and The Mountain Dew tour crews all stopped in, and the Dew tour even threw in some tickets for the upcoming event in cleveland to all of the winners. With an event behind a 75 year old shop dedicated to the sport and footing the bill to get us there reminding Ohio's youth that they support the culture as much now as ever. We were also next to the hippest place in West Cleveland Melts bar and grille and all the athletes definately took advantage of the delicious grub. The riding at this contest was by far the best we have had, with almost every single kid throwing switch up 2's out I had my work cut out for me judging the event. it came down to Matt Hefernan falling on a right side pretzel 630 out of the whale and Noah Killen landing 270 on 450 out of the whale and the cannon for the win. The under the Under 15 best trick contest could have been the finals with the tricks going down Brad Bulzan taking first with blind 4's out of the cannon and 270 on 270 out of the flat down and Brian Kiss coming in second with the most floaty pretzel 450's out with so much after bang Mr. Walllisch himself would be envious.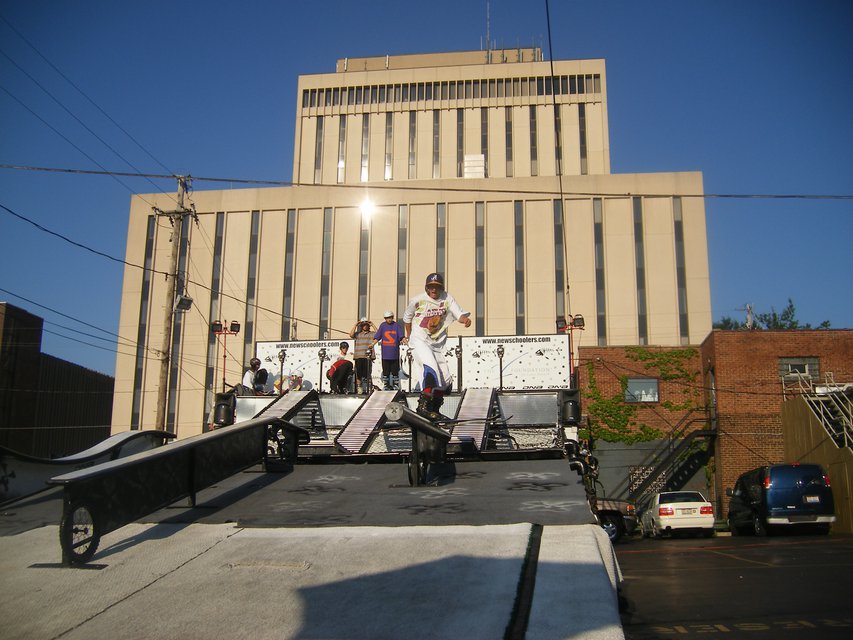 Matt Heffernon right side 450 out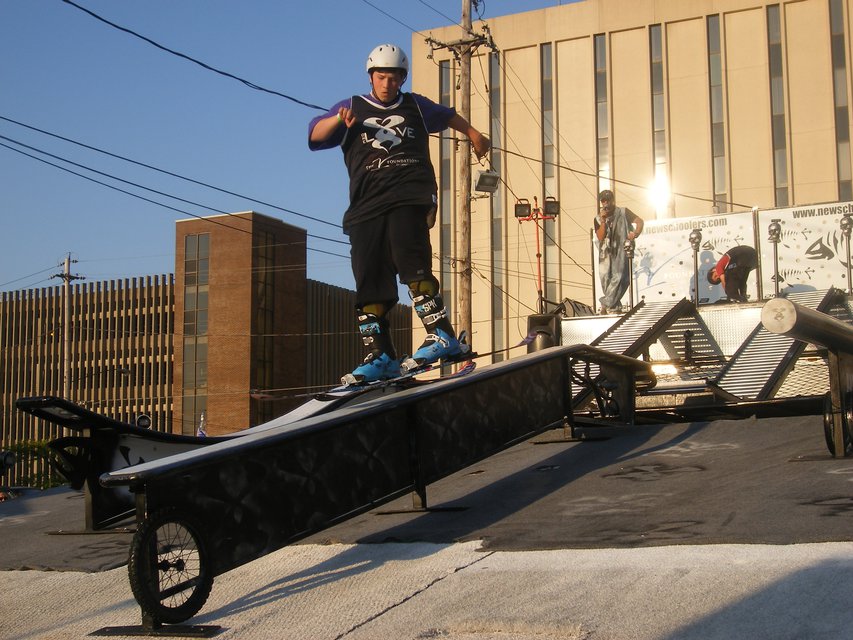 Brian Kiss frontside switch up blind 2 outCome Check out our Event at Ann Arbor on the 22nd and our event at Ohio Dreams in Butler Ohio on the 24th, thanks again to all the kids who came to ride and props to the kids who competed. This tour is all about our Love of shred and progression and Ski or Snowboard no poles or poles get out and ride with some friends and share our One Love