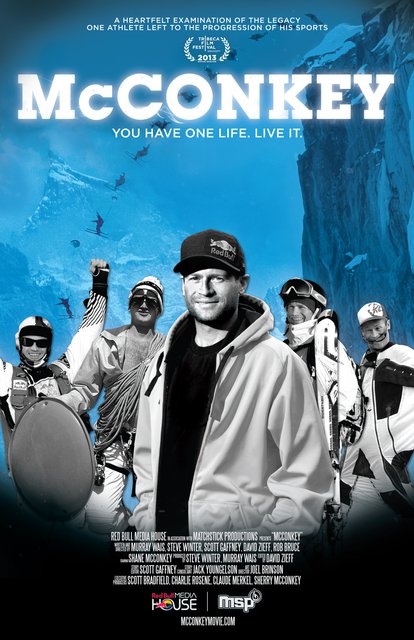 Every now and then, an athlete emerges who redefines the possibilities in sport. In the world of freeskiing and BASE jumping, that man was Shane McConkey, a true pioneer of the scene. On October 29, the highly anticipated feature-length documentary film 'McConkey' will premier in Vancouver at the Centennial Theater for one night only. The film will also premier on October 30 in Whistler at the Millenium Place with three showings. 'McConkey' is a heartfelt examination of the incredible life and legacy left by Shane McConkey, and the path he paved to conquer his dreams. Produced by Red Bull Media House in association with Matchstick Productions, the film celebrates Shane and the way he lived through candid interviews with friends, family and the legends of action sport.
The film debuted at the 2013 Tribeca Film Festival in New York to much acclaim. Directed by Murray Wais, Steve Winter, Scott Gaffney, David Zieff and Rob Bruce, McConkey features incredible action footage infused with Shane's own home videos offering a rare look at his most intense moments as well as an intimate portrait of his personal life.
"McConkey is edited so crisply that to take your eyes away for a second would be to miss something amazing, because it seems that Shane was doing something incredible every second of his life" – Power Magazine
"A thrill-stuffed sports doc whose daredevil subject will quickly endear himself even to viewers who've never heard his name" – John DeFore, Hollywood Reporter
"What makes McConkey such a phenomenal doc is how much it transcends simply being a profile piece on this person and becomes inspiration for any and everyone watching it" – Alex Billington, First Showing
"McConkey" is the latest of eight films released in the last two years by Red Bull Media House and follows the media company's most successful release to-date, "The Art of Flight," which is the most viewed, celebrated, and commercially successful snowboard film in history.
https://www.newschoolers.com/videos/watch/756361/Shane-McConkey-Documentary-Trailer
TICKET PURCHASE
To purchase tickets to the Vancouver screening, click here.
To purchase tickets to the Whistler screenings, click here.
For the complete tour schedule, visit www.mcconkeymovie.com.
DVD RELEASE
McConkey will be released for digital download and rental through iTunes as well as 3-in-1 DVD/Blu Ray collector's edition on October 8th.