All Photos by Harry Foskett.
"Why on earth are you taking skis to Malaga?" were the words that greeted our crew bright and early on a Sunday morning at the airport. And to tell the truth, we didn't really know. The squad was UK railgod Mike Rowlands, Dutch fridge-kid turned jump-wizard Mees Van Lierop, filmer/frontslider extrordinaire Ross Welch, photographer Harry Foskett and myself. I'd arranged the trip to Sierra Nevada following a conversation at a tradeshow, but none of us had done much research. Spain isn't a destination you'd normally associate with skiing despite numerous mountains all over the country, Sierra Nevada in the far south being one of the biggest. And despite having seen glimpses of the mountain on the flight, landing on the Costa Del Sol in glorious Mediterranean sunshine is enough to put doubts about snow conditions in anyone's mind.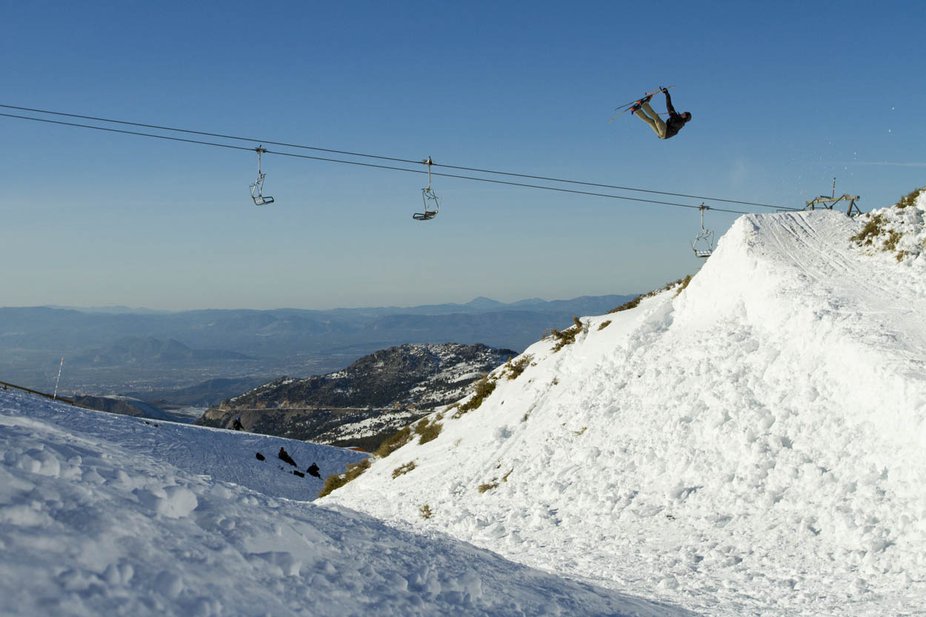 Mees truckin' on the one jump we actually had to build all week
The transfer didn't start well, Ross, the only guy with a driving license had lost his credit card, so we couldn't collect our pre-paid van. And when we found a way around that, they wanted to charge us 500 euros in 'extra charges'. Needless to say we cancelled the booking and despite our complete lack of Spanish, found the right bus from Malaga to Granada at the foot of the mountain. Upon arrival, we found we'd missed the last bus to the resort, grabbed the only English speaking person we could find, handed them a phone and begged them to book us a taxi. Somehow, after 14 hours of travel we made it. But having done it once, it's neither difficult nor expensive. Malaga-Sierra Nevada by bus cost 16.00 euros and takes 3 hours, pretty cheap.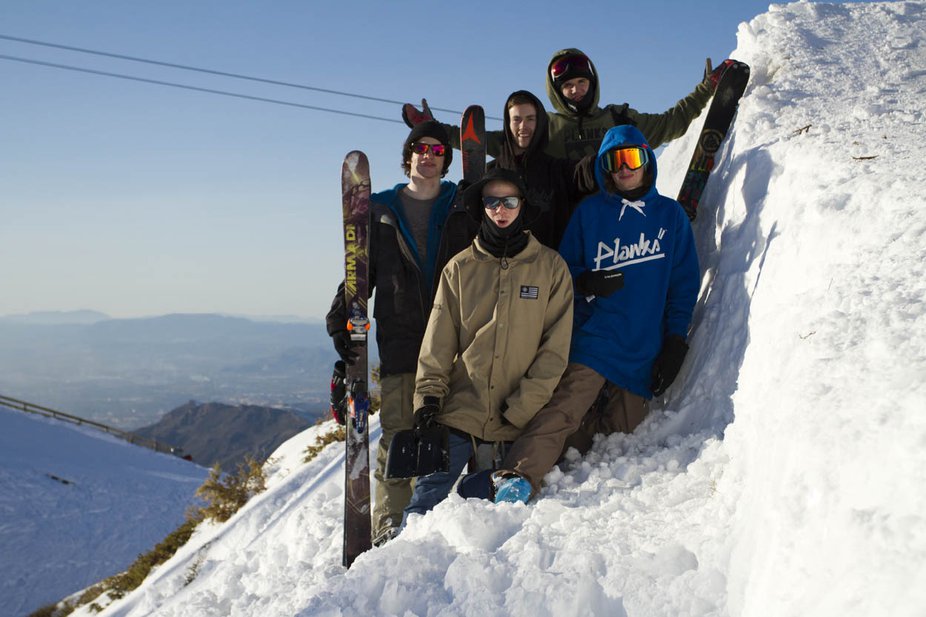 Squad
Sierra-Nevada itself is a strange area, it's a few peaks in a very small area, surrounded by comparatively flat land. It certainly sticks out like a sore thumb compared to resorts in the Alps for example, where it's mountains as far as the eye can see. From the top you can see what feels like most of Spain, and all the way to Africa across the Med, making for some incredible backdrops and sunsets. And despite our trip being in January, it was warm and springlike. Yet somehow the season runs until the end of May!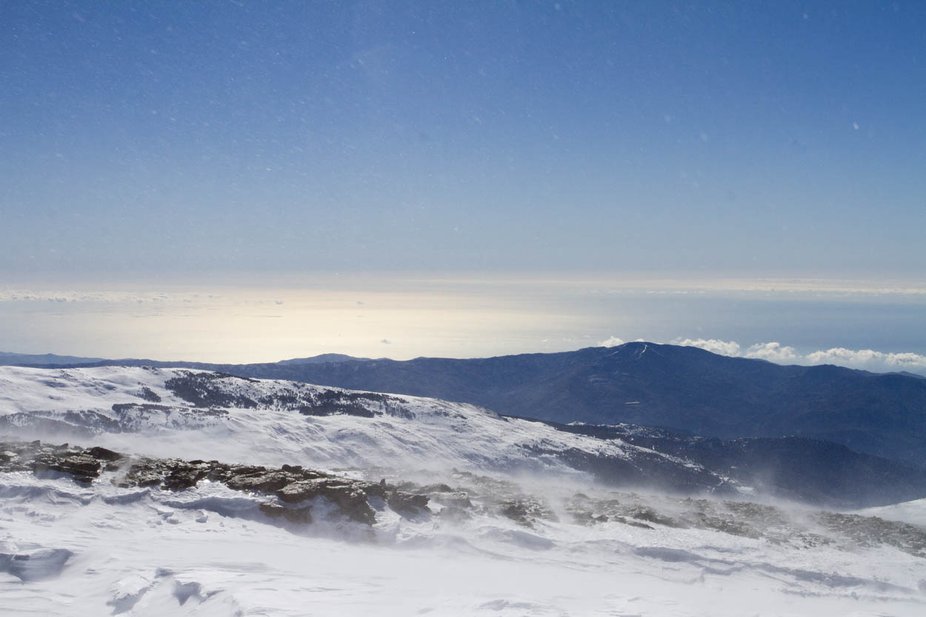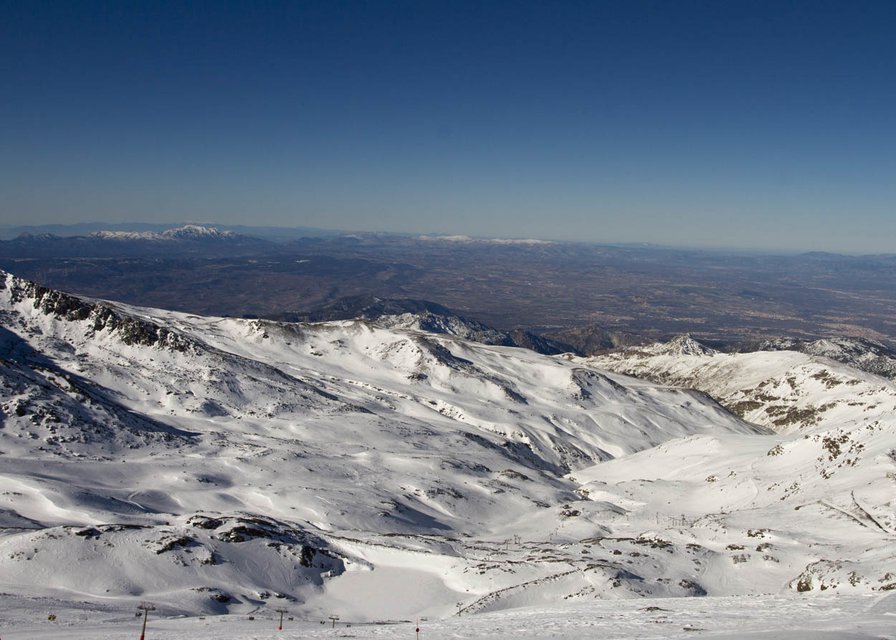 Some vistas. In the top photo you can just see the Atlas Mountains of Morocco in the background
The skiing itself is comparable to the Alps too with 100km of pistes and near endless off-piste options both between the runs and on both sides of the resort with only short bootpacks required. Having a friend with a car to pick you up from out of bounds lines is ideal but there is plenty to entertain you even within the resort's bounds.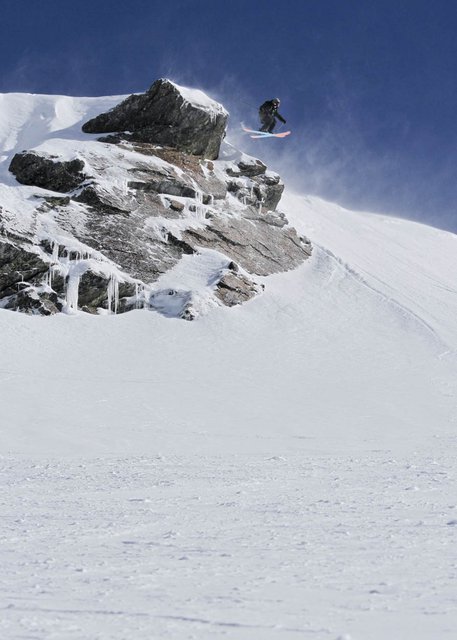 Mikey sending. This spot was just off the lift
At the time of our visit the main park was closed to prepare it for a competition, not ideal for a crew of predominantly park skiers. But there were still a few features dotted around the mountain, and a beginner-intermediate park in operation, all of which were immaculately maintained. At its peak the park is massive and contains a full 22ft x 160m pipe, a permanent slopestyle course and the possibility of more than 40 hits in a single lap. We were gutted to miss out but there were so many wind lips, jump spots and natural terrain options that it wasn't a major inconvenience.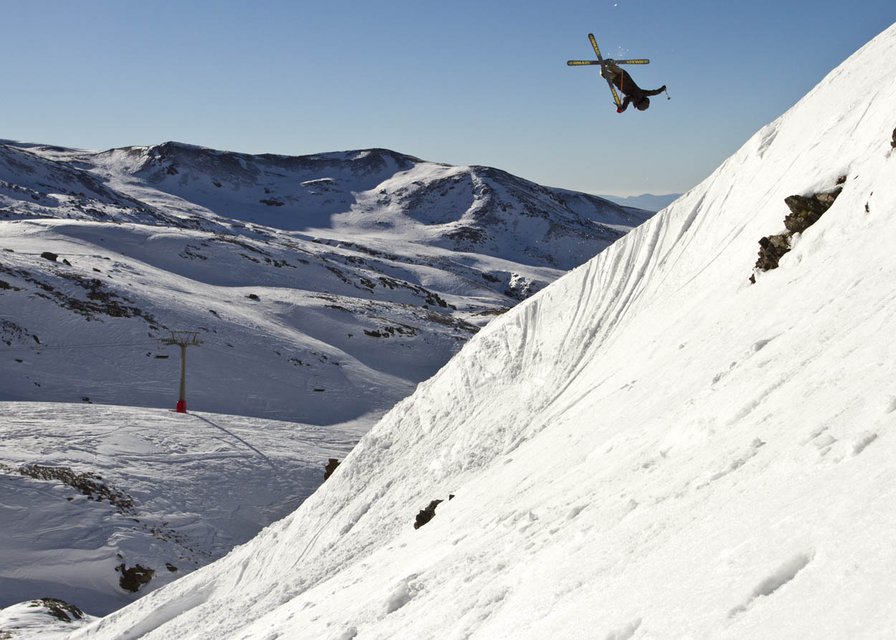 Mees cappin' them tails on a natural takeoff
We spent the first day ripping round the resort, hitting natural features and generally enjoying ourselves, before spending two days crafting a perfect feature, comprising a quarter pipe and kicker in a gully to the side of the home run. The boys went wild, stacking most of the shots in this article in a couple of days. After that, the crew split. I spent the last days on the mountain freeriding with a guide, which gave me an insight into the true potential of the resort with both open faces and tight couloirs available with very low effort access. The rest of the crew headed off into the streets to take advantage of the bountiful urban playground that is Pradolino town. I don't think any of them had ever seen such a concentration of spots in such a small area. More on that in a follow-up article.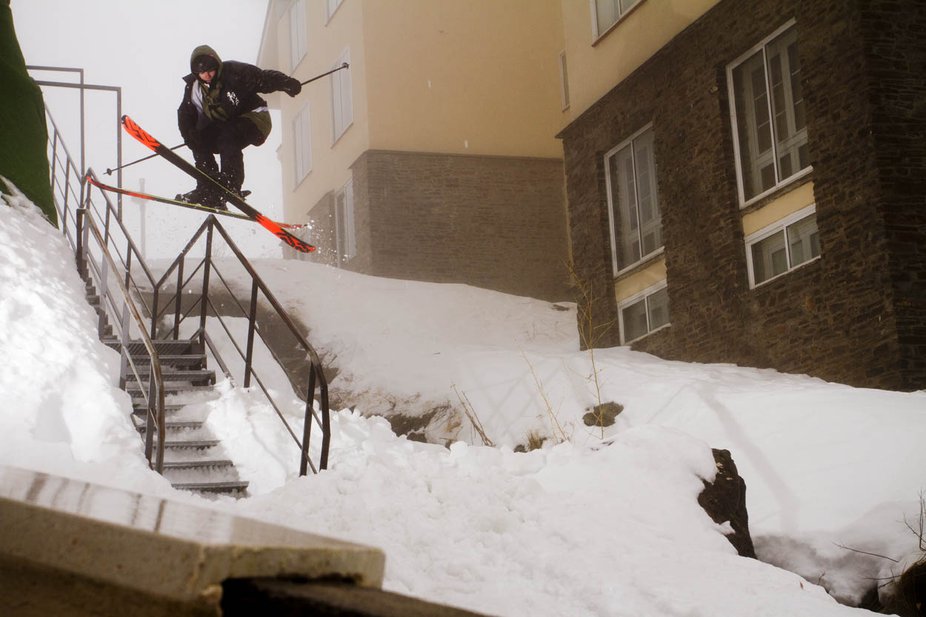 Mike slaying one of the many natural speed urban spots
This trip was a bit of a shot in the dark. We wanted to go somewhere other than the normal alpine destinations and Spain seemed a cool option. We found that within 50km of the Costa Del Sol, is a bit of a gem. A resort with great options in and out of bounds, with warm conditions and sunshine for the vast majority of a 6 month season. And if all that fails to tempt you, how about the option to go for a surf and some tapas by the beach after shredding.
This article was due to appear in the now cancelled Fall 2016 issue of Sequence Magazine.