Massive Snowpack Means Summer Skiing at Mount Washington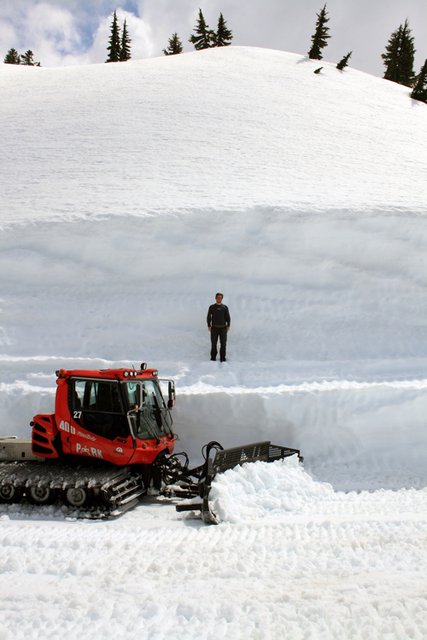 More evidence of the record-breaking 2010-11 season from a photo taken on May 31st.
For the second consecutive year, Mount Washington Alpine Resort will open the mountain to skiers and boarders in June.
The resort will open for riding from 11am to 4pm on June 18 and 19 and tickets will be $25 per person. The mountain will determine what lifts will be spinning closer to the event dates.
What started out as wishful thinking for hardcore snow sliders last year has now turned into a bit of a tradition, thanks to back-to-back plentiful snow seasons.
"This is starting to look familiar," jokes resort spokesperson Brent Curtain. "If we can match the picture perfect weather we had during our ski weekend last June, this year should be amazing with all of the snow we have on the mountain."
Mount Washington's current plans are to open Whiskey Jack, Coaster, and the Stomping Ground Terrain Park. This provides two additional trails when compared to the June event last year.
"We received over 19 metres of snow this winter, the deepest winter in resort history, and we still have depths of up to 4 metres mid-mountain," Curtain adds.
"We have almost three weeks to go so we don't want to jump the gun and announce everything that will be open for that weekend," explains Don Sharpe, Director of Business Operations. "You never know what the weather is going to do between now and then, so we're planning on making additional announcements closer to June 18."
With all of the snow on the ground, many have been wondering about the summer season at Mount Washington and whether summer will be a no-show.
"We will be opening up for summer operations on July 1 as planned with Mile High Chairlift rides," adds Sharpe. "And we're moving the Bike Park opening date to July 15. We've been pushing snow off select bike trails and we just need some more help from Mother Nature."
On top of the Mile High Chairflift Rides and Bike Park, the mountain has a full calendar of events and festivals this summer. Highlights include the new Scotch and Suds Festival on July 8, the return of the Bearclaw Invitational Slopestyle on August 6, and a Wine and Food Festival on August 26-27.
For all summer event details, surf to mountwashington.ca.
Mount Washington Alpine Resort is open for summer skiing on June 18 and 19! The resort is located 30 minutes above The Comox Valley on Vancouver Island. WestJet, Central Mountain Air, Pacific Coastal Airlines, and Island Express service the Comox Valley Airport (YQQ). To find out about accommodation and package information, call Mount Washington Alpine Resort at 1-888-231-1499 toll free or locally at 250-338-1386. Surf to http://www.mountwashington.ca for additional information including our live snow cam.