I'm happy to announce that Newschoolers.com has some exciting changes coming soon that will make it easier to upload and manage your photos and videos.  Some of the new features are already live, and we'll be deploying more as they are ready.  We've got some really neat features in the works that will be launched soon.  Read below for a sample of what you can expect!
Introducing MyMedia
For the last few months we've been working on better tools for uploading multiple files, managing and sorting media, sharing media and uploading large videos.  Like today's Gallery but WAY better, media will soon be managed from the MyMedia interface. You will have the ability to easily tag and sort your media, upload new content on the fly and control where your media is used.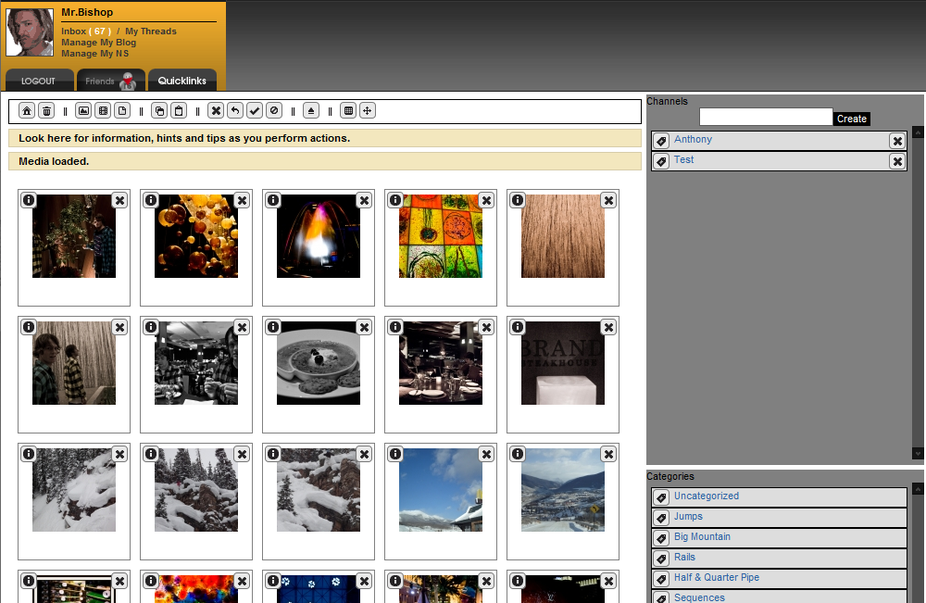 Teaser shot of MyMedia in Beta
MyMedia will give every member the ability to make custom channels in their profiles, and in those channels you can store and re-order your photos and videos!   Even better, if you have really good content that members like, your channel may even be featured on the new Gallery page or Community pages.
These changes will also make it easier to upload media to use in posts.   We are simplifying the process for uploading images to use in forum posts, blog posts, reviews, contests, etc... Soon, all of these sections will let you easily take media from your MyMedia, and will give you much easier tools for uploading on the fly!
Improved Video
Video on NS has been blowing up recently, and we can't be happier! We've heard your comments about our current video system, and we want to improve.  We are working with our parent company to begin serving all our videos from their custom Yahoo!-certified CDN. This will bring much faster download speeds and smoother buffering when watching larger videos.
We will also be upgrading the quality of all our member videos to 480p, and editorial content will be served in 720p HD. 
Media Uploader
In addition to the changes to media management tools, we've also got a new uploader in the works!   You can already use the new Picutre uploader when you add to your Blog, or edit Cult settings.  Additionally, we are also lauching a new video uploader to help you upload those big video filess.  It will include a progress bar and countdown so you know how long your upload will be. 

Teaser shot of Video Uploader
We're excited to bring you these changes and we look forward to your feedback as we begin to roll out these new features. 
Peace!
~Paul S.