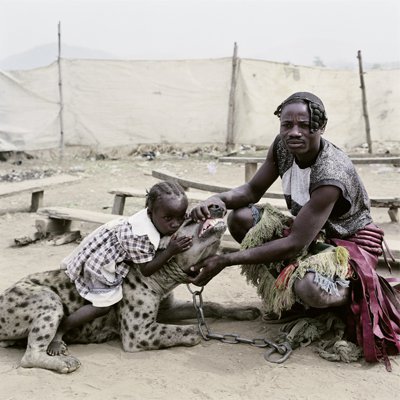 Sometimes, however, what starts with a cool cellphone picture sent from a friend becomes an amazing, thought-provoking piece of photojournalism that probes the relationships between humans at the wild, humans and animals, and humans and each other. And I'm rarely stopped dead in my tracks when a photo crosses my field of view – but I was with these photos, with this body of work.
Pieter Hugo's The Hyena and Other Men is a series of incredible photos, taken over two trips in as many years at the edges of a shantytown in Nigeria. Hugo worked with Nigerian reported Adetokunbo Abiola to not only find the men to photograph, but to get to know them and earn their trust.
The arresting images–which show men (and, occasionally, children) with hyenas, monkeys, and other wild animals which have been tamed for entertainment purposes–are an exploration of one tiny population's life…a life that's pretty different from yours or mine. Horrible or wonderful? That's for you to decide. Scroll through some of the image tabs above this photo… Completely remarkable.
Here's an excerpt from Hugo's explanation of the project:
Seldom did anyone express strong concern for the well-being of the creatures. Europeans invariably only ask about the welfare of the animals but this question misses the point. Instead, perhaps, we could ask why these performers need to catch wild animals to make a living. Or why they are economically marginalised. Or why Nigeria, the world?s sixth largest exporter of oil, is in such a state of disarray.
Head over to Hugo's site to see the rest and read his description of the artistic process. It's a good read.
Hat-tip to my buddy Jon Coe for bringing this evocative project to my attention.