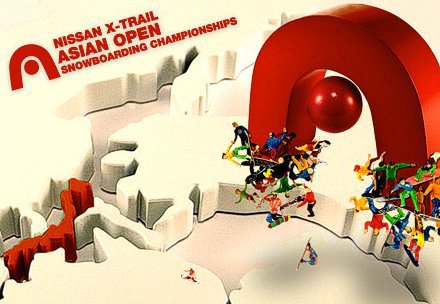 EUROPEAN RIDERS DOMINATE THE FIRST DAY OF COMPETITION AT NISSAN X-TRAIL ASIAN OPEN 2009.
World-Class Snowboard Competition Offers Crucial Points Towards the Burton Global Open Series and Swatch TTR Championship Titles. A.R.C. rider matti Kinnunen ends up 4th after the first qualifyer day.
FUKISHIMA, JAPAN (February 24, 2009) – A strong crew of 80 riders from all over the world battled it out today through tough weather and two rounds of competition to kick off the first day of the Nissan X-Trail Asian Open 2009. Snow, flat light and wind were not enough to hold back the most talented riders in the field, who were looking to earn spots in the semi finals this Thursday.
The pre-qualification round in the morning saw all the riders take it to the course, consisting of a street style rail, two big kickers and an up box that gaps to a flat/down box. Combos on the two jumps plus solid control on the top and bottom jibs were the key to high scores, and the judges cut the field in half before rolling into the afternoon for the qualification round.
As the day progressed, the weather got worse but the riding got better and better. It seemed like a battle was being waged between the wind and the snow, and also between the local Japanese crew and a strong contingent of riders from Europe. In the end, it was Petja Piiroinen from Finland who took the top spot in today's qualification with a run that consisted of a backside boardslide to fakie, backside 900 tailgrab, cab 900 nosegrab and a 50/50 gap to 50/50.
If you can't make it to Japan, watch the semi-finals and finals live on Go211.com, where webcasts and highlights of the competitions will also be available for on-demand viewing once the event is over.For more information on the Burton Global Open Series head to http://www.opensnowboarding.com. For more information on TTR, visit http://www.ttrworldtour.com.
1 Piiroinen Petja FIN BILLABONG 87.60
2 Manninen Tero FIN ELAN 81.60
3 Evensen Fredrik NOR HEAD 79.60
4 Kinnunen Matti FIN AMPLID 79.00
5 Kamimura Kotaro JPN FORUM 78.20