If you've had your fingers on the pulse of the international freeski scene for the past few years you will probably have heard the names Luka Melloni and Noah Albaladejo before. In the last 18 months good things have really started happening to this pair of amigos from Barcelona and Andorra. Noah's video parts in recent STEPT movies and Luka's recent edits with the 4bi9 crew are really the tip of the Iceberg for two skiers that have worked harder than most to keep skiing and put their small corner of Europe on the map. Amplid caught-up with Luka and Noah to reflect on the breakthrough season they've just enjoyed and to talk about their future plans.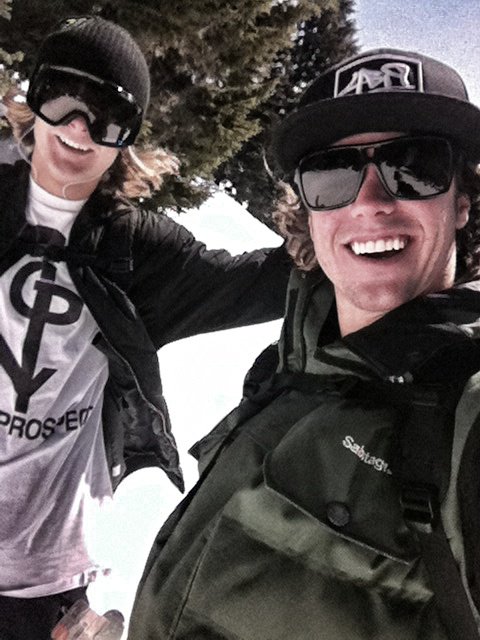 Foreword by Pako Benguerel
Noah and Luka are awesome people; they are very humble, generous and respectful to everybody.
Noah is incredibly consistent; his skiing fundamentals are solid which has enabled him to improve the more technical aspects of his skiing. His style is always impeccable and he always polishes his tricks before trying new ones. In my opinion that makes him the best skier on the Iberian Peninsula. Even if it is raining, snowing or the wind is blowing like a hurricane, he's always out there, skiing every damn day!
For Luka it's been a bit more difficult because he chose to balance skiing with his studies. Luka's rail skills are at a really high level and he has a very unique style that helps him to stand out. Luka has always maintained a really good alpine skiing base; this skill base makes him an insanely powerful skier in the backcountry. Personally, I can't wait to see him move his skiing more into this area. Nowadays I don't know of many skiers that can handle it inside and outside of the park like Luka, he is without a doubt the most versatile skier of the peninsula. Like Noah, Luka's style shines through on everything he does and like Noah he always learns a trick to perfection before moving on to a new one.
In my opinion Luka and Noah are the two skiers with the most style in Europe.
I'm extremely proud to have shared some of the best moments of my life with them.
https://www.newschoolers.com/videos/watch/681582/Luka-Melloni---Noah-Albaladejo-
Luka & Noah just lapping one of their local parks, Tarter in Andorra
Amplid: So you've both just returned from The West Coast Session at Timberline, how was it?
Luka: Every year WCS is the best times of the season. We didn't have great weather like we did last year, but it was so sick just seeing all the people kill every feature. Also, the big jump feature and hidden tranny finders were really sick, giving everybody so much game.
Amplid: It seems like you've both been going to the event year-after-year for a long time, how has the event changed since your first visit? And what keeps you returning?
Luka: It's the third year that we've been to WCS. We go because for us it is one of the best events of the season. It's not like a competition; it's more like an expression session that goes on for a whole week, like a dream. The park at Timberline and the views of Oregon are awesome, and we've got good friends over there, so every time that we have the invitation we try our best for make the dream real!
Noah: It's like a concentration of the sickest skiers and homies in a really fun park. This year the weather was pretty bad for the first three days, but that didn't stop anybody from enjoying the mountain. Luckily the last few days were really awesome and we were on the mountain from 10 am to 8 pm. Really, I can't miss WCS and I hope that it keeps running for many more years!
Amplid: When the freeski community comes together at events like WCS it's one big family. As Europeans do you feel part of the family?
Noah: Yeah, we totally feel part of the family, and it's been like that since day one. Everyone has the same lifestyle and we are all really likeminded. Everybody who is open to it feels the WCS vibes. People are super cool with us, just hanging and having one of the best times of the season.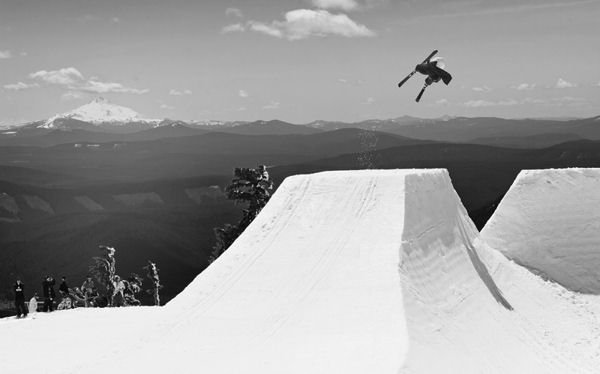 Like a heatseaking missile, Noah locks in on the landing transition of a crazy hip transfer at WCS.
Amplid: I think it's fair to say that the 13/14 winter has been breakthrough season for you both, but what have been the highlights?
Noah: This winter I went to Colorado to meet with the Stept crew and spend some time filming and chilling with them. Every year I learn a lot from them and I have the sickest times. The Stept crew is killer, I appreciate their support and I can't wait to be back there. After filming with Stept I did a few competitions and filmed a bit in the parks and the backcountry. I really wanted to put some time into learning new tricks and get away from skiing urban for a little while.
Luka: My highlight was travelling to Utah and California in February and March with the 4bi9 crew.We spent one and a half months over there filming and working for our parts in next fall's movie. While we were there we hit-up the War of Rails at Bear Mountain. I guess that wasn't really a highlight because I broke my collarbone in the first round of the finals on a shitty crash, but I had so many good times over there.
https://www.newschoolers.com/videos/watch/707754/N--Albaladejo-Cruising-
Noah took some time away from filming Urban this season to learn some new tricks. Looks like it paid-off.
Amplid: You've both been committed to skiing for a long time now, how does it feel to finally be getting some recognition?
Noah: Yeah we've been skiing for a long time! Until now there hasn't been so much recognition, but the flow and feeling of skiing for us is still improving and that's the real pleasure, we think. When you really feel like the skis are your feet, there's no way you can stop doing that. For the past few years I guess we've started to get some recognition, that's very sick for us. In the end, we just want to spend more time skiing.
Amplid: Luka you've been filming with 4bi9 this winter, how did that happen?
Luka: For the past two years I've filmed with 4bi9 at the West Coast Session. Last year they gave me the chance to film with them during the following summer. So Pako Benguerel and I went to Chile with Karl Fostvedt and LJ Strenio and we filmed the Eye of Condor edit with Mike Mcleod. They were stoked with my shots and they told me that if I wanted to I could film with them that coming season. So that's what I did! I've known Dale Talkington for quite a long time and he was my "guide" when I was in the US. Tuna (Tom Arnelly) and the others; Karl Fostvedt, Andrew Napier, AJ Dakoulas, McRae Williams, Evan lahip, John Ware, Jake Doan, Tim McChesney, Joey VanDerMer, Tim Cage, Khai Krepela, Sean Kennedy and many others all looked-out for me too. Thank you all!
https://www.newschoolers.com/videos/watch/743896/4BI9-Goes-to-Bear
Luka had a couple of productive days at Bear before breaking his collarbone
Amplid: Noah, am I right in thinking that this winter will be your third filming with Stept? What's it like filming with the Martini bros and the rest of the crew?
Noah: Filming with Stept in the streets is a mixed bag of emotions. It's really hard to film urban and this crew works as hard if not harder than any other crew to get the shots, no matter what time it is, what temperature it is outside or how far we have to travel to get to the spot. There is always high pressure moments, happy moments, scary moments... and to share that with the homies is one of the things I love the most. I feel at home there and I'm so grateful to the whole crew for that. I'm really proud of my part in the movie; I think it's my best part yet. Dropping this fall!
Amplid: Which crew, 4bi9 or Stept, would win in a fight?
Luka: Both crews are really similar; young guys that try to express themselves and represent our sport in a core way, they're just located in different places. To be honest I have no idea who would win in a fight, but it would be a seriously bloody fight. Friendly… but bloody.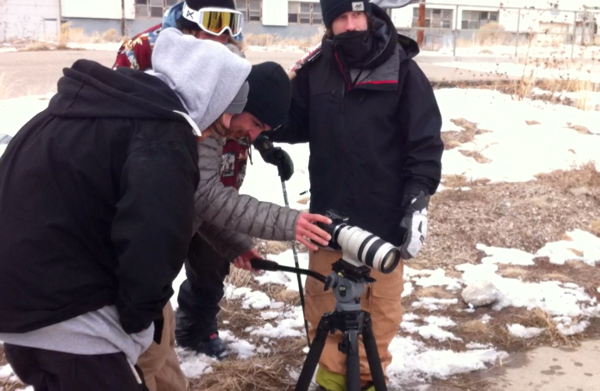 The 4bi9 crew checking what shots they'd bagged that day
Amplid: Talking of filmers, when you're at home you're mostly filming with Pepe Gay and Borja Azurmendi. How do you know these guys? Do you have any big collaborations in the works that we can look forward to?
Noah: These young guys are so good at filming and editing. Luka and I met Pepe and Borja through the love of freeskiing, in Spain it's a very small world. We're also filming with two other guys that are equally motivated, Riki Coma and Miguel Triano. So it's a really nice crew for future things...
Luka: We have been thinking about working on a special project with these guys, but for the moment we don't have the time or the money to do any big projects together. Hopefully we will in the future though.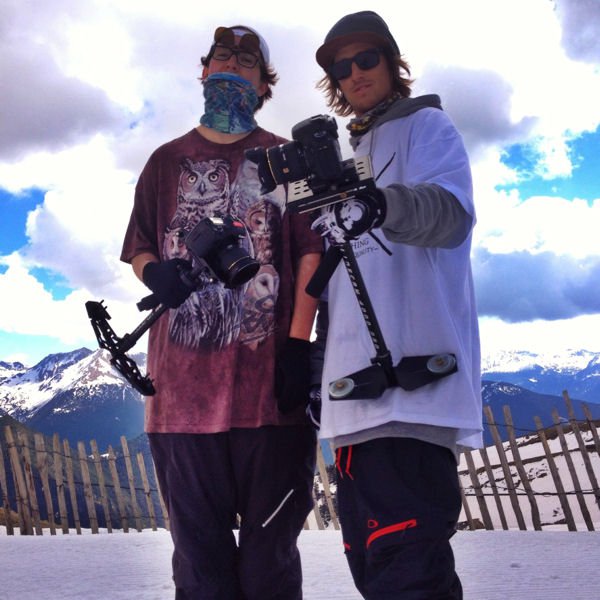 The talent behind many of Luka and Noah's next level edits: Pepe Gay & Borja Azurmendi
Amplid: Tranny finders! You are both mad about micro-trannies, why the obsession?
Luka: We always say that freeskiing is the way we express ourselves. I don't really know why, but we just find trannys everywhere and try to push it as hard as we can. I just love the feeling, I don't know how to describe it. I'm sure you get what I mean.
Noah: Hahaha, I guess the influence of snowboarding is the obsession...
Amplid: You regularly express your gratitude towards Pako Benguerel, he obviously played an important role in your development as athletes. How important has Pako been in your skiing careers?
Noah: Pako has been super important to both of us. His riding style has had an influence on us, and over the last few years he's really helped us to develop our professional careers. The most inspiring thing about Pako is the insane amount of time he's been skiing for. To ski at such a high level for as long as Pako has is definitely one of my aims.
Luka: Without Pako our freeski trajectory would have been at the very least slower, and maybe smaller. He's always helping us by trying to get us into new events and introducing us to sponsors. He's also an awesome trip buddy; most of the time I end up grateful for his experience and knowledge.
Amplid: How would you explain the Iberian (Spain, Andorra & Portugal if you were wondering) freeski scene to a North American in no more than 10 words?
Luka: It's like California, but the snowparks are a bit smaller.
Noah: North America has a bigger freeski culture than we do, but it's getting bigger and people are more motivated, so I hope that one day Iberians will influence some North American Freeskiers.
Urban sure looks different in the Pyrenees
Amplid: Do you think that the Total Fight event is bringing some attention to the scene?
Noah: Definitely! International events always help to grow the scene! They are doing such great work with the Total Fight and every year there are more people that want to come to Andorra and enjoy the contest. A big name event at home, with a lot of sick skiers like McRae, Karl.F, Matt Walker and many more, gives recognition and exposure to our skis areas and the Pyrenees.
Amplid: Looking to the future, what are your big plans for the 14/15 winter season? Will you be back in Chile this summer? Will you be back in the US next winter?
Luka: I don't know what I'm gonna do next season, but I want to come back to Utah if it's possible. This summer I'm going to Pako's Freeski school to do some coaching for a few weeks, I really can't wait! Maybe after that I'll go to Windells, or maybe Chile again. To be honest I'll probably end-up working, but I'm not sure yet.
Noah: My plan is to work a couple months this summer and rest the body (I wish I could keep skiing). And yes, I hope to be back in US next winter and to keep skiing as long as I can!
Amplid: Just to add a bit of brain food into this interview, tell us an interesting fact about Catalonia and Andorra that we probably don't know?
Noah: Catalonia is a part of Spain where we spend the summer working, skating, surfing, partying and having fun. Andorra is my country of residence and where we all spend the winter skiing. I also recommend it for cheap liquor and electronics!
Luka: There are some politic problems between Catalonia and Spain, Catalonia wants to be its own independent country and Spain doesn't. You can end-up talking about this all day long, but I'm not really clued-up on the politics, so I don't wanna talk about it. All I can say is that Catalonia is awesome, Barcelona especially. If you haven't visited Catalonia already you should. Sun, Estrella (Spanish beer) and tons of hot chicks, that's the daily menu in this city. The food is also excellent. Barcelona sits on the coast of the Mediterranean Sea, but it's just a two hour car drive to the mountains. It's pretty sick!
Amplid: Is there anybody you would like to thank?
Noah & Luka: We'd like to thank Amplid, Buff, Monster, Pako, our families and frients and of course the STEPT and 4bi9 crews for making 13/14 the best season of our lives so far!