Since I'm a girl and a photographer, I'm a bag junkie. I have more camera bags than shoes! I received the Passport Sling just in time for a busy two-week trip to Europe and decided to use it exclusively to carry my 5D MarkII with the 24-70 mm lens attached, extra batteries, CF cards and the few personal items. The Passport Sling immediately became one of my favorite camera bags!
Like most photographers I am always looking for that perfect bag for the job or situation.
I have a rolling bag for my everyday client shoots, a sturdy backpack for extra gear and flexibility, and everything in between. The one bag that I am the most peculiar about is my photo-walk bag. I need it to carry one camera with one lens attached and a few other necessary personal items – and the Passport Sling is perfect for that!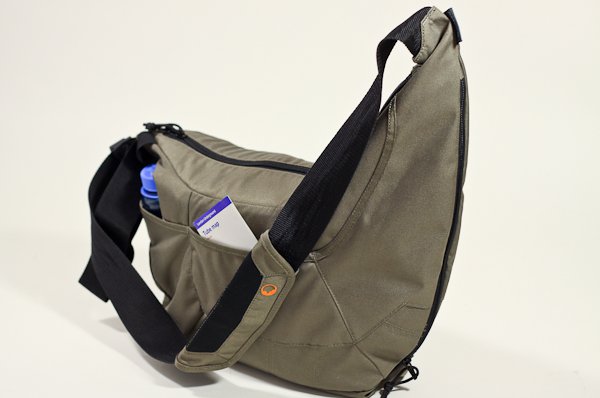 The Lowepro Passport Sling features a removable and fully padded camera compartment in the shape of box, that easily folds flat for storage. There are two pockets on the outside of the bag for maps, boarding passes or other quick access items. There is even a handy water bottle pocket! I can also adjust the strap to whatever length I need and the removable sliding shoulder pad makes for carrying comfort.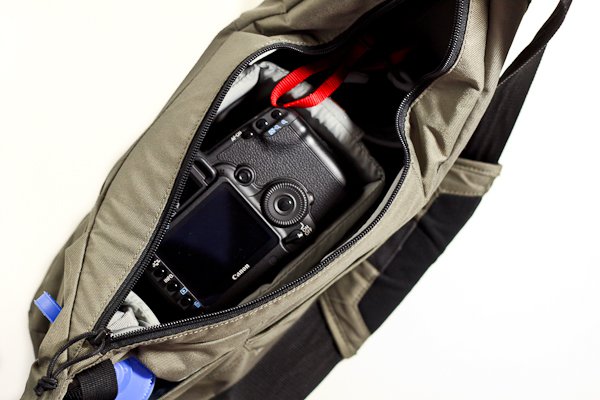 Pictured here with the 5dMarkII and 24-70 mm f/2.8 lens attached.
And as if that isn't enough terrific features, the bag has an expandable compartment on one end. It zips open to reveal about 30% more space to put extra items next to the padded camera compartment. And being a girl and a photographer, I like more storage space!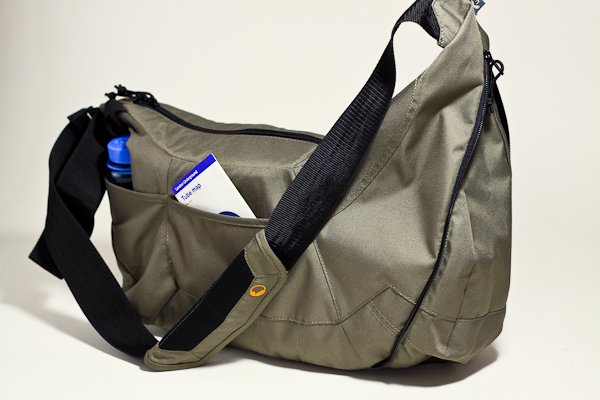 Expandable compartment
I carried my new Passport Sling on daily photo walks from Amsterdam to Paris, day in and day out, for two weeks. It was comfortable to carry and fit all my photo needs. However, if you?re like me, your camera is mostly in your hand while you walk, and I liked it that this bag was not in the way. It stayed in place on my back and, better yet, did not look like a camera bag with all my gear safely stored inside.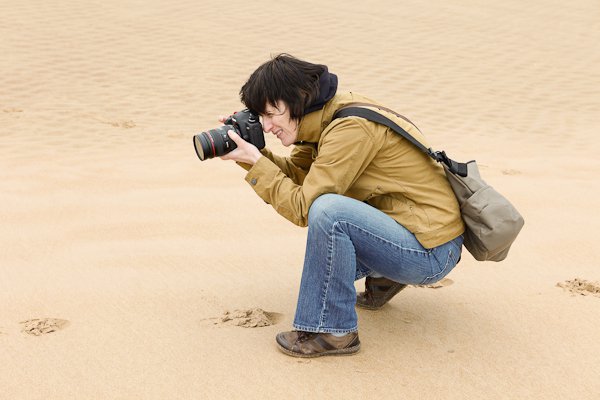 The one thing I missed was the extra peace of mind from having a zipper on any of the exterior pockets which might help deter a pickpocket in the Paris métro during rush hour! Also, a separate zippered pocket on the inside would be nice.
The Lowepro Passport Sling inner dimensions are as follows: Camera compartment: 4.1? width x 7.5? depth x 7.5? height (10.5 x 19 x 19 cm) Expandable compartment: 5.1? width x 6.3? depth x 15? height (13 x 16 x 38 cm) Weight: 1.1 lbs. (0.5 kg)
Depending on the size of your DSLR, you could possibly fit an extra lens or flash next to it by using the padded divider. My 5dMarkII fills the compartment when it is stored straight down with the 24-70 mm lens attached.
The Lowepro Passport Sling retails for 74.99 US$ and is currently available with a 20% discount on Amazon. It is available in Black, mica (pictured) and Light Blue.
In any color, however, this thoughtfully designed, good looking, durable camera bag will serve you well in any photographic job or situation. Now I can shop for more shoes, and stop looking for camera bags!
Post originally from: Digital Photography Tips.
Check out our more Photography Tips at Photography Tips for Beginners, Portrait Photography Tips and Wedding Photography Tips.
Lowepro Passport Sling Camera Bag – Review