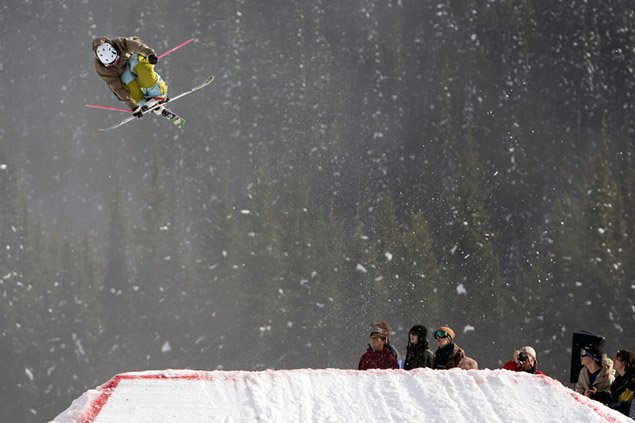 Leigh Powis, cork 9.Photos: Dan CarrWords: The Speechless HackTraveling through thick pea soup for most of the morning, my hopes for good weather during this year's incarnation of Lord Of The Park were not high. Yet somehow, the special twilight zone in which Manning rests ended up providing mainly clear skies for most of the day, allowing ample opportunity for the best riders in B.C. to wreck house.The setup Manning Park put together for 2007 was not nearly as advertised, but it was well maintained, if the features were to your taste. The course was broken down into two sections, starting out with a pair of Auschwitz street-style rails (a flat and a flat down) both a generous six feet off the ground. They added an interesting flavor of doom to the spectacle, but did limit trick variety for all but the top skiers.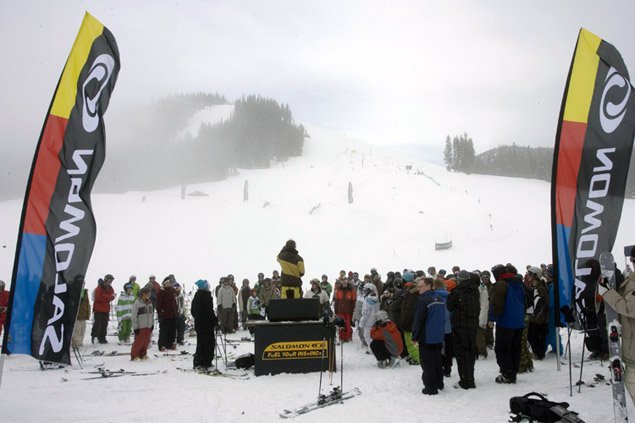 Riders meeting!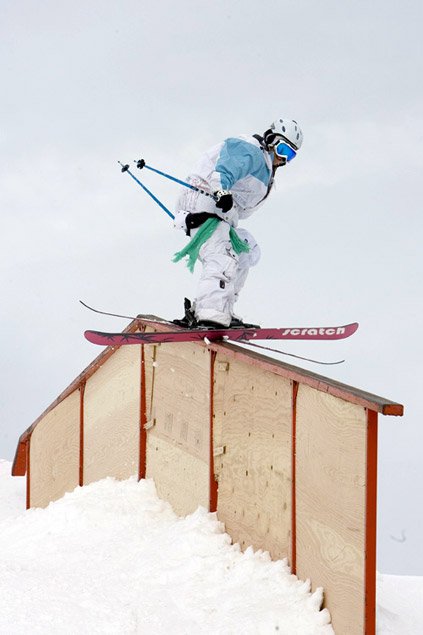 Nina on the burly flat-down.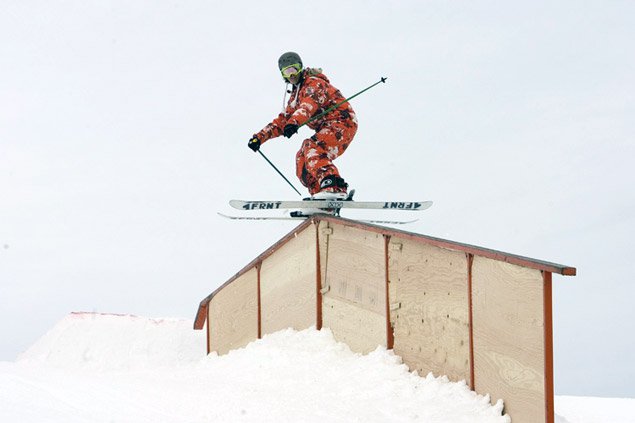 A skier. A rail. A thin slice of perfection.Once past the rails, quicksand, and pit of snakes, the jumps awaited. First up was a channel gap about as wide as it was long, which saw small but mostly stylish tricks all day. Then to close things out, a two hit wu-booter with a nice landing materialized directly out of Skogen Sprang's dreams. Generally competitions are never on schedule, but everything managed to stay pretty well on track all day. This was probably because it was decided on the fly to scale back qualifying to two runs per athlete as opposed to a charitable three, and instead to accept more skiers into the finals. The finals were then organized into a jam format where riders were not limited to a certain amount of runs, but were instead given over an hour to crack off as many park laps as they could.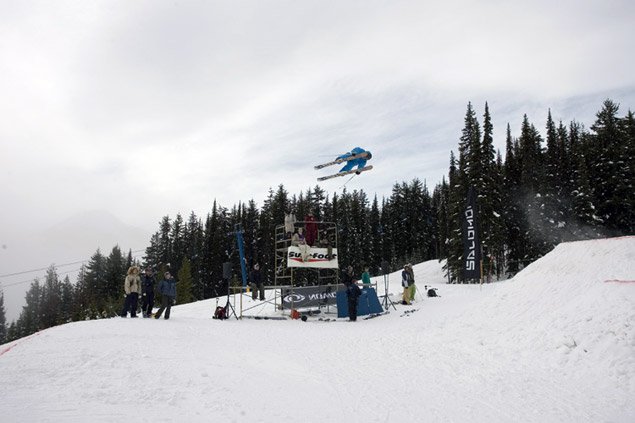 Joe Schuster drops the soap.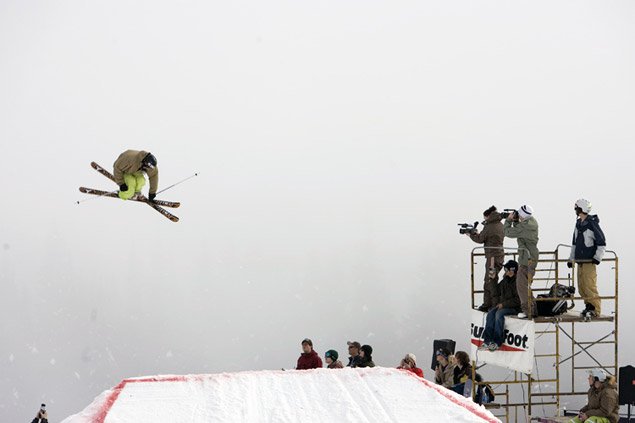 Brandon Kelly, glad to be past that pit of snakes.The level of skiing in the finals was amazingly high for the most part, with both pros and unknowns impressing everyone in attendance. The Under 16 and Women's Open categories showed just how good often-marginalized demographics are getting these days with especially solid skiing from pretty much everyone. The Over 16 category had a strong showing with second place finisher Kieran Nikula sticking an impressive 270 on to the big bar, and Graham Hayward and Leigh Powis both prevailing over an impressive field for good reasons.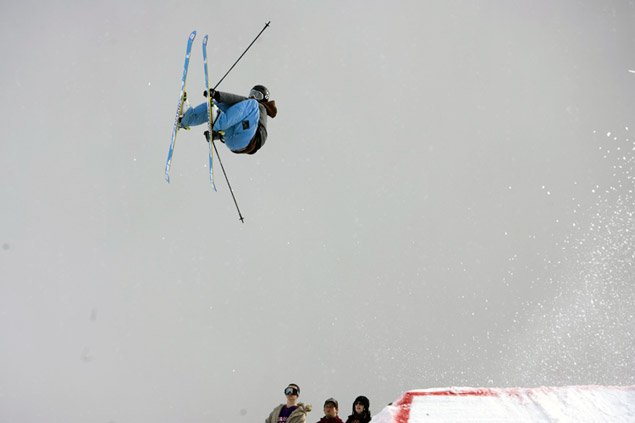 One Pierro, two grabs and three gaping mouths.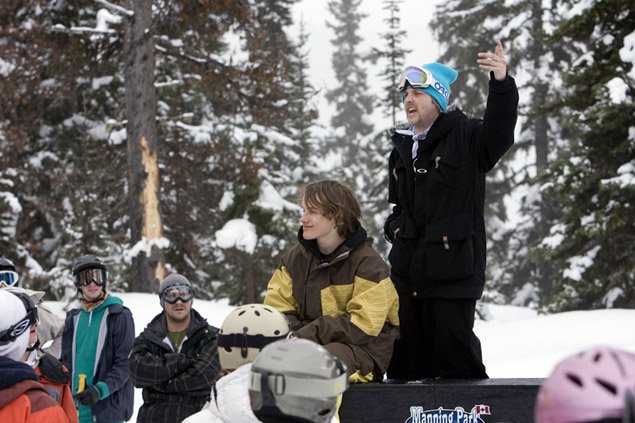 Jeff Schmuck: Does that guy EVER shut his mouth?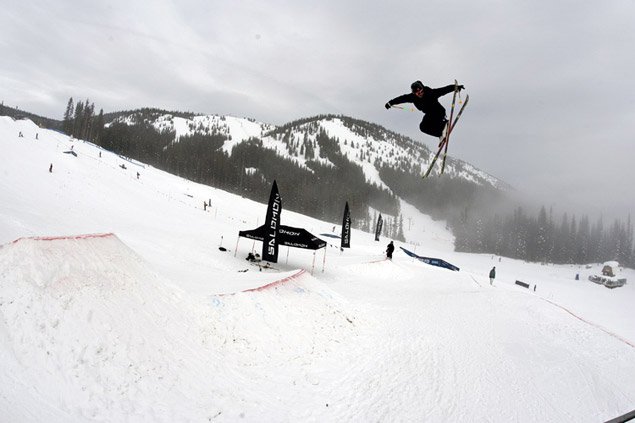 OMG it's Charley Ager.At the pro level, the Atomic squad did extremely well, with Charley Ager and Brandon Kelly sticking the biggest airs of the day, despite being unable to put together a top overall run like their comrade Josh Stack. Mike Mertion, last year's Over 16 winner, stepped up a level this year and looked at home with the pros, finishing second. Justin Dorey calmly skied well all day, but really locked down his game towards the end and showed why he has such a great record on the competition circuit. The tragedy of the day (other than the unknown soldier who savagely nutted the big bar in qualifying.) was Austin Ross, who after being one of the most stylish skiers in qualifying, decided to poach the course repeatedly in finals with the incredible James "huck-splat" Hillier. Despite throwing some of the sickest tricks all day on his poached runs, Austin's inability to wait in line cost him an almost guaranteed podium spot, which he would have surely deserved.What more is there to say? It was a great competition and a fun time for everyone who came out. Let the credits roll.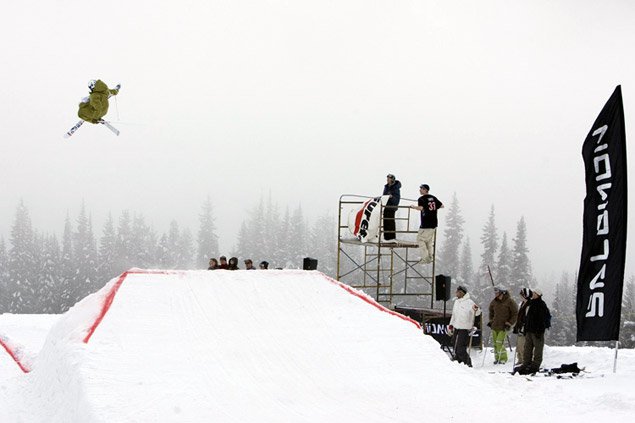 Dane Tudor.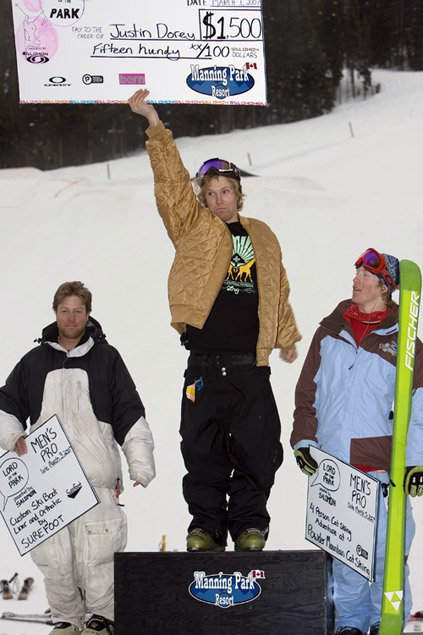 Final ResultsPro1. Justin Dorey2. Josh Stack3. Mike MertionOver 161. Graham Hayward2. Kieran Nikula3. Leigh PowisUnder 161. Colin Voykovich2. Alex Pro3. Simon LouweWomen1. Nina Awesome2. Jenny Turbo3. Emily Higgins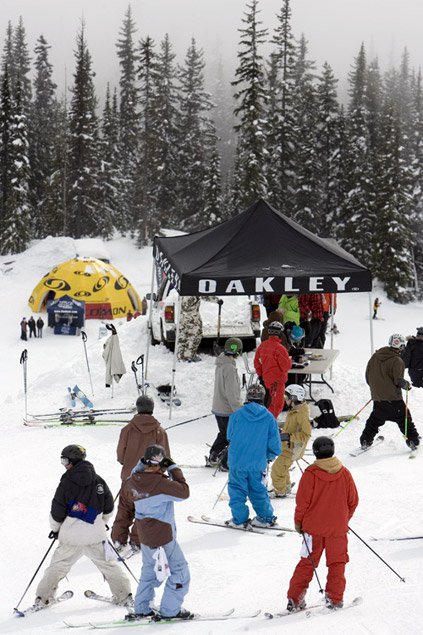 It's like "Where's Waldo," except instead of Waldo, it's "Where's Schmuck?"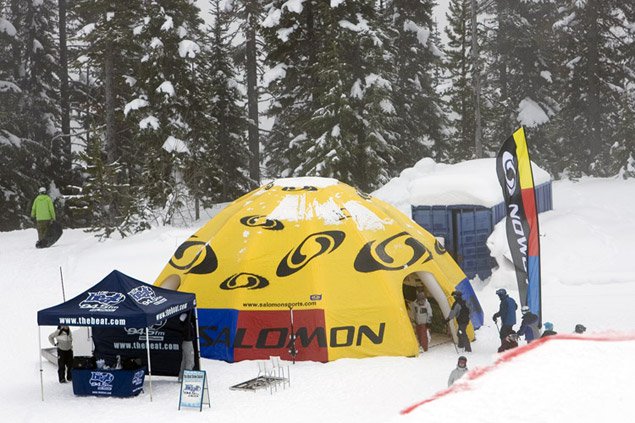 Hey, is that guy dragging a body off behind the demo tent?Special Thanks from Brian:Tyler Gigg - SalomonAndrew Sharp - Oakley and BernChris K. O'Connell - NewschoolersKen Achenbach - Powder Mountain CatskiingDerek Burgen - SurefootJeff Thomas - Theory 3 MediaManning ParkJeff Schmuck - JudgingDave Pires - Judging and ArticleJeff Thomas - Judging and ShovelingJoel Prentice - JudgingNathalie Armstrong - RegistrationDavid Coles - RegistrationDan Carr - Shoveling and PhotosLeigh Powis - ShovelingJay and Park Crew - Battling the powers that be.Dee Hambly - Razer TVDianne Quast - Dropping the charges on the roomSimon's Dad and Peter? - Shoveling and helping with the jumpMatty - FilmingDad - Getting batteries for the radiosAll the competitors for showing up and having a good time.