Words by Congo
Photos by Julie Weinberger
The flight from Buffalo to Chicago was delayed 45 minutes, jeopardizing the arrival of our ski gear in Jackson, Wyoming. Hustling through the Chicago airport from Concourse B to Concourse C with a 15-minute window to board the plane added to the recipe for a trip starting on the rocks. Despite the shaky start, there was no doubt in our minds that the three of us would be all right and things were going to butter out. As we triumphantly descended into the Snake River Valley and flew past the Grand Tetons to our right, it all came together as our luggage arrived, our car was rented and we anxiously peeled out of the parking lot at 9,000 rpm on our way to Jackson.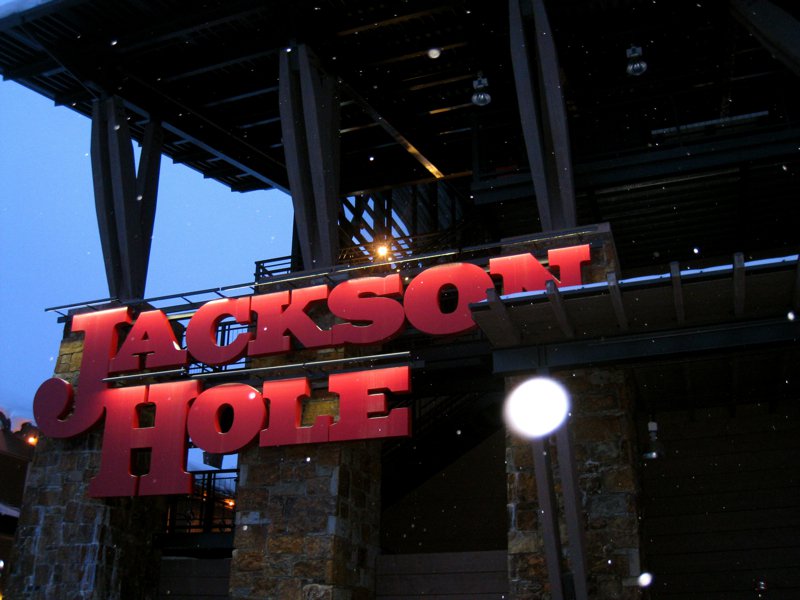 Driving through the lowlands of outer Jackson and gazing out the windows at the surrounding mountain range, it became apparent that we were in mountain man country. The lower foothills were scattered with wildlife. Mule Deer, elk and moose were just a few of the animals grazing around and they were really not that hard to find. Later on we would be told the bison, wolf and grizzly also roam around the town, but had made their way into the interior of the national park for the winter. As we drove into this small town, it also struck us that we were entering a world ruled by cowboys. Not only did the hints of ongoing cattle ranches help this observation, but a short stroll through town made it very clear that cowboy boots, hats and any leather goods in between were of no shortage.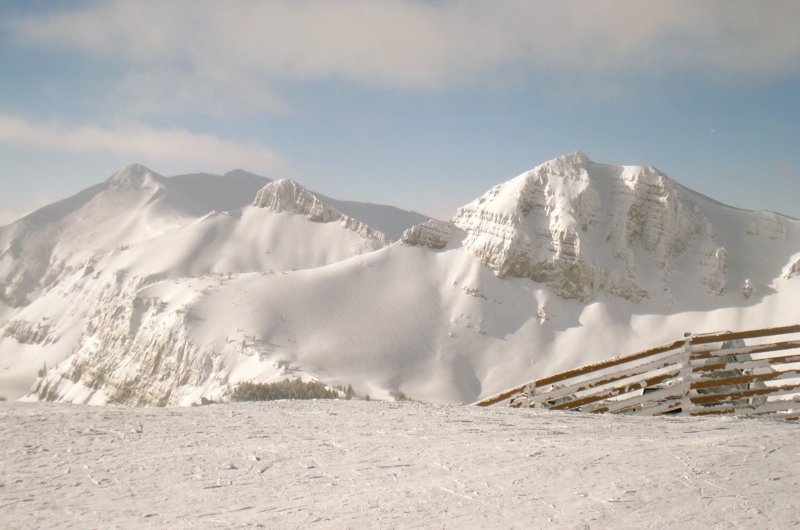 Sitting just outside of Jackson is Grand Teton National Park, which is about 30 km at its widest point and runs about 50 km north of Jackson. The town of Jackson is about the southernmost point of the park and sits about 100 km due south of Yellowstone National Park. GTNP was named after its tallest mountain (Grand Teton), which stands at an impressive 13,770 feet. Although the true origin of the name was lost years ago, indigenous French fur trappers dubbed the mountain range "Les Trois Tetons", which literally translates to "the Three Nipples". Les Trois Tetons are the highest peaks in the area and it's safe to say when looking across the range of the park you're staring at some big ass teats. Trappers referred to deep valleys surrounded by large mountainous peaks as holes, so one of the trappers, David Edward Jackson, now takes the name of the major ski establishment known today as Jackson Hole.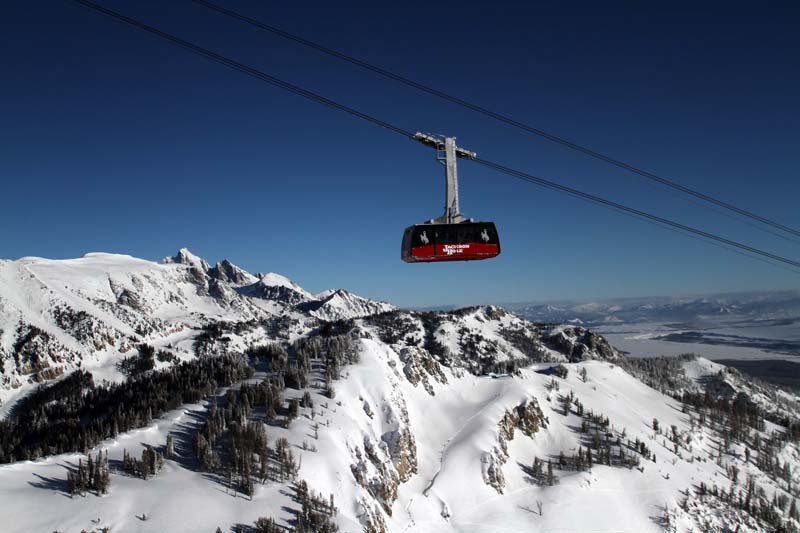 The Tram, in all its glory...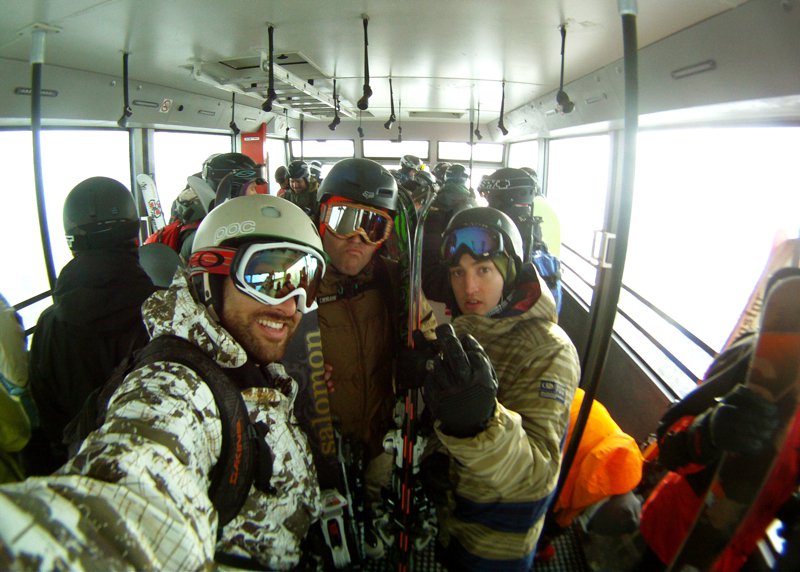 ...and the happy cargo.
Arriving at Jackson Hole, we parked in the Ranch parking lot. Parking is free here along with a complimentary shuttle ride to the tram for a group of three or more. We hopped into the shuttle and were driven to the base of the resort. The shuttle's driver chose what sounded like St Mary's orchestra music for our short commute. Little did we know that shortly we would be hearing that same music playing in our heads as we soared down the luscious landscape of ski heaven. After acquiring our tickets, we made our way to the tramline where we waited a surprisingly short amount of time given the length of the line we joined. Entering the tram, it was amazing to see the speed at which we were able to ascend. At a capacity of 100 people per trip, this mass vessel is able to climb an impressive 4,139 feet in nine short minutes, making our impatient and jacked up ski nerves settle quite quickly. As the tram slowed down on approach to the summit, a voice amplified out of the crowd like an Angus Young opening guitar chord. "LISTEN UP! Time for tram announcements. Welcome to North America's best mountain! Top of the tram is for expert level skiers only. Ski Patroller huts are located at the top of the tram, top of the gondi, top of Après Vous. Corbet's Cabin hosts the best waffle in town - ¼ nutella, ¼ butter, ¼ sugar topped off with a kiss of whip cream in the middle…it's number one for a reeeeasooooon." The doors burst open and you're immediately hit with the crisp and thin mountain air. We were herded out of the tram quickly in excitement and as we passed Corbet's Cabin, we leaped into our skis and were ready to rock!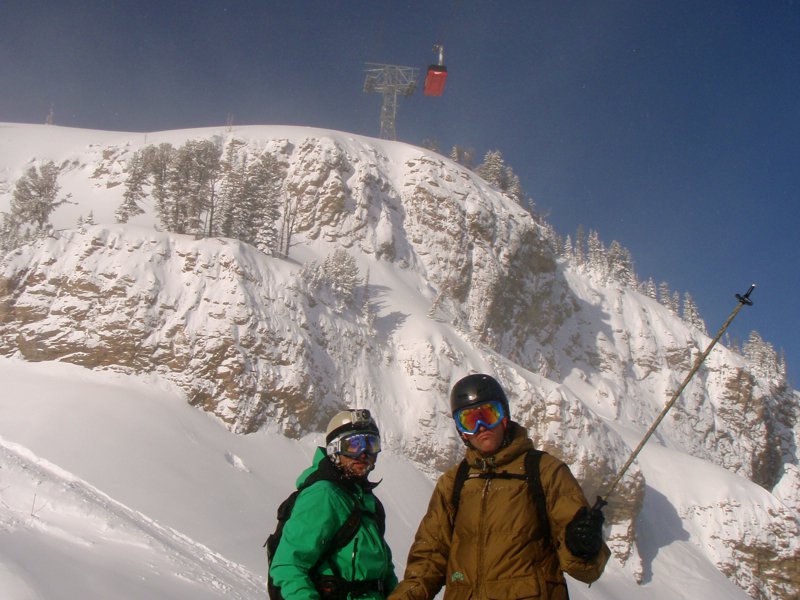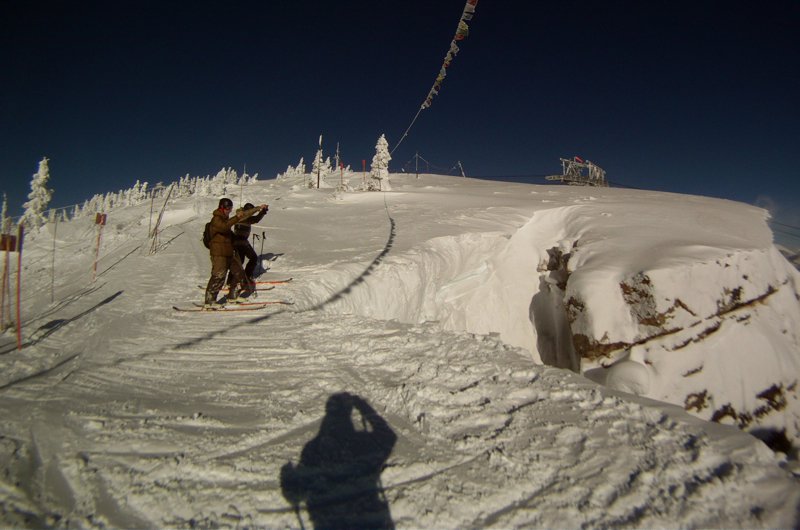 We were privileged enough to meet up with Julie Weinberger, who is a kick ass chick and also the Social Media and Marketing Coordinator for Jackson Hole Mountain Resort. Julie was gracious enough to spend some of her time guiding us around the mountain to the more sought after areas. Looking about this wild natural landscape, we were blessed with the presence of a bluebird sky and the great sun to work on our holiday goggle tan. First stop was the Alta Chutes, which runs skier's right, barbecuer's left of the Sublette Quad Chair. Run after run we found ourselves submerged in steep open areas with five to twenty foot drops, tight to wide-open trees, steeps, and terrain peppered with rock hopping options. With the 15 combined west coast ski trips we have been on, we can safely say that the Thunder Quad Chair and the Sublette Quad Chair allowed us to access the most intense ski-centric terrain we have ever seen.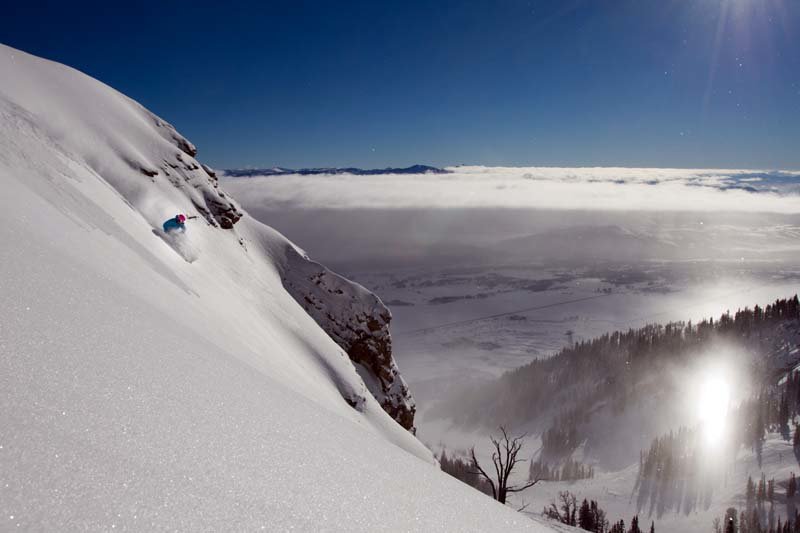 Julie Weinberger. Photo: Niall Bouzon
The Thunder Quad Chair sits atop a ridgeline which houses mandatory chutes off the chair to the right, skier's left (Paint Brush and Tower Three Chutes) and a clear view of the double-black Expert Chutes. The Sublette Quad Chair, our favorite quad in North America, sits below right of one serious ridge in which it is not uncommon to see pros and pros-to-be lining up cliff drop after cliff drop, tree chute after tree chute. The experience was on the verge of surreal. One point during the week on a downloading chair, a large robotic fish-eye lens, which I could swear was the same that's used to film BBC's Planet earth, was bracket fastened to the side of the chair. This device was remotely controlled by two onboard cameramen who patiently waited to film a local snowboarder lining up a 20 footer just below down the infamous Alta Chutes. How bang on that shot must have come out. I could only imagine you'll be seeing it in an upcoming film. After the first run, we knew we were not even close to anything we had experienced before. Each direction we turned down the Sublette Ridge we would find one tree-lined chute after another with some mandatory airs within. Although we were riding some several day old snow, we did not have a problem finding soft conditions in the trees. Orchestrated so well, these chutes offered endless options and points of attack for means of egress and were so much fun that we found ourselves constantly back for more.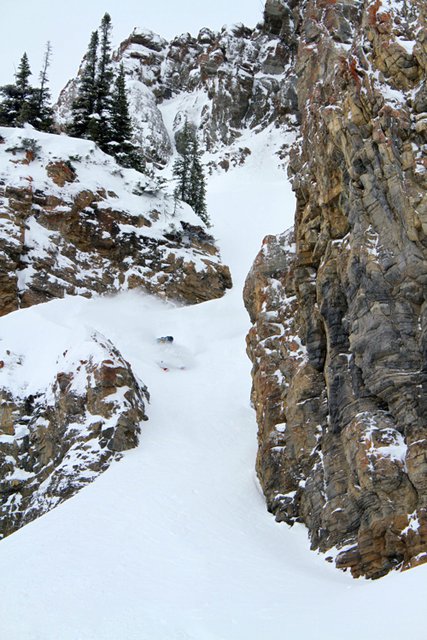 Patrick Nelson
We also made sure to drop skier's right off the Sublette Quad Chair to visit Cheyenne Bowl and Bernie's Bowl. After a couple laps in these perfectly sized bowls to charge, we shot back over to the Expert Chutes for a taste of the glory. These chutes are only accessed from the Sublette Quad Chair or the Aerial Tram. On the same page of steepness and technicality as the Alta Chutes, these offered a rockier and more tree-ridden course. One of our favorite zones of the week were the cliff bands in these chutes which offered, 10, 15 and 20 foot cliff drops, all of which were adjacent to each other and allowed an expert skier of any level to push and push their drop distances. For some of us on the trip, this was simply a place to "figure it out". As you exit this treed area, you face one of these cliff-drop options where only a hike out would save you. A roughly 1000 foot hike then got us to the Headwall where Julie directed us to sufficient drop in points and continued her hospitable advice and information about the mountain. The day ended with a ski through one of the many Burton Stash Parks that were filled with natural built features from rainbow log rails to hitching posts and a man-made pillow line. Riding a high from a day like any other we have had at any other ski resort, we parted with Julie and headed back to our timeshare to drink the soreness away and recharge.
The timeline continuing from this point of the trip onwards is a blur, which is mixed into one big cesspool of fun, excitement and adventure. The rest of the trip continued with mind humping ski fun followed usually by casual coldies at the base of the mountain at the Mangy Moose, where the beer is cold, the wait staff are alluring and the nachos are plentiful. The inner town is littered with eateries from quick and easy grub to pampered Hollywood-style fine dining. Keeping a keen eye of your surroundings the possibilities of spotting a celebrity or ski or snowboard pro on or off the hill is quite high, as Jackson is a popular hidden vacation or living destination for some. In fact, while catching a quick bite atop the Bridger Gondola at the Rendezvous chalet as we picked away at french fries while doing our best to secretly mix rum into our tea mugs, we saw him. Great Odens Raven! One of the funniest men of our generation was two tables over enjoying his plate of fries and undoubtedly had already poured his share of fine scotch into his mug. That's right…Will Ferrell!
It's almost like "Where's Waldo." Tyler Horne is definitely in there.
Prior to this second week of January, each of us had religiously tracked the snowfall and the media surrounding Jackson Hole and we were in awe of the season they were having. Mother Nature and La Nina ganged up on Jackson Hole and the Grand Tetons by dropping record-breaking snowfall in November. On November 27, 2010, Jackson Hole did something that had not been done in their 43-year history, which is open wall-to-wall, top-to-bottom. 50" of snow before the first tram of the season allowed for this unprecedented opening. At the date of writing this article, 300" came and went in a couple days and Jackson Hole is now proud to boast more season-accumulated snowfall than its Colorado and Utah state brothers.
Of course, this story would not be complete without making mention of the infamous Corbet's Couloir. Corbet's was named after Barry Corbet, a ski instructor and mountain guide for Jackson Hole. If you've Googled top 100 things every skier should do before they die, it's second on the list (the first being to call in sick on a pow day). At this point in the season, Corbet's was standing at about 20 feet wide with about a 20-foot drop off the middle cornice and into the Couloir. Intimidating? Not when you're hard as f*ck. Standing at the top and looking down was "no big deal" for Alex James and Mark Eccleton, who both dropped the cornice and destroyed undisturbed snow down this pleasurable corridor. The shouts and comments that shortly followed clearly displayed the skill pushing accomplishment that is a must do to any serious visiting skier.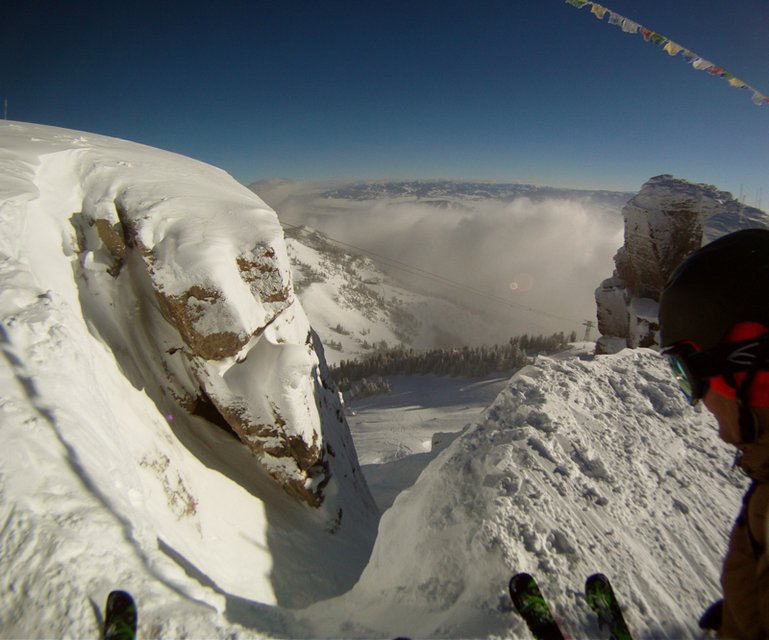 Corbet's Couloir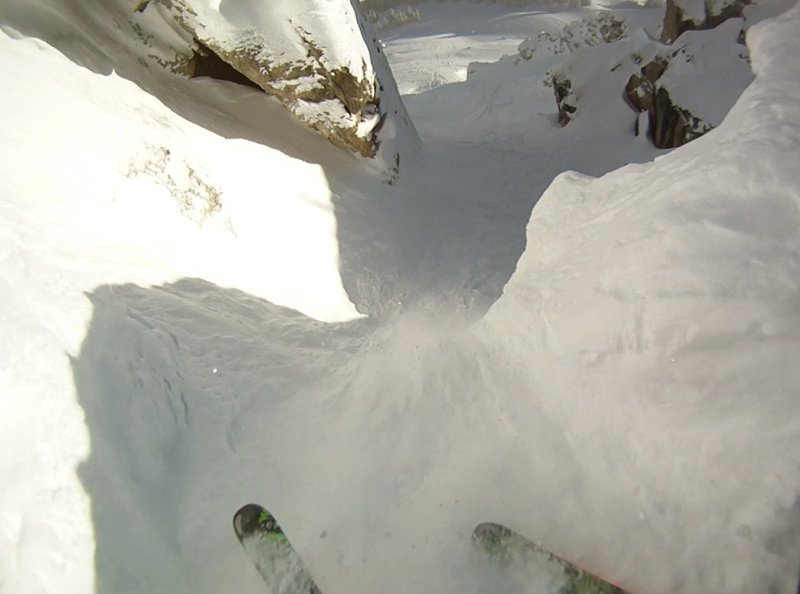 A short hike we also explored was to barbequer's left, skier's right of the Après Vous Quad Chair. The Sheridan Ridge is a tree filled back mountain hike, which runs directly along the out-of-bounds rope line up towards the Crags. Ascending this hike was a peaceful and relaxing experience. To hiker's right is the ever-looming force that is Grand Teton National Park, and gazing down the slope and across the forest filled valley to the next aggressive peak is quite a majestic sight. As the snow falls slowly, all other surrounding sounds are deadened out by the landscape, leaving you with a firm grip on never wanting to leave. Now to hiker's left on the other hand, looking down the Crags at the powder filled tree lines and your ski tips in front of you, all that's being processed in your head is System of a Down's "Vicinity of Obscenity". This section of the mountain was filled with untracked tree runs, hidden backcountry booters, and pillows of pleasure. Flowing through this madness felt like you were sitting cockpit atop a Mike Douglas helmet cam.
Patrick Nelson finds the fluff in Rock Springs.
Not familiar to some areas, we were graciously guided by an unknown snowboard friend out-of-bounds to the Rock Springs Bowl. (Note - never travel out-of-bounds unless with a mountain guide and of course avalanche gear - failure to do this could result in a complete shit show, and passes being revoked). This area started with some of the gnarliest rocky chute laden options we had ever seen, which had several options ranging from 10 meters to 1 meter in width. The area opened up into a luscious open bowl with trees scattered here and there and then straight into plush thick and pocketed trees off the scattered rock drops and right to the bottom cut-off to the Hobacks area at the base of the mountain. This ended up being the most favorable and diverse run of the trip. It seemed to harvest every aspect of the big mountain experience all in one run and gave you the true feel of the freedom of skiing. Long and soft! Being the last run of our trip it concluded nicely to a safe and well accommodated ski adventure. Being a serious and avid skier it would be an insult to yourself and family if you did not book a trip to this glory hole in the Grand Tetons.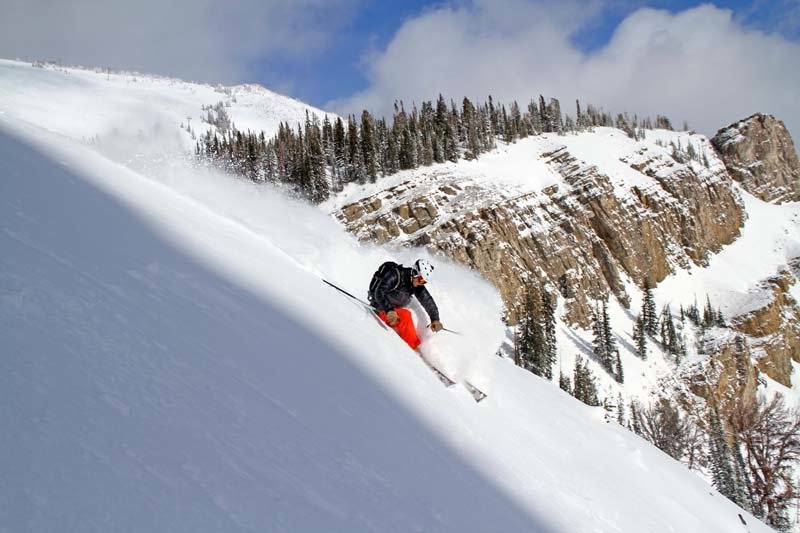 Andrew Whiteford enjoying the finer things in life.
The trip team made up of Mark Eccleton, Alex James and Marco Cognolato would like to extend ample thanks to Julie Weinberger, the Jackson Hole Mountain Resort staff, the Jackson Community, Jeff Schmuck and Doug Bishop at Newschoolers for all their help, awesomeness and willingness to give us mad hookups.