"So you wanna be a rockstar...", I guess Cypress Hill knows the deal.  Certainly, some of freestyle skiing's "rockstars" turned up in London for the London Freeze big air comp.  Amongst some of Europe's top and up and coming talent, the likes of Simon "the" Dumont, Jacob Wester, PK Hunder, and the always personable Colby West were there to throw down.  Tanner Hall came over to do a bit of shaping and to judge with former Steamboat legend, Josh Loubeck alongside European's Christoph Thaler, and Raf Regazzoni.  There was even a Jon Olson sighting and he was on hand to cheer on his bros.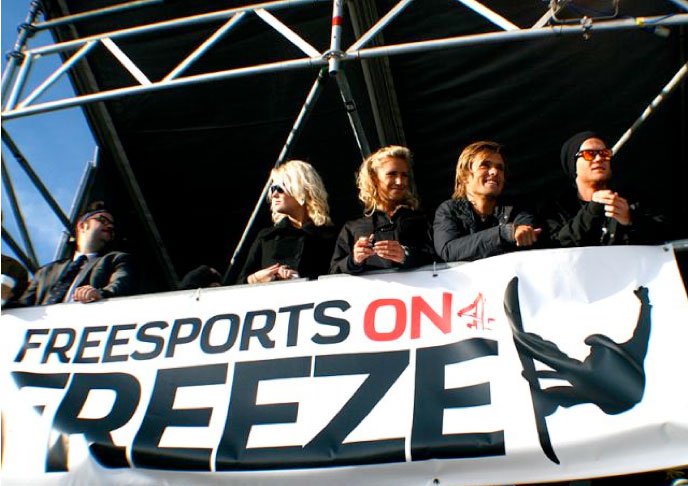 Jon and Tanner, along with some Swedish hotties (duh??)
Held at the famous Battersea Power Station, (Pink Floyd fans would know of this place) the jump set-up was the same dimensions as the Icer Air last year in San Francisco.  The BPS loomed like a monster next to seven story in-run.  Along with the jump, the area also had a huge tent and way too many bars. I guess the Brits like to drink, eh?
 
The jump set up
The whole weekend consisted of a sports and music festival and after the skiers, the snowboarders got the chance to prove what they got.  The musical acts, held in the adjacent tent, included The Enemy, Trouble Andrew, and the feature act, Cali's own Cypress Hill.
How you learn how to ride in England
LINE skis represented, as Austria's Patrick Hollaus and Norway's Thomas Doplaids came to London to show what their chronics can do.
LINE skis represent... YO!  Nice job Paul for the subliminal adverts running every 15 mins
The Norwegians LINE MC Thomas Doplaids and Anders Backe
And of course...  Austria's own Patrick Hollaus
The two heats of 16 riders battling it out to send 8 from each to the head to head semis.  Thomas had some unfortunate problems with the sketchy in run and in his last switch attempt nearly proved fatal.  But the "wonder-kid" from Norway was able to maintain his air awareness to bring the chronics back to earth, and came out unscathed.
Thomas in the qualifiers
Austrian MC, Patrick Hollaus, destroyed the kicker with his stylish, tweaked, huge 9's and qualified for the next round.  Into the semis, Patrick competed in a head to head knockout system.  With only one chance to impress Tanner, and the other judges, Patrick faced off against local favorite, U K's Paddy Graham.
Patrick flying through the London sky
Both 9's were clean and stomped, but in the end, the judges awarded Patrick through to the next round.
Comp or not, Patrick and Paddy are always bros
On through to the next round and the tension was mounting as he was to face "Mr. Hot-streak" himself, Jacob Wester from Sweden.  Jacob, fresh off wins at both the Icer Air and Freestyle.ch, threw a beautiful forward 10, but had a small hand drag upon landing.  This left the door open for Patrick, who by qualifying with the higher score, opted to go second.
Patrick throws his first ever 10 in a comp
Patrick sent his corked 9 tweaked true tail deep and stomped it, but unfortunately took too much speed and slid into the safety gate.
Another great shot of Patrick by Ben Burnett
Jacob went on and ended Patrick's competition, but certainly not his night, or even his late night for that matter.  Jacob would go on to face PK Hunder, but PK's doubles were just too much.  Simon Dumont made it through to face Richard "the Perminator" Permin (thanks Paddy) and was able to get by him to face PK in the finals.  In the battle of the "dubs", PK's bread and butter double cork 10 outscored Simon's double front flip and you can be sure that the stunned UK crowd were going off.  Third place went to Richard, as he brought the house down with the largest bio 9 of the night.
FINAL STANDINGS:
1st place: PK Hunder, Norway
2nd place: Simon Dumont, USA
3rd place: Richard Permin, France
4th place: Jacob Wester, Sweden
5th place (tie): Fabio Studer, Austria; Patrick Hollaus, Austria; Colby West, USA; Henrik Harlaut, Sweden
These boys are a little richer
So after a long night of drinking pints and stolen jack daniels (thanks for the mad hangover Matt and Kerstin), being called a "bloke" and "geezer" (they both kind of mean "dude"), and trying to get a groove on to techno (not too easy to swing to), the first ever London Freeze drew to the end for the skiers.
Yes...  we are!!
It was definitely a great time had by all, especially me apparently. (what hangover?)  I would like to give shouts first to Ben Burnett for helping me sort out a pair of miss mounted chronics and of course some of his great photos.
It's not all parties and chicks for the team managers! Sometimes we have to work as well...
Especially to see the chronics fly...  great pic by Peter Wilson
More props should go to Andy Collin at Unity Productions for putting together the short video edit for me.(except that I look like a total tool interviewing!) Also thanks to Peter Wilson for the photos.  Please make sure to check out his coverage of the event on Newschoolers.com
If you can't laugh at yourself, then?
But the pints should go to Graham McVoy (sorry if I hacked your last name), the Nike ACG team manager.  He was the "master of disaster", the one in charge of shaping this monster in the most adverse conditions.  The morning of the comp saw the jump lose over 80% of its snow due to rain and I was amazed that these boys were able to pull it off!  Big ups to you and the shape crew!
Graham and the boys getting' after it
And lastly, I would like to thank Kerstin and Ben whom put up with the drunken lunatic that I can be, and got me back to the airport in style in a rare, super-charged Porsche!
This car is sooo sick!!!
And one last thing to add, Cypress Hill are already rockstars, but they must love LINE skis, because all they kept singing about was the chronic...  Yo!
Well, at least when my mouth is open on a powder day...
Videos by Unity Productions:
[Unity] Productions: The London Freeze from andrew Collin on Vimeo.