Words and photos by Ian Reynolds
Ski dorm living is a hard to find prize in today's ski world. It's not like back in the day, when hostels were at the base of every resort and live-in positions were available to every dreaming ski bum. Today there are few mountains that offer housing to their idealistic employees. Fortunately the few left include two of the best resorts in North America, Baker and Alta.
Now I can't say much to Baker's live-in situation as I've not lived there. What I can say is they get an annual snowfall of 647" and is one of the most visible resorts to the film watching crowd of skiers.
Alta is another story entirely.
On November 15th, 2007 I boarded a plane with my soon to be roommate and friend Kyle in Boston headed for Salt Lake to see my new digs at Alf's Restaurant. Rolling into SLC was slightly surreal as I was armed with a winter's worth of gear and no return ticket. When we arrived, our ride was waiting, a friend from college who was working for the National Forest Service in Big Cottonwood Canyon. We started our journey with a quick B.P. and a short ride up Little Cottonwood Canyon. We arrived at the base of Alta around 8 pm, jumped out of the car and unloaded our gear into the complete darkness that had consumed the base. Our ride headed back down the canyon and we were left in the middle of a seemingly abandoned ski resort. It felt a lot like a ghost town until from up the hill we saw some lights bouncing down what looked like the middle of a trail. It was our ride, an old beat up Alta pickup with our new boss behind the wheel. Sean is a long time local, who moved to Utah before college to get skiing out of his system, and 14 years later finally realized it's not something you get out of you, ever. After a short ride up the mountain's summer road Alf's Restaurant revealed itself, glowing from the fluorescent bulbs in the dining room.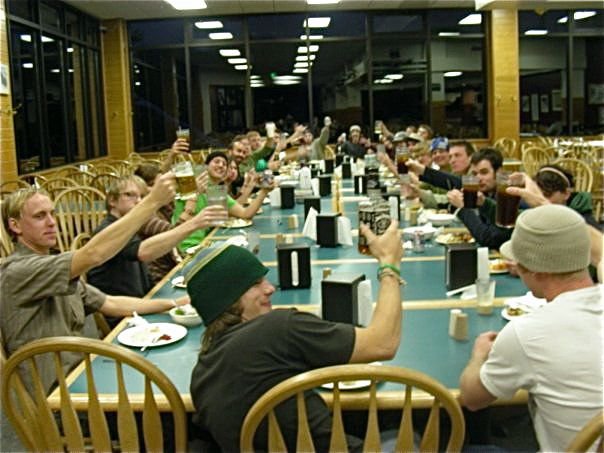 Walking into Alf's was nothing like anything I had ever experienced. A short tour revealed a restaurant's kitchen, to which we had unlimited access, food included, a dining room typical of a mid-mountain lodge, again unlimited access and finally our living quarters, hidden in the basement. We opened the door to what was to be our living room and found 10 other ragged looking people that could only be identified as skiers. Down the hall was our home for the next six months, room 3, a college dorm room with four people crammed in.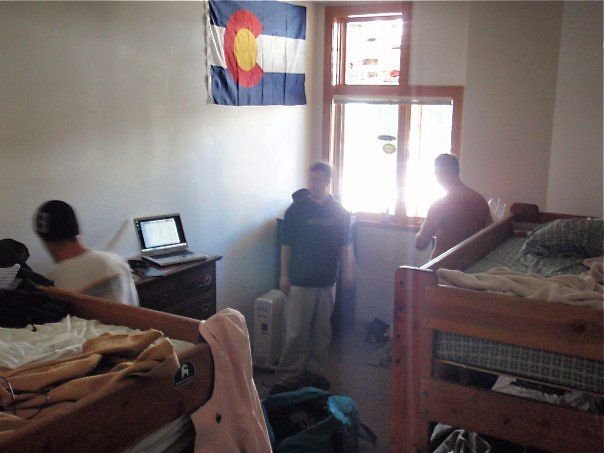 Alf's houses up to 18 people in dorm style rooms ranging from four people down to one. It's located at 9,240' in elevation and 75 feet from two lifts placing you in the center of Alta Resort. Along with Alf's Alta has a few other housing options including the Buckhorn which houses lifties and other employees and the Ski Patrol house. There are also three live-in positions at Collins Grill.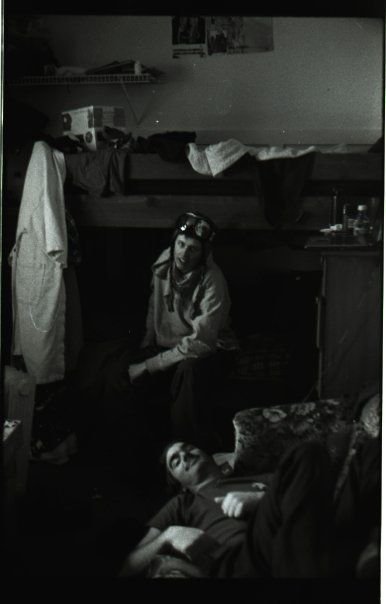 The following weeks proved slow as the resort didn't open until December. We were still skiing everyday, hiking every slope in view with enough snow to go for a slide. Before opening day the pow day count was on with snow falling almost daily. The feeling of walking out the door into the mountains and onto untouched pow is something few can experience and Alf's provides a gateway to a skiing experience unmatched.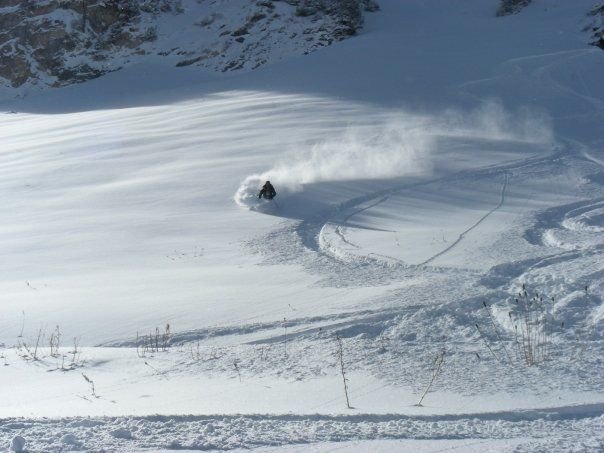 Alf's, like most ski resort jobs, is accepting applications in the late summer and begins making phone calls in the early fall. Baker is in the same boat. Starting early is always smart but enthusiasm is what can make or break getting hired. Experience is a plus but a willingness to do whatever it takes is just as important.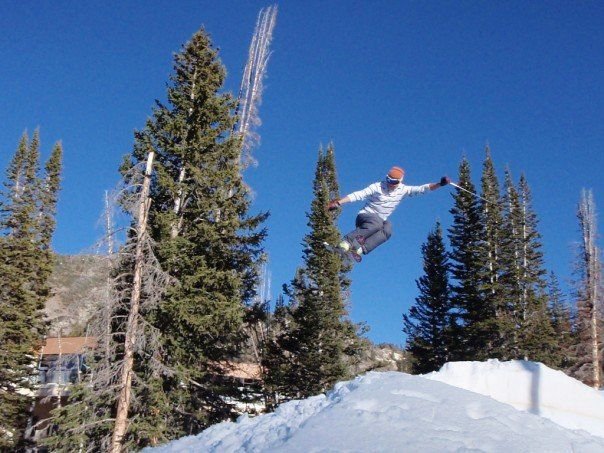 Once the resort opened and the winter is in full swing you realize the benefits of working at a place like Alf's. With work schedules built around ski time, in contrast to the typical day job, skiing is possible everyday. This means you don't miss a single pow day. The longest work day at Alf's for the typical employee is an eight hour day broken into three shifts giving you morning and afternoon ski time. These breaks in the day may seem insignificant but it is during these breaks that Alf's employees can be seen claiming every cliff, straight line, and secret pow stash. The mountains become your home and you can go straight to your stash with your eyes closed as if you were walking to your bathroom in the middle of the night. You begin to learn where to go, when to go there, and most importantly, how to avoid the beaters.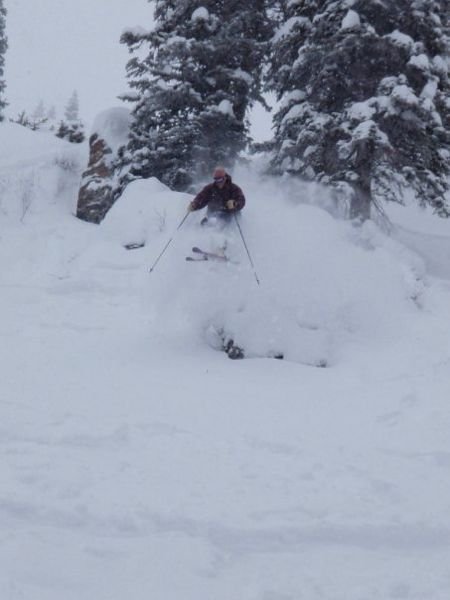 "Beaters" is a term coined by Alf Engen himself, which if it isn't clear enough, is who the restaurant is named after. Back in his day, which was over 50 years ago, he began calling the average weekend warrior an egg beater for the way they tore up fresh snow with choppy, quick turns. This term has hung around and is one of the most used in the Alf's repertoire.
January was one of the most incredible months I've experienced in my skiing career, with only three sunny days and over 100 inches accumulated. There were days so deep if you turned, you stopped even on the steepest terrain. There is no better feeling when your only concern on the hill is how you're going to breathe while you rip the hill.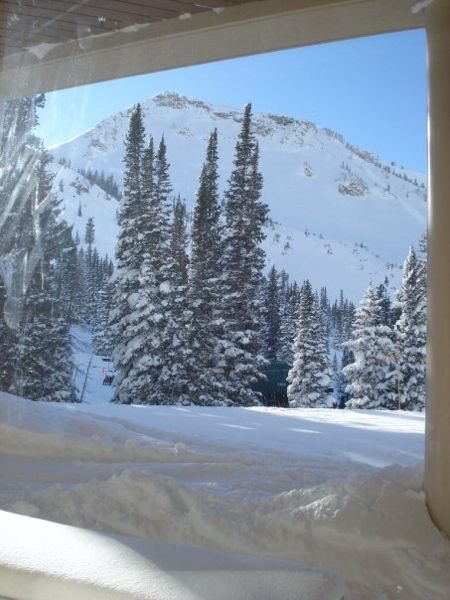 Every snowy morning was the same, wake up 8am to the sound of the ski patrol bombing, walk upstairs and get coffee and some grub and convene at the round table in the middle of the dining room. From there we would eat our breakfast and watch the slides roll down the slopes and, in bitter envy, watch patrol cut fresh turns behind. From there it was time to gear up and get on the lift before anyone else even got there.
The crew you live with and ski with becomes your family in a ski dorm. You eat, chill, ski and party with them. One thing about Alf's that is quickly realized in working there is that the crew is regarded as the bad seeds of Alta. Sadly this ends up being true and has been that way for years. We party harder, act more ridiculous and cause more trouble than anyone else on the mountain. At the Christmas party for employees and their families we were told there would be a bar. We rolled up 18 deep in the back of a snow cat, hammered, all brandishing air soft guns which, as a word of advice, can be ordered in bulk for cheap. We walked in, harassed people about the lack of cookies and proceeded to take over the kids table because there was a table cloth to color on. We then caused a scene shooting yellow air soft pellets everywhere and watched as the crowd thinned. A repeat performance went down on New Years when the Alf's crew took over the local bar, The Peruvian. At some point in the night, which is pretty hazy, an alfer was pouring his own beers and beers for the entire crew, without the bartender's knowledge or permission. This is a tradition of ridiculousness that must continue but be aware being hungover at that altitude is the most painful hangover you will ever experience.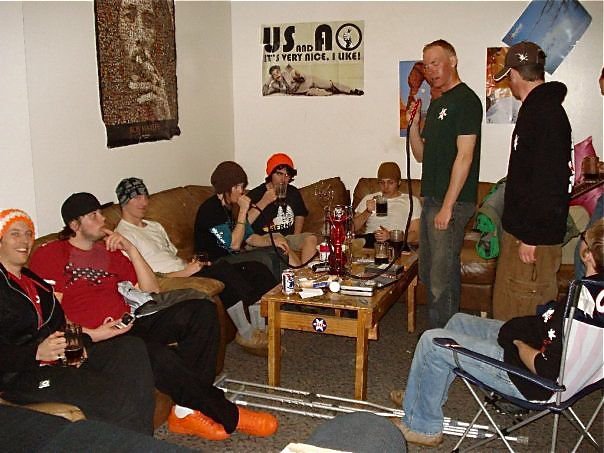 This ridiculousness isn't only shown to the masses at parties. You will see Alfers on the hill and in typical years they are very obvious, as they rip. There is an underlying mentality that a skier and person willing to completely relocate for a sport will explode when they get their opportunity. This happens at Alf's, people just go for it and it creates some of the most exciting moments on skis. Some might regard this as carelessness but I see it as drive and capitalizing on opportunity.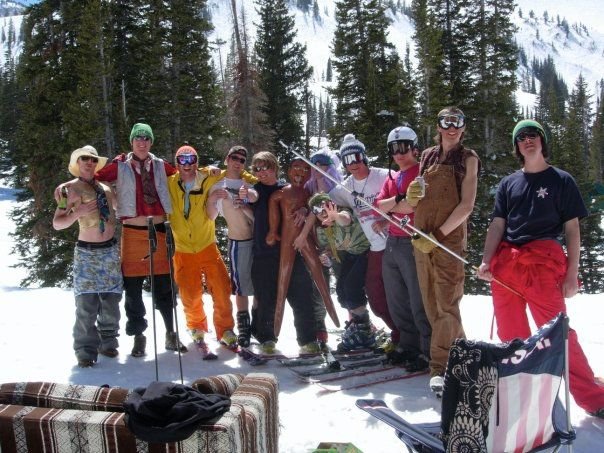 Life changes when you live in a ski dorm. Cars are replaced with snow cats and snowmobiles, and hiking becomes the norm just to avoid the crowds you serve lunch to. The mountain becomes your home and the dorms simply serve as a place to sleep and put back the regular bottle of Beam. Night sessions become a reality and on a full moon a quick hike reveals the most peaceful, scenic and petrifying ski of your life. Living at Alf's presents a world outside of the normal world. You are completely removed from society; free to do whatever you want and ski till your heart is content.
Alf's Restaurant gave me an opportunity. Living on the east coast gives you little opportunity to see the caliber of mountains the Wasatch can offer. From relocation costs, jobs and other real life concerns going west gets harder and harder. Alf's gave me the opportunity to taste the ski life and it's a taste that dulls all others. If you're looking for that dream job where you get to ski and live like a pro skier, a ski dorm is your ticket. Alf's was mine, but don't forget Baker.