Located just before the dead end on HWY 210, at the top of legendary Little Cottonwood Canyon, sits an avalanche proof concrete building called the Goldminer's Daughter. From the outside, it looks rustic, raw, and unforgiving. On the inside, however, you will find the most charismatic group of people you've ever come across, tucked into dorm style housing. These bunks have been home to some of the most authentic "ski bums" that this world has seen. Gap year students, college grads, world travelers, and even retired 9-5ers, creating a unique community that is unlike anything else. The best part? It is about 25 feet from the best skiing this country has to offer, in Alta, Utah.
If you grew up like me, watching Level 1 and Poorboyz Production movies, scrolling through Newschoolers, and spending countless hours watching Line Traveling Circus on youtube, you have probably had the thought "I want to go skiing. Every. Single. Day". If you want to fulfill those early teenage fantasies of waking up just a few steps from the best powder skiing in the country, this is where you want to be.
The Goldminer's is a functioning, 4 Star hotel that offers a variety of seasonal employment options, ranging from maintenance to bartending. The work is like any other customer service job, just here, the location is far better. It can be exhausting to make it to your 3:00 serving shift after skiing pow all morning, but then again, you also just got to ski freshies all morning. Even then, you can still look out the window and see the sun setting behind Mount Superior and remember why you're there. We don't make the big bucks, but that isn't what drew us to this place. It is skiing 120 days a season, living in the beautiful Wasatch Mountains, and being a part of a magnetic, colorful, and vibrant community that makes it so rich.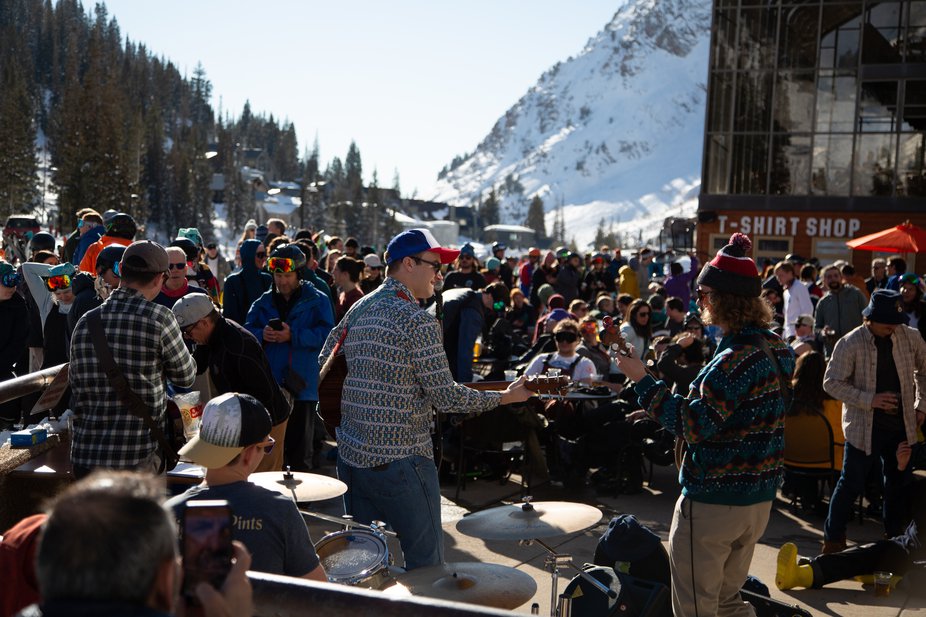 On any given day, a GMD employee can roll out of bed, eat breakfast, boot up, and be on the lift not even a minute later. From the Collins or Wildcat Lifts, you will see some of the best skiers in the world - some we've all heard of, others that don't have instagram. You'll see your best friends, or the guest you checked in last night. You can always find fellow GMD employees in the lift line. There is a social, excited energy in the air that can only be found at a ski area that offers employee housing like we do at the GMD.
The average Alta local gets to ski over 100 days. They learn the ins and outs of this legendary terrain. They rip down every corner of the mountain, they sidestep to the good stuff, and get first tracks in the secret pow stashes during storm cycles. They hot-lap the groomers on sunny high pressure days, or ski top to bottom "high boy" laps on spring bump days. They ski hard and passionately. If you're ever in need of a break, you can ski right up to the GMD patio and get the trademarked "Alta Bomb"; a somewhat shocking mix of PBR and espresso. It might sound like a funky combo - but trust me, it will make you want to ski harder than you ever have. And it actually does taste delicious.
The hardest part about living up at Alta, is not figuring out how to keep up with the local legends. It's not waking up for first chair, or hiking to the top of Mount Baldy. It's having to head into work after laps filled with fresh pow turns and traverses on the High T that leave you wondering how you can still stand. After a last minute run (And I really mean last minute - I've been at the top of the mountain two minutes before my shift starts) employees, panting for air filter into their shifts with wind chapped faces, mustaches and ponytails still damp from face shots.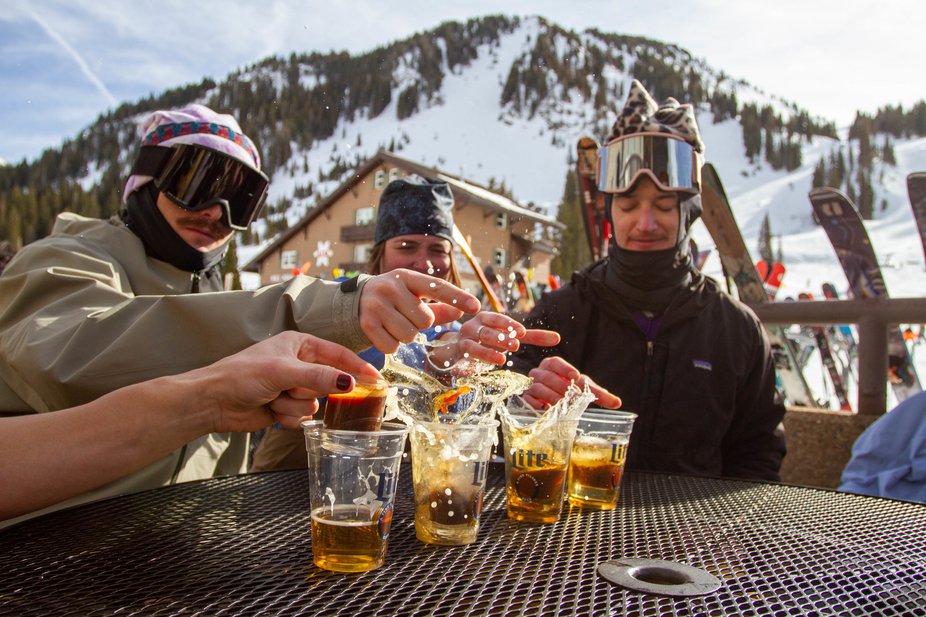 For those that get to enjoy skiing until the last chair, 4:30 does not signify the lifts closing. It's a trip to Funland*, backpacks filled with PBR and a speaker. Or it's a moment on top of High Rustler with the rest of the locals. A quick glimpse of the sunset on the valley below just before they rip one last glorious lap down the famed "High Boy".
When the lifts are closed and the day crowd trickles out, Alta employees alike reclaim their home. On a Sunday night they cram into the Peruvian Bar to listen to live music and celebrate the end of the weekend crowds. They dance until the room feels about 80 degrees hotter than the weather just beyond the windows. On a storm night, it's a treacherous journey across the parking lot that separates the two buildings. But anyone will tell you that it's well worth it for the energy and excitement of the Alta locals, giddy about the possibility of an interlodge, dancing shoulder to shoulder in their fleece hats and bibs.
If this sounds like the winter for you, apply to work at the Goldminer's Daughter for the 2022-2023 ski season. Get a ski pass, housing right next to the main lift, three meals a day, and a community of fellow ski bums.
https://www.goldminersdaughterlodge.com/employment/