*press release from Liberty*
For 2005/06, Liberty returns with a full line of freeride skis. Returning are the Stealth 180cm and Chopper 170cm park skis. Joining the Pro Twins line is the Predator 160cm for the smaller/lighter riders that are looking for a shorter performance park ski. We have re-designed the core construction of the Pro Twins line to maximize strength, durability, and binding hold while keeping the skis light and poppy. Carbon fiber helps preserve camber day after day!
New this year is a line of All Mountain Twins. After two and a half years of R&D, the SB1 and SB2 are ready for release! The SB skis are built stiffer and wider than our park skis for better all mountain performance including the trees, powder, and natural jibs. The camber has been adjusted to maximize control while keeping a solid pop for jibbing all around the mountain. A full twin tip makes switch landings and takeoffs more comfortable outside of the perfectly buffed terrain park. Put them in the moguls and see how fast they respond, then point the tips and feel the control at high speeds. These skis are designed to go anywhere, anytime. If you will only buy one pair of skis this year, ride these first!
Be sure to check our website at http://www.libertyskis.com for more information about all of our skis and accessories. The new website will be up soon!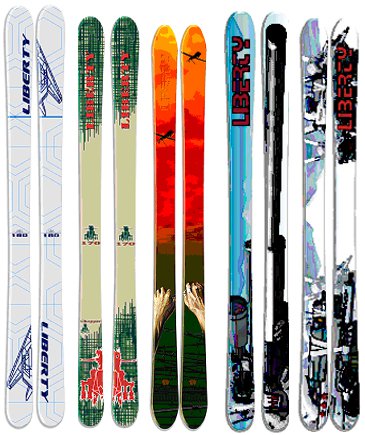 (L-R: Stealth 180cm, Chopper 170cm, Predator 160cm, SB-1 186cm, SB-2 180cm)