Words & photos: Tom Winter
This August, a crew from Liberty Skis spent 10 days checking out the skiing in Chile while shooting photos for Liberty's catalog and ad campaigns. The project was low-stress, an experiment to see if the rumors about the Andes were true and to add to an already comprehensive photo library that the brand had complied last winter. It turns out that the rumors are true, and that you should beg, borrow or steal enough cash to go visit Chile yourself. The ease of access to big mountains is amazing and the culture and warmth of the Chileans truly wonderful. Here's a photo essay of what we discovered during our 10 days.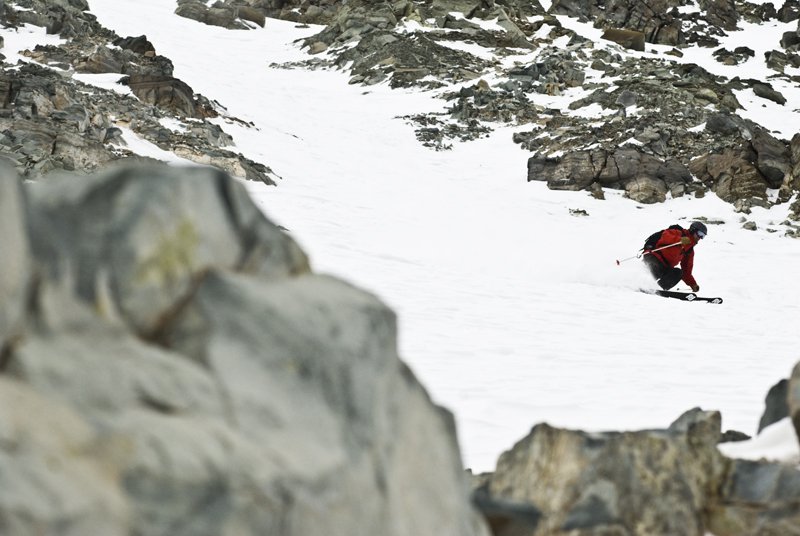 Toni Sponar is the founder of Ski Arpa, a funky cat skiing operation that serves up a big helping of rowdy terrain. Anton Sponar is his son and a guide at Ski Arpa. If you're going to follow in your father's footsteps, running Ski Arpa isn't a bad way to go. Here's Anton laying tracks down one of Arpa's steep, rocky chutes.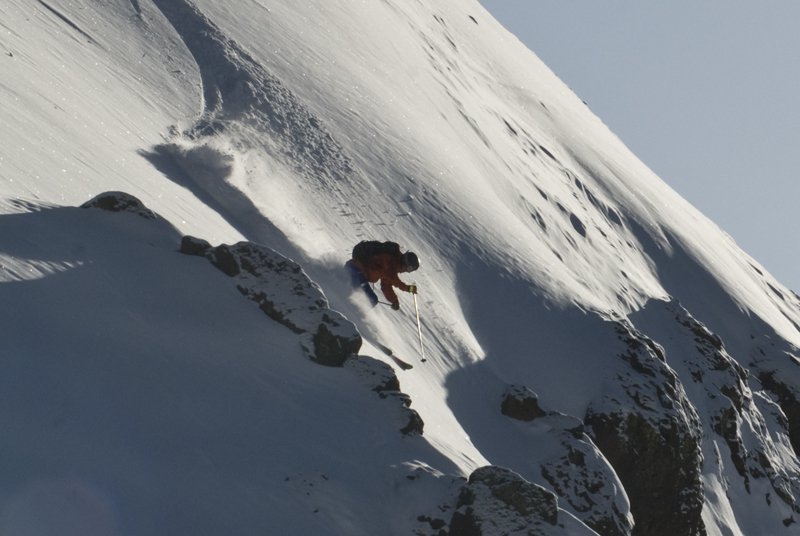 Liberty athlete Alex Applgate isn't famous. But while you may never have heard of him or seen him on a podium, you've probably seen his photos. His skiing has been published in Freeskier, Skiing and other magazines and he's been featured in Liberty's national ad campaigns and in the company's catalog. The best thing about working with Applegate is that he's always smiling and he's always stoked to ski, no matter what the conditions are. And you can bet he was smiling as he dropped into this coulior in Valle Nevado.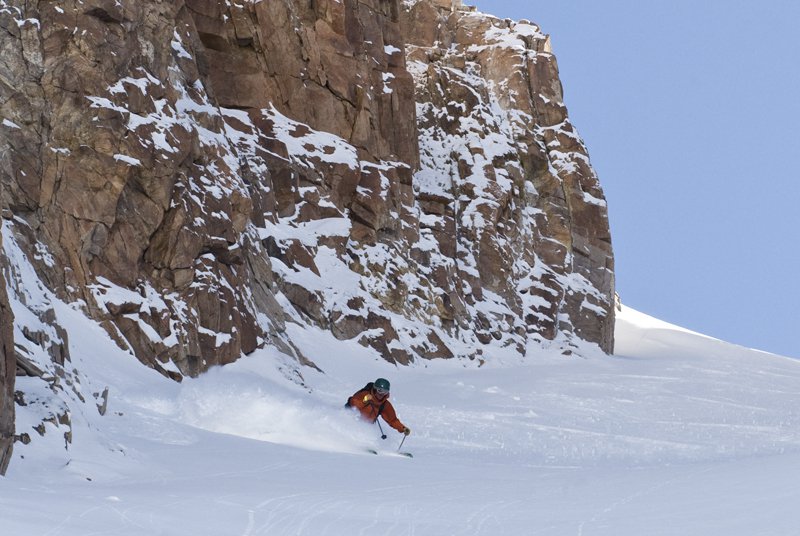 Applegate again. This shaded line is always tough to shoot because the best way to see it is from the bottom, which makes it look flat, but it's really steep and not flat at all. The line is actually a massive tube, with huge rock walls on both sides. The shade keeps the snow dry and the skiing is always good in there. There are a lot of cool tubes like this above Valle Nevado, Chile. And there's something about skiing steep couliors with huge rock walls that's really appealing. Just a tube and you, going down the drain.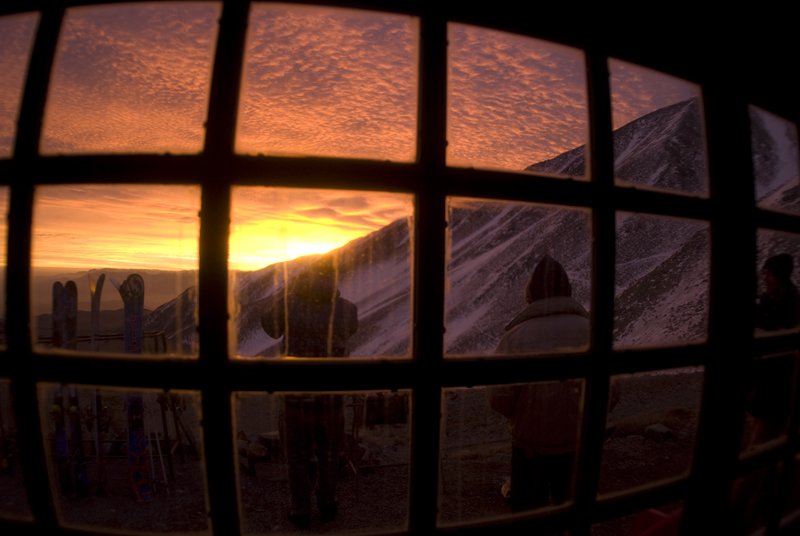 I can't say enough about Arpa. About how raw the place is, how wild the single lane dirt road there is (going from vinyards and flowering trees on the valley floor, up through cactus and rocks and finally to the snow) or how good the skiing is when you finally arrive. Arpa doesn't have accommodations, but they allowed the Liberty team to stay up there the night before we skied, so we arrived in the afternoon, with a bunch of stuff to grill, a case of beer and three bottles of wine. The plan was to party with the guides, including Anton Sponar. But they had all gone down to a hotel in the valley so we had the place to ourselves. The sunset was amazing and we ended up drinking all the beer that we brought for everyone, so we were seeing red the next morning too!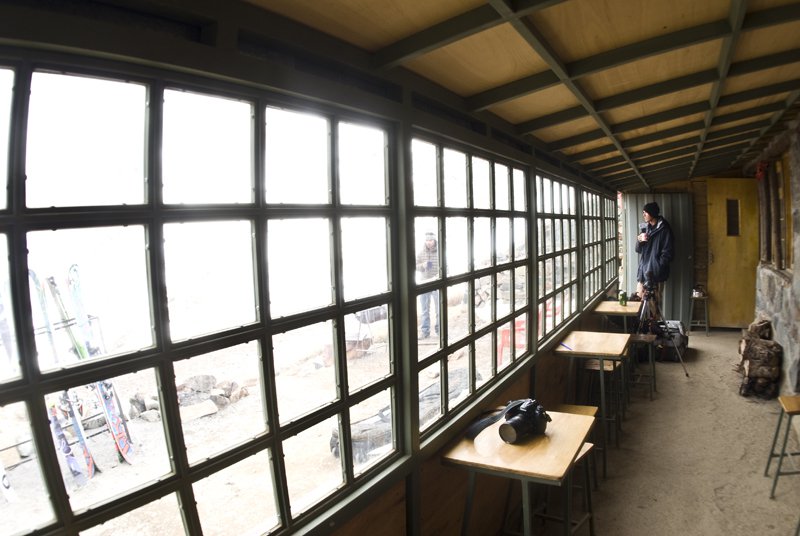 Another shot of the refugio. This is of the main area, but there's also a small kitchen, a bunkroom and another place to hang out with a small wood stove that cranks out the heat like you wouldn't believe. It's simple, but comfortable and when you're up there, it's so quiet that you can hear the beating of your own heart. You feel like you're on the edge of civilization.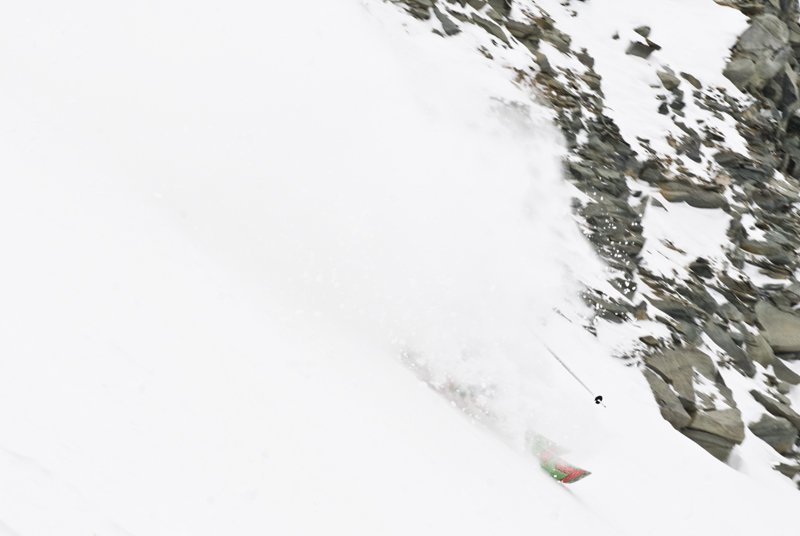 Kyler Cooley is an amazing guy to ski with. He's got phenomenal style, so smooth and is always charging and looking for air. He's riding a pair of Liberty Genomes right here, on some rock-hard, wind-affected snow and he's carving them like a pair of GS Race skis. The guy always makes it look easy.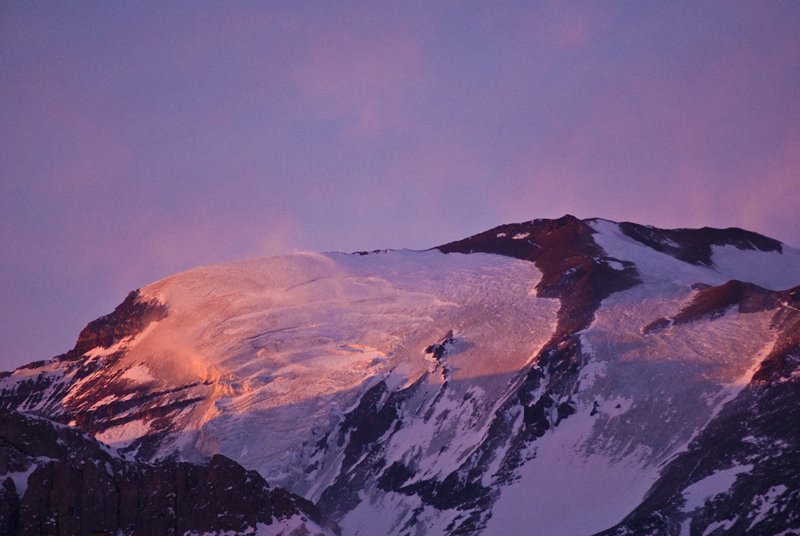 The thing that will stick with you when it comes to Chile and the Andes are the sunsets. Yeah, the snow is great, the terrain massive and the skiing unreal, but every night we'd be blown away by the sunsets. I don't know if it is because the mountains are so high, or because there's something special in the air, but definitely everyone on the Liberty trip down there was always grabbing their cameras and shooting tons of photos every night, trying to capture the amazing light. This shot of El Plomo was taken from the balcony of our hotel room at Valle Nevado.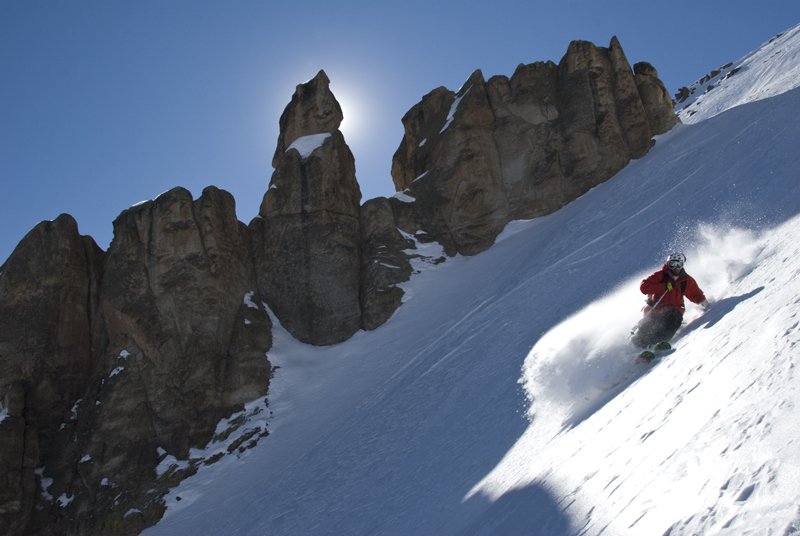 One of the cool things about skiing at El Colorado is the fact that you can drop down out of bounds to the access road for Valle Nevado and then grab a car shuttle to go do it again. This shot is of Kyler Cooley at the end of one of those runs, just making a turn with some of the crazy rock spires that dot the landscape behind him. The best thing about this run is that it ends up at an informal tubing area, where hundreds of Chileans were out grilling food and sliding on all sorts of contraptions. When we finished the line and came skiing down, they were all applauding.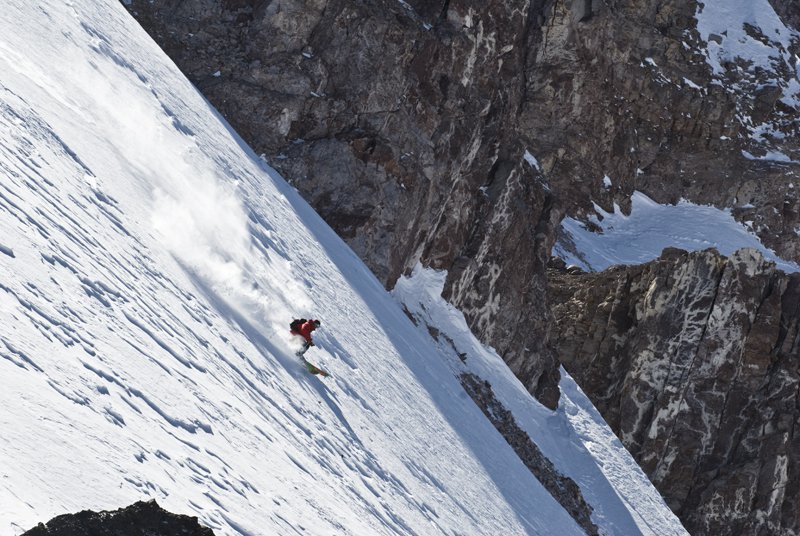 It's always hard to grasp how big the Andes really are. You have to force yourself to remember that the range is second only to the Himalaya on the planet. But when you see someone, like Kyler in this photo, skiing against huge rock walls, and they look tiny, then you start to remember that these mountains are big, really big. This shot was taken at La Parva, a ski area next to El Colorado and Valle Nevado, about 1.5 hours outside of Chile's capital, Santiago.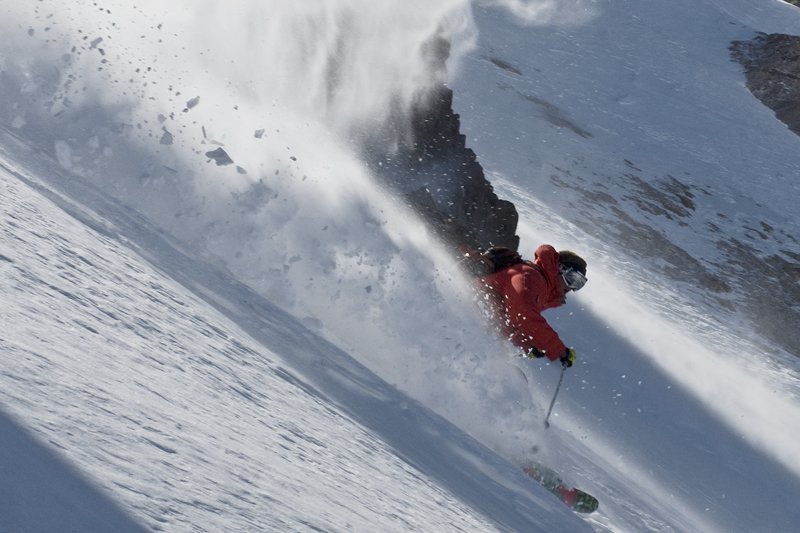 La Parva is usually a bit off the beaten path for North Americans. The resort is a collection of privately owned condos, with a couple of small restaurants. But the terrain is amazing. It's full of mini-golf lines and hidden powder stashes, including this one that Kyler is absolutely destroying. It's also possible to connect La Parva with Valle Nevado and El Colorado. Combined, the three ski areas are much, much larger than anything at home. It's like skiing the Alps, only cheaper and much easier to get to.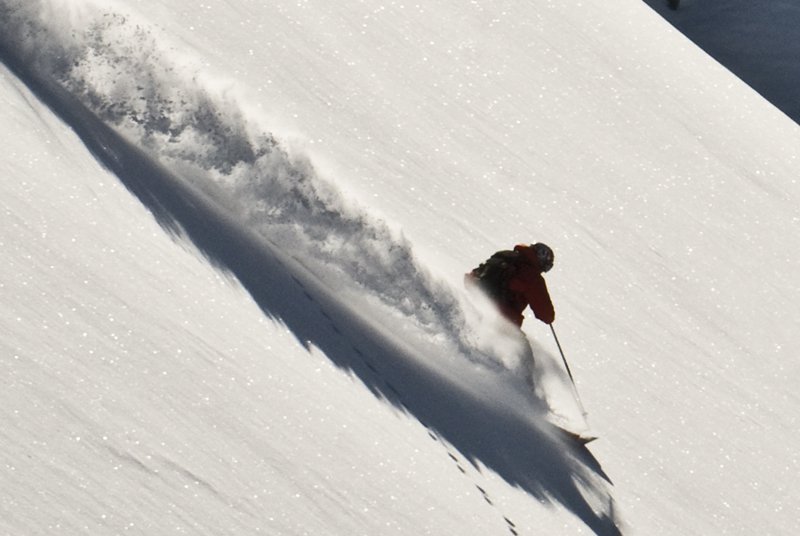 When you plan a trip to someplace like Chile, you always are praying that the conditions will line up and you'll get snow and sun. It's a bit of a gamble, which is why when you do score snow, it's so satisfying, because you know that you lucked out and at least you'll get one or two photos. The new powder that Kyler is skiing at Valle Nevado came from a funky little storm. There was a fog bank in the valley all day below us and then, at sunset, it rose up and covered the ski area, dropping just enough snow to sweeten everything up.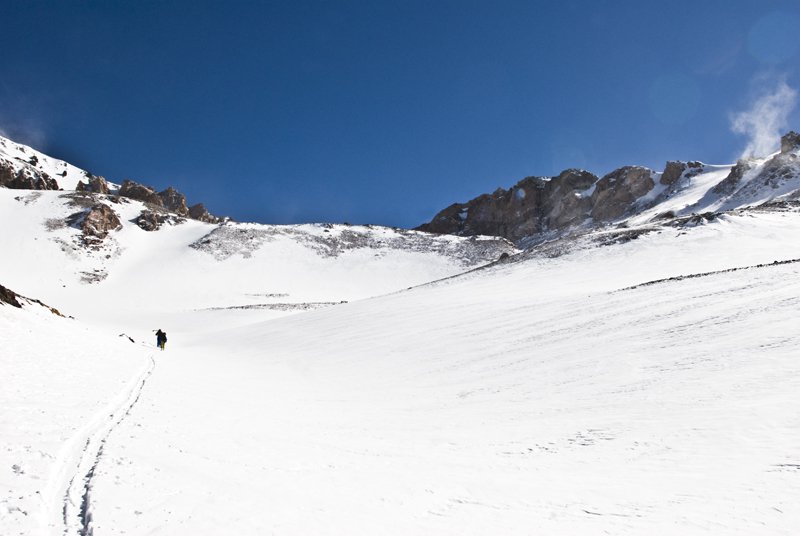 There's plenty of great terrain in-bounds at Valle Nevado, but to work undisturbed and to find the best snow, we often went just outside the ropes. This is when a binding like the Marker Duke really pays off. Just slap on some skins, release the heel and start hiking to where the goods are. It's a great way to relax, get your legs moving in the morning and build up strength for the rest of the trip. Plus, most of the hikes are really short, which was nice for all of us, because we'd all rather be skiing than hiking anyhow. From this mellow approach at Valle Nevado you can access some wild chutes just outside the photo to the right. That's the great thing about the Andes. You don't have to go straight up to get to the steep stuff, just go around the side where the touring is easy, and then drop into the rowdy terrain.
The season is far from over in Chile, and these resorts, all just outside Santiago will be open all of September and into October. Plus, the end of the season is the best time to visit, with all sorts of deals on lodging and lift tickets. Check out their websites below for more info. And to learn more about Liberty Skis as well as team athletes Kyler Cooley and Alex Applegate or to sign up for Liberty's newsletter, visit libertyskis.com.
Big thanks to Valle Nevado, El Colorado, La Parva and Ski Arpa.