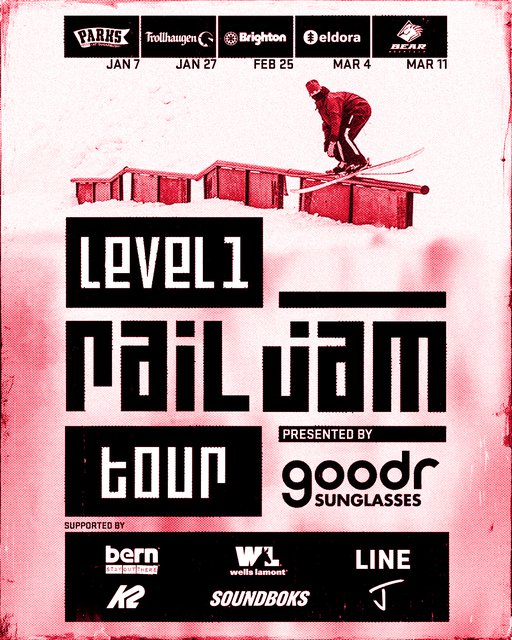 Article Icon from Rudy Lepine's, PsychoActiv
If there was an Mt. Rushmore for skiers, it's a fair assumption that Berman, Freedle, or anyone that's worked behind the Level 1 banner deserves a spot on this hypothetical mountain. Level 1 seems to keep giving back to the Freeski community even after they departed from making annual ski films; Superunknown is still in full swing, short films from Level 1 veterans and unknowns grace their Youtube channel, and a new Rail Jam Tour for the masses has just been announced. The good folks at Level 1 seem to have a lot left in their tank for a media company that chops its teeth in the money scarce albeit culturally rich Freeski industry.
I chatted with the man behind the new rail jam tour, Conor Smith, who came into the company during the post-production period of Romance and has since been with Level 1 as it's transitioned into an entity that wears many hats but remembers where its roots lie and what it looks like to give back.
"The last three years have been cool, and the last two even cooler, with the pandemic, it's opened so many doors for us and allowed us to explore more possibilities."
"It's an adapt or die situation"
As the media landscape changes for the entire world, Conor begrudgingly mentions, "it's an adapt or die situation, Newschoolers missed the mark to grow a Youtube audience 5 or 6 years ago and we took notice and wanted to try and fill that void. Youtube has become the new medium for people to become noticed through the algorithms and suggested videos, it also allows us to take pages from Tall T Dan and hone back to the ethos of Superunknown and put people on that don't have that previous exposure."
Although video content is important to everyone within the action sports communities, Level 1 has come to realize that it isn't the end all be all for growing people's careers and ensuring longevity for people to keep enjoying skiing.
"A way for us to cut out the middleman"
"Some brands don't care about having a video part or having a video with Level 1 for that matter, but growing people's careers has been something we've always done. In the early days, Berman was the one who connected Wallisch with Sweet Protection, and there are countless examples of him doing this for people in the industry. That's essentially what this Rail Jam Tour is, a way for us to cut out the middleman after we asked ourselves, how can we just give people more cash so they can keep doing this? There's more to it than just being good at skiing that allows a brand to financially support someone and there's a ton of work that goes on behind the scenes to get there. The biggest motivating factor behind the Rail Jam Tour was, how can we give back to the community in the biggest way possible and make sure people get compensated properly without having to convince a brand that they will be a fit?"
Open-entry Rail Jams can arguably be some of the best times on the mountain with your friends. Locally, they are a great way to get people involved in the sport and they harken back to the massive setups that War of Rails would create during the tail end of the golden age. They're simple in logistics, and they create a spectacle for people in love with the sport or otherwise. Conor sees it similarly, "We hand-picked our locations to make sure most people living in the Northern half of the USA would be less than a day drive away, and they're resorts that already support these things and have communities engrained in the sport."
It's safe to say there's a lot of interest in these events already, since the announcement yesterday and it's not just the fans, "We're not worried about having pros come out, as long as people, friends, and families are coming out and having fun, that's all we need. We don't need to worry about getting Mango out to the Sugarbush stop because there's such an amazing community present that'll make for a sick event."
"If we only get 100 new people stoked on rail skiing, that's a win for us."
It's safe to say that everyone at Level 1 undeniably still gives a shit about skiing and where it's heading. This new Rail Jam Tour is the best example of showing up for the people who are passionate about the sport - and getting new friends involved who may not be tuned in yet.
"I've noticed the scene in North America has a real tunnel vision but we tend to ignore what's important or possible. Everybody wants to film a street part to impress everyone else who is trying to film a street part and it completely forgets about reaching the people who are outside of our bubble. It's something that I think is completely lost. How do we engage with people who aren't buying twin tips? For this event, even if we only get 100 new people stoked on rail skiing, that's a win for us."