By Ethan Stone
Photos courtesy http://www.skihood.com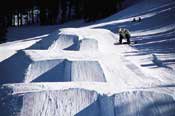 If you only think "summer skiing" when you think of Mt. Hood, you should probably think again. Last Sunday, Feb. 29 at Mt. Hood Meadows, local riders went off in a multitude of different events, showcasing the thriving freeride scene that fills MeadowÂ's ample terrain parks.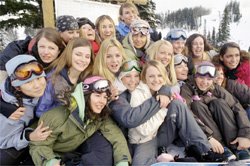 The biggest event of the day was the all-girls park clinic hosted by the Mt. Hood Meadows GirlZ Freeride Team. Girls from all over the area showed up to hit the pipe, jumps, and rails alongside members of Meadows' newly-formed female freeride team. Although only one skier attended the clinic, team member Heidi Narver said that girls had been having a great time and going off all over the mountain. It was certainly nice to see crews of girls dropping in on the parks alongside the guys. Heidi is joined on the GirlZ Freeride Team by skiers Maria Turner, Robin Reinbold, and NS.com member Charley Marian, along with a slew of snowboard bunnies.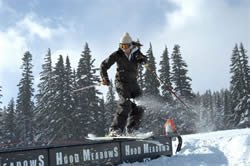 The men's freeride team was also out in force. The Meadows crew had constructed a 50-ft step-up close to the base area for a team photo shoot, which the skiers and boarders on hand promptly annihilated. After the jump was re-tooled to give riders a bit more pop, a laid-back session began, with team members throwing down smooth switch 3s and 5s, flair tails, and 180s. Local ripper Jonny Armstrong stomped a huge unnatural cork 5 before the jump was closed down so the Meadows staff could boot all of the riders poaching the jump. That comprised most of the guys I was riding with, so I tagged along with Jonny, Paul, Larry, and Griffen Cummings for a few laps through the well-stocked rail park and the new in-ground superpipe. We finished out the day lapping the Hood River Meadows terrain park, which features seven medium-sized, perfectly sculpted hips and tables, with rails interspaced, making for sick lines through the park.
Leap day on Mt. Hood couldn't have been better, with bluebird skies, warm temperatures, and perfectly groomed parks, along with the guys' and girlZ Freeride Teams throwing down. Make sure to head up to the mountain for Meadows' annual Vegetate competition, being held March 12-14. For more information, check out skihood.com. NS will be there with exclusive coverage!