Words by Frank Raymond
Photos courtesy of Oxbow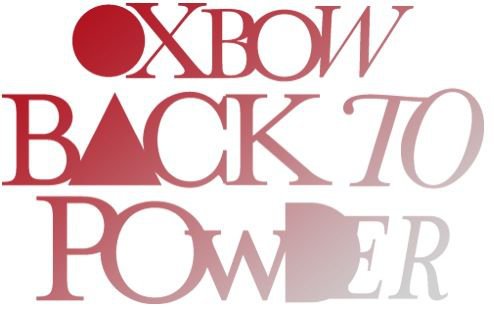 "A comp for riders, by riders and judge by riders."
Seems like the way to go, but also seems to be one of the only competitions like that right now. The vibe that this competition style brought was awesome. All week long I saw smiles on everyone's faces and people just plain stoked to be doing what they do best.
Maybe because it was both a ski and snowboard comp, maybe it was because Arêche Beaufort Mountain has sick terrain to offer, maybe it was because the people at Oxbow knew what they are talking about, or maybe it was because we got treated like gods and not just someone wearing a bib number. One thing's for sure though, with Laurent 'Lolo' Favre at their side calling all the shots, it made it a lot more interesting.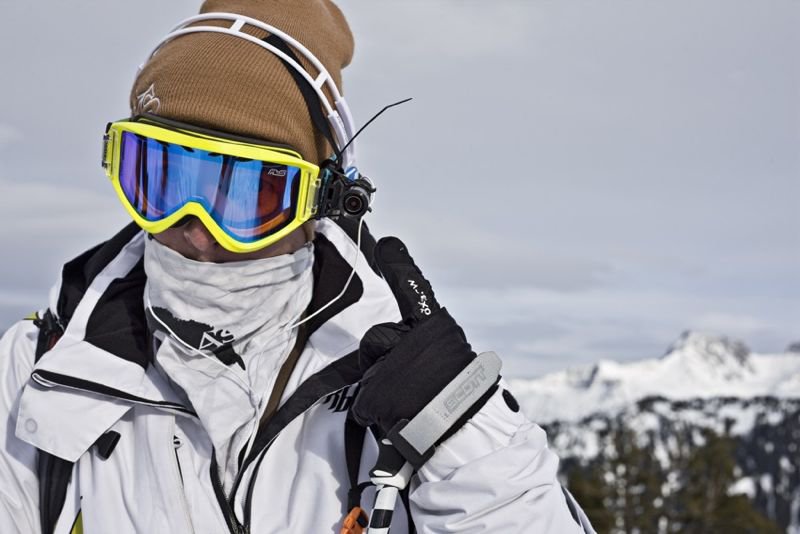 Lolo...the man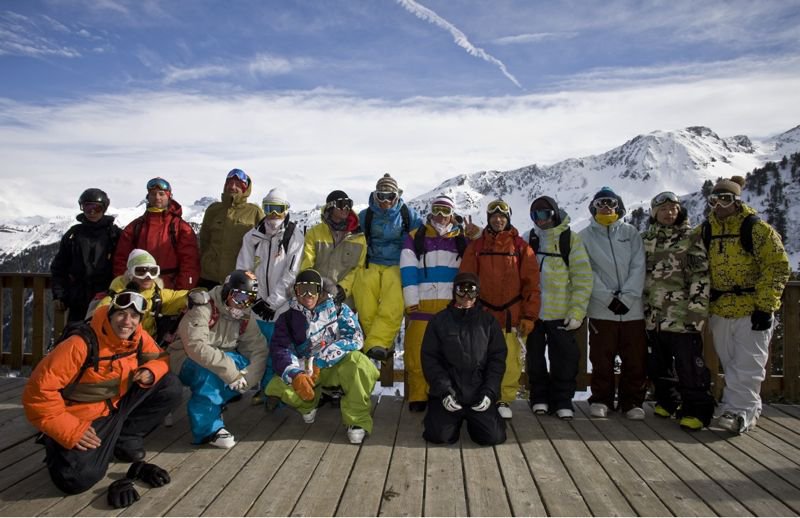 the riders
The competition itself lasted six days, where we, the riders, were given the choice to pick the best four days for four different disciplines. One day for backcountry lines, one day for backcountry booters, one days for park and one day of wood jibbing.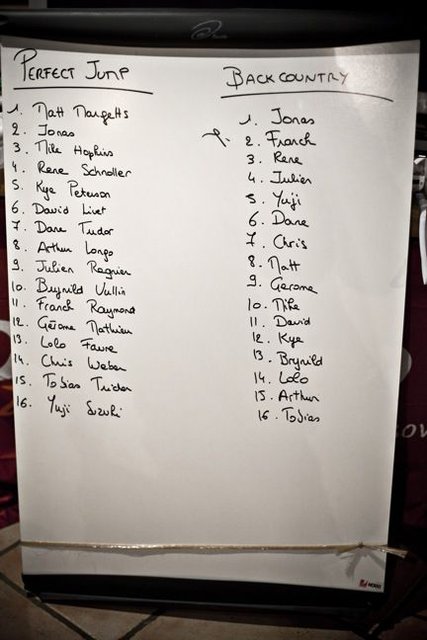 The backcountry lines and booters were undoubtedly going to be the most important ones, but the park jump and wood jib were more than complimentary and if the weather and snow weren't cooperating for the backcountry portion of the event it meant we had something else to do. All in all, the idea of the competition was to see who was the best all-around skier.
The day we arrived in Arêche Beaufort it was nice and sunny and we could see all the peaks surrounding us.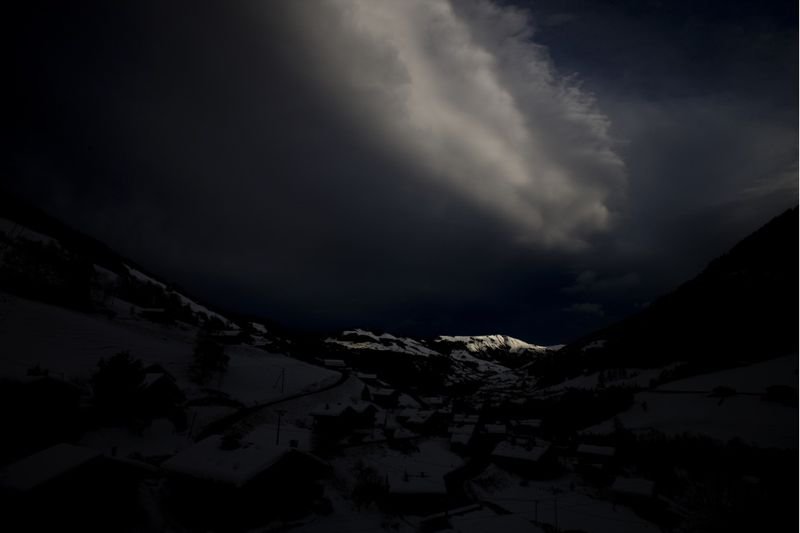 the view
We were all lodged at a nice ski in, ski out three-story high French-style chalet with a cook and bartender ready to serve us anything we needed, plus a flat screen TV and Nintendo Wii with Mario Kart, a poker table and a pimped out Bose sound system.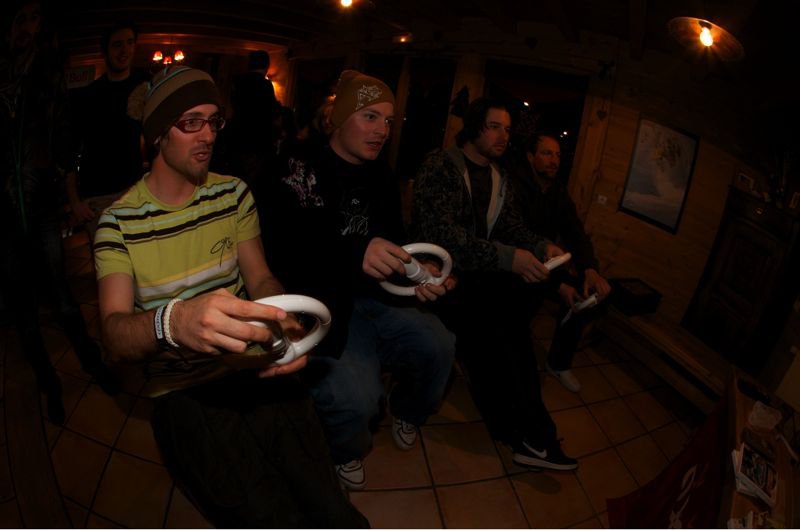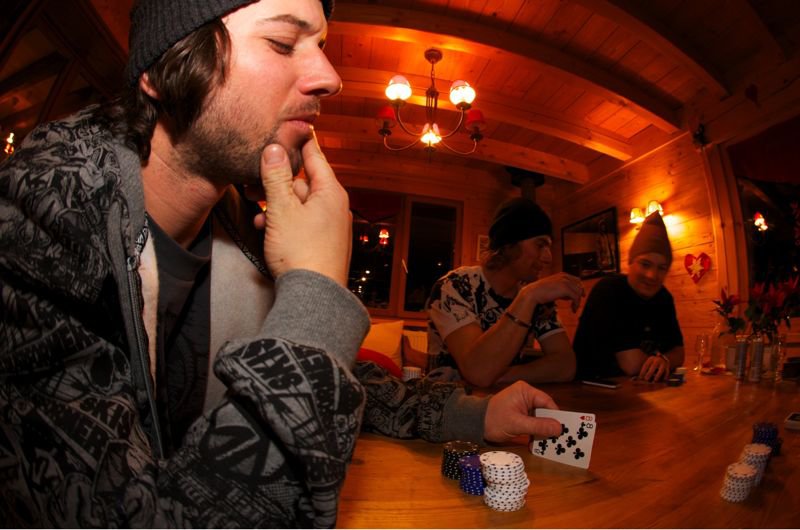 Each day the chef would have a lunch ready for us to get our energy for the hill, which included some classic French sandwiches with a small pie.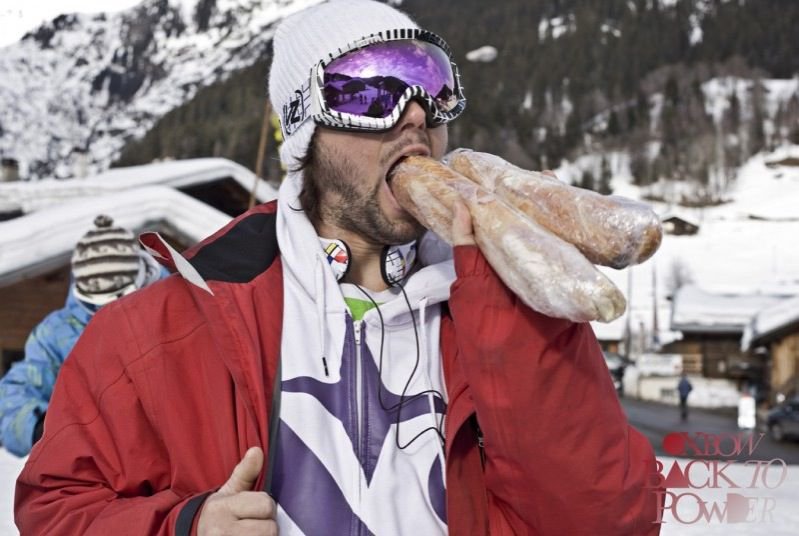 snowmans!
Day 1
Sunny, no clouds and but no pow. But it was all good because we were only going up to get our first feel of the mountain and the face and booters that we were going to hit over the week. Our first stop was the chalet in the middle of the mountain just below the tree line, as from there we could see the face where the backcountry line portion of the event would take place.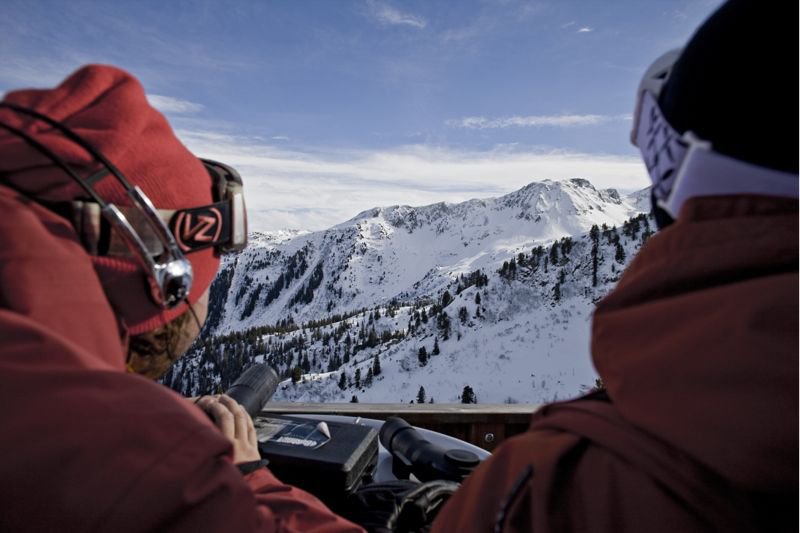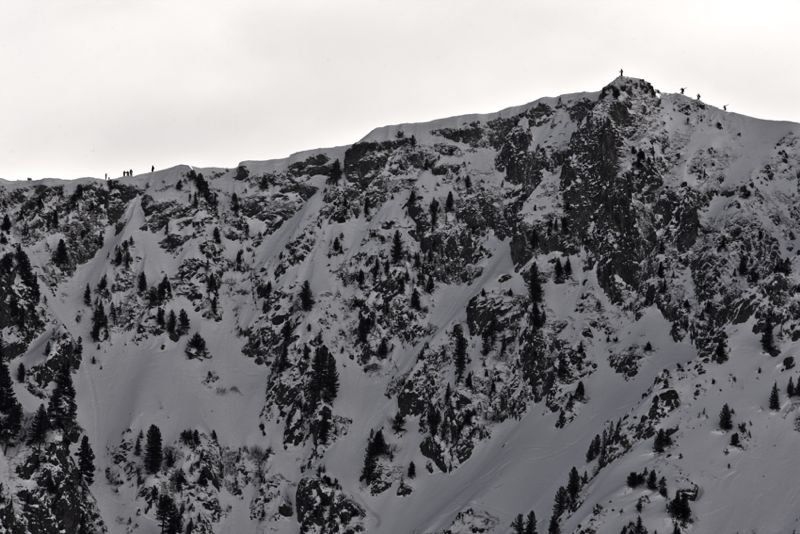 The face had everything from wide-open couloirs to tight, gnarly line with airs that Kye, Dane and Julien were looking at closely.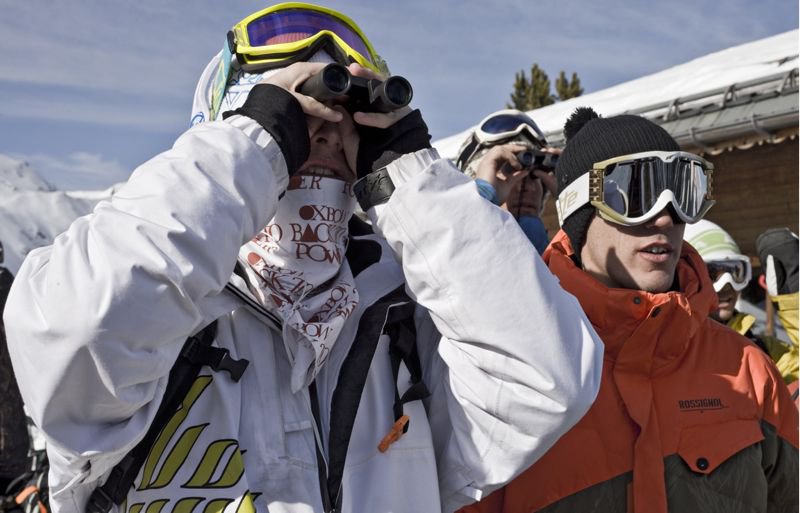 We then moved to the booterville where some kickers were built for us. Different shaped and sized spines, step downs and big airs with virgin landings were all around us. After a few hours of scouting we then spent the rest of the day riding all together in some nice, wide-open terrain. It's not very often that I get to ride with a crew of 16 sick skiers and snowboarders, so I was stoked. The snow was a little punchy but still fun and we all had a blast. We then rounded out the day with a traditional French meal around a table of 20+ guys.
http://www.oxbowpro.com/us/oxbowbacktopowder/video.html
Day 2
The weather wasn't quite right yet and we still needed some more time to study the lines we had picked out, so we spent most of the day looking at the park features.
Margetts and Tudor wanted to hit the 'The Perfect Jump,' but a little bit of work was needed before it called be called perfect. So out came the cats and park staff, shovels in hand, and they got down to business. Since there was no snow forecasted for the next day chances were good that we were going to be able to hit it.
http://www.oxbowpro.com/us/oxbowbacktopowder/video.html
Day 3
We arrived at 'The Perfect Jump,' with a barrage of cameras and people around the jump setting things up and checking all the angles. A bright sky was waiting for us and we could see all the surrounding peaks, including the world famous Mont-Blanc, the highest mountain in all of Europe, grinning in the back drop of the jump. It was game on.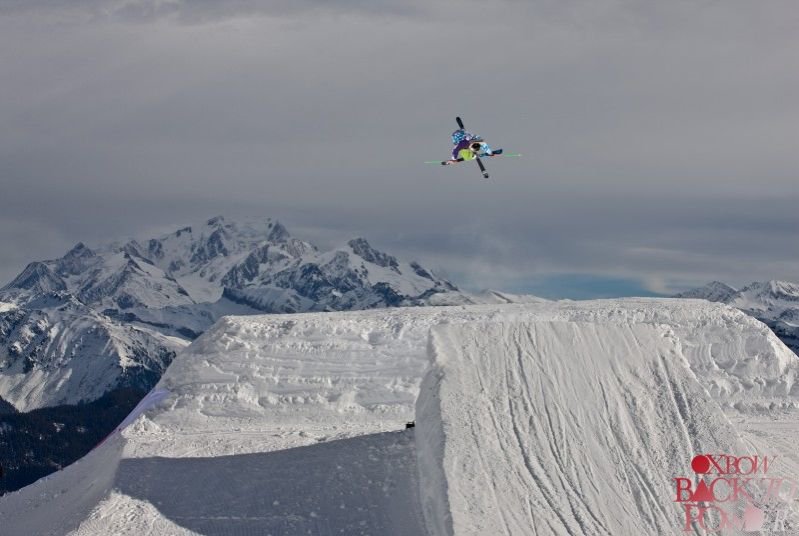 Dan Tudor
After a couple of test jumps to get warmed up, Dane Tudor started throwing down everything from 5's to 10's both switch and regular, while Matt Margetts was also sending it with stylish cork and flat 5's but broke his bindings and had to go down right in the middle of the session. Bummer.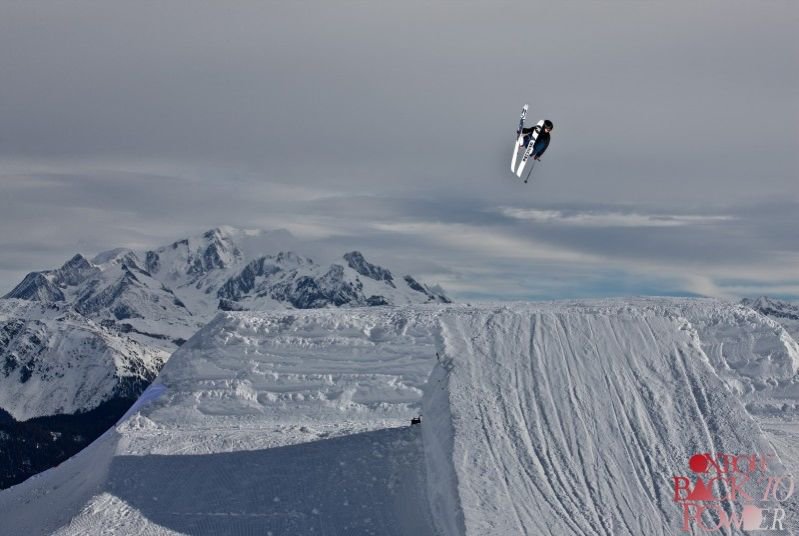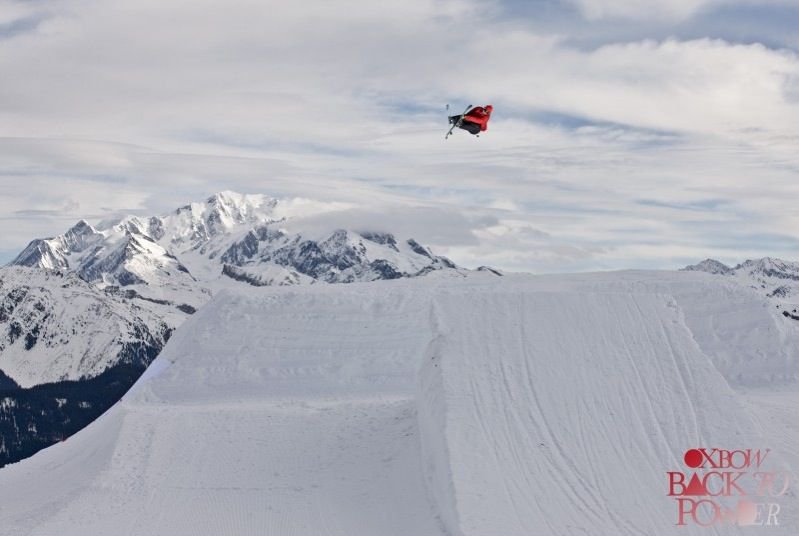 Kye and Toby had some fun dropping some left and right corked-out rotations and Julien was throwing picture perfects 5's.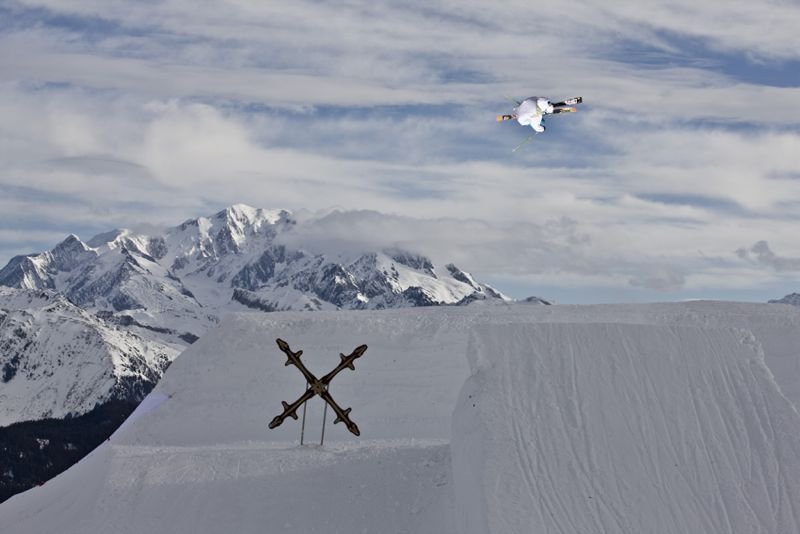 Laurent Favre
Lolo was keeping it extra steezey with combos of technical grabs and flawless spins.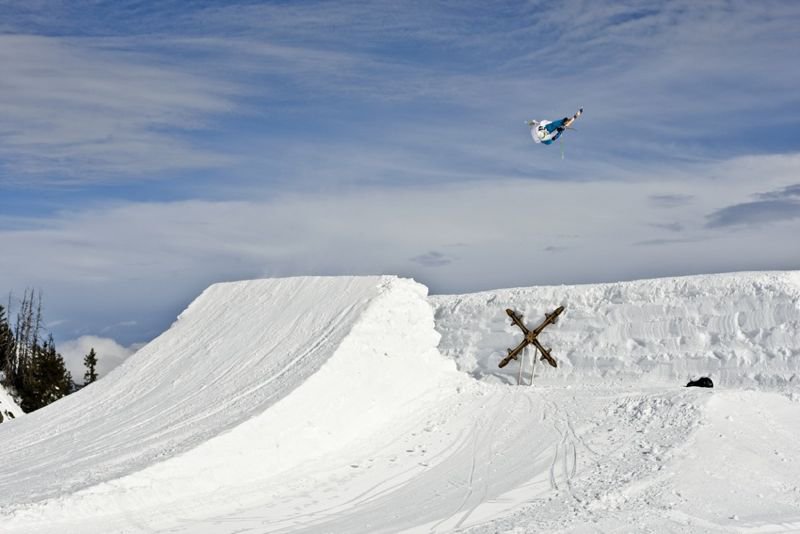 Laurent Favre
Mike Hopkins was going insanely big on some rodeos and I was just trying to get my tricks back in and surprising myself. I even pulled a switch 10...yeah I know, crazy.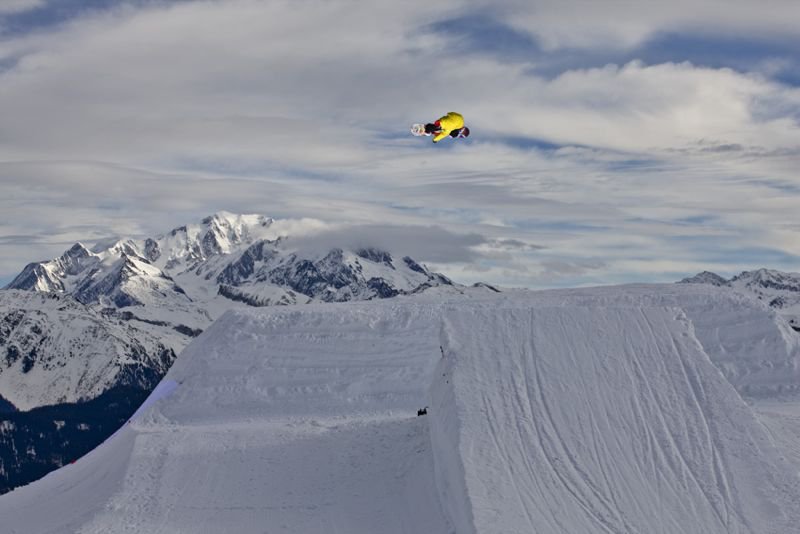 Some of the snowboarders were also pulling some very smooth tricks and we were getting stoked off of eachother, and it felt really good to be shredding with them.
The angle of the sun was changing throughout the day, which made the speed pretty sketchy, sometimes fast, sometimes slow. You would hit the knoll and think you needed more speed for the next hit but since the speed tended to change between two runs you ended up landing much further down the landing than you thought you would. Next thing you know, people were overshooting, starting with Mike Hopkins, who boosted a rodeo 7 way past the sweet spot and hurt hit ankle and fibia. Others went just as big and got lucky, but then I threw a cab 9 nose as big as Hopkins and hurt my knee…which put me out for the rest of the event. Sweet.
But most unfortunately, we ended up with a fallen soldier on the battlefield, Renee Schnoller, who overshot big time and over rotated a backside rodeo 7 to 9 and over. The nose of his board caught an edge and whipped his head and face onto the hard flat landing. He was unconscious in the landing and sliding like a like a dead body. Everyone rushed down to him and we found him face down shaking and snoring. He got helied out and rushed to the hospital. Later on we were told that he regained consciousness but that he had a heavy concussion, broken nose and cheek. He was then transferred to the Hospital of Lion where they had the necessary tools to take care of him in case there were more problems. The session was done.
http://www.oxbowpro.com/us/oxbowbacktopowder/video.html
Day 4
The weather was still not good enough to the hit lines, so the backcountry jumps were on. Dane and Kye lead the charge, and were killing it every run. Six different jumps were built for us, some in a row and some as just a singular hit.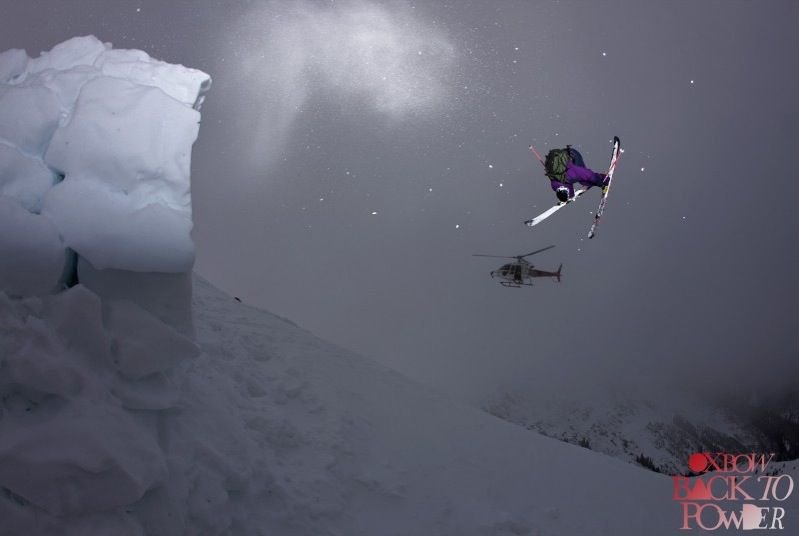 Matt Margetts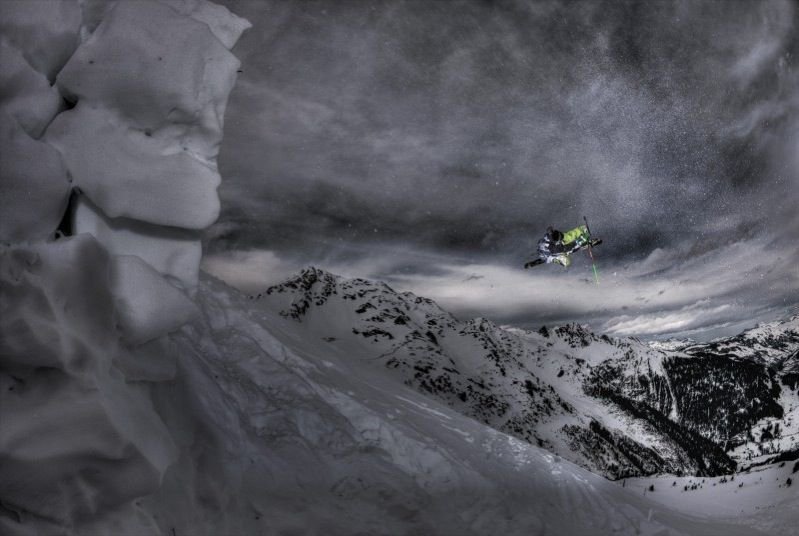 Dane Tudor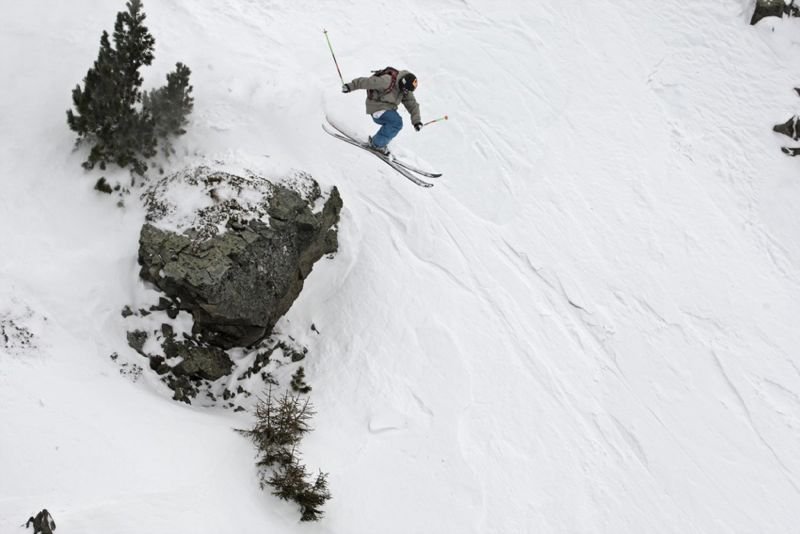 Mike Hopkins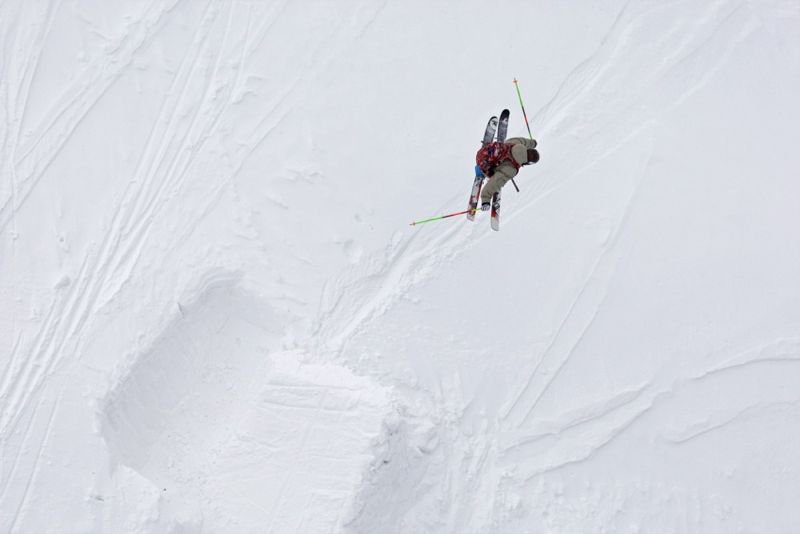 http://www.oxbowpro.com/us/oxbowbacktopowder/video.html
Day 5
More clouds, stiff snow and high winds forced the cancelation of the big lines. As a precaution, the good people at Oxbow had set up a wood jib zone in case of bad weather. Rails, bonks and jibs were set up in the trees and again a crew of park staff were there to fix and maintain the features.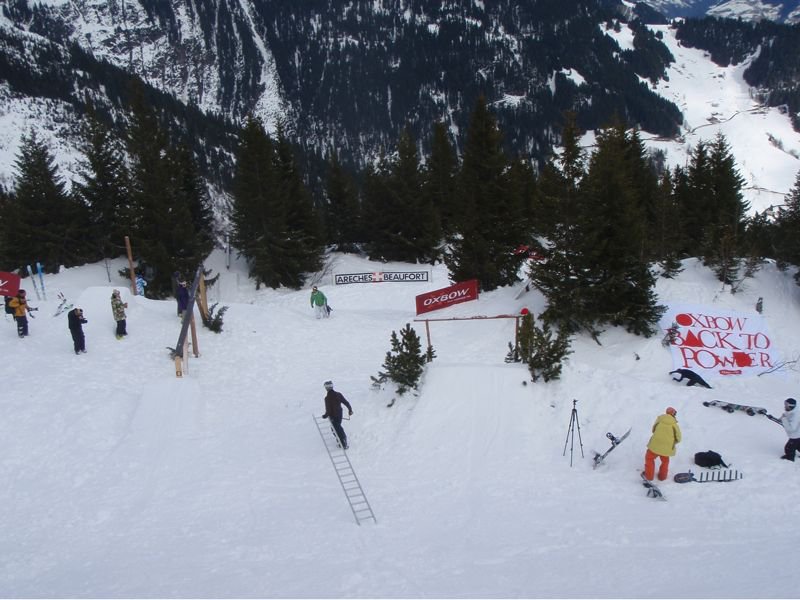 Right off the bat, Lolo started hitting the high rail switch and was the only one to do so because of the gnarly in-run.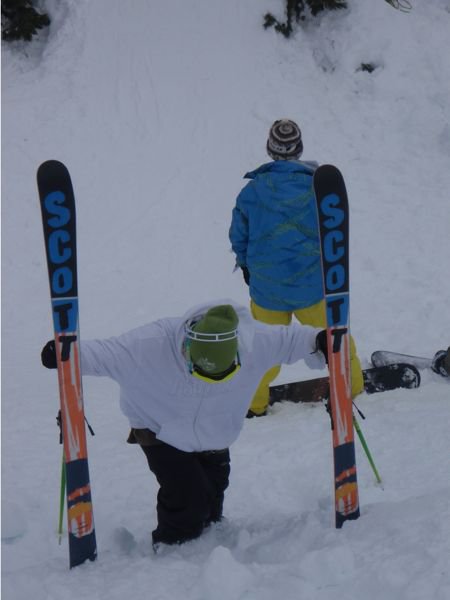 Lolo
Dane had been killing all week, and continued this trend by pulling a cork 7 hand plant on the log fence, straight G.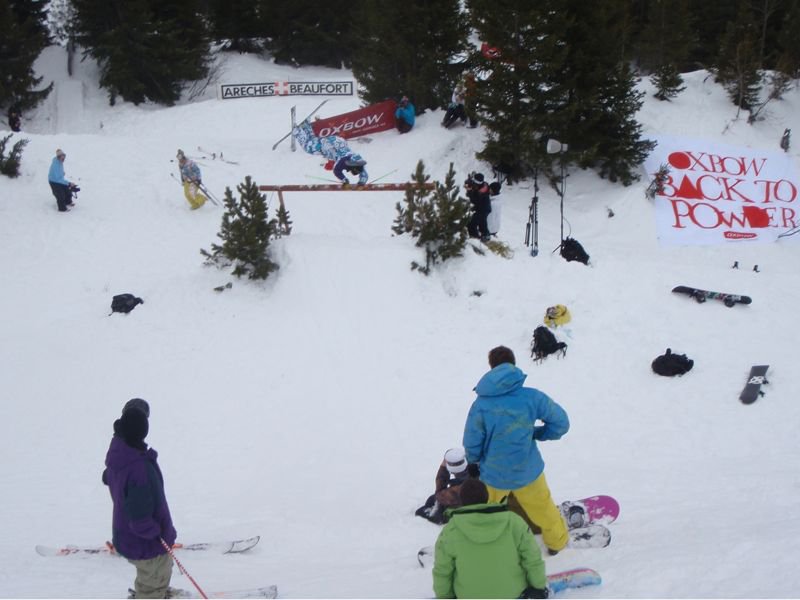 Dane Tudor
A little session also began on the tree jib with Margetts was doing a variety of bonks and taps on the pole while Kye was throwing switch 3's and bonking the pole mid-air. You don't see Kye doing jibs too often, but the kid's got skills...probably from skateboarding.
http://www.oxbowpro.com/us/oxbowbacktopowder/video.html
After every day, we would gather up for dinner and have a good laugh around a table of 30. Many a stories and jokes were told, and everyone seemed to have a great time. I got to meet really cool guys living the same kind of life as me. The week finished with a dinner with all the people involved with the competition and the traditional open bar afterparty, only this one was in the middle of the mountain and had to be accessed by the chairlifts. And as we made our way up, it started snowing huge snowflakes.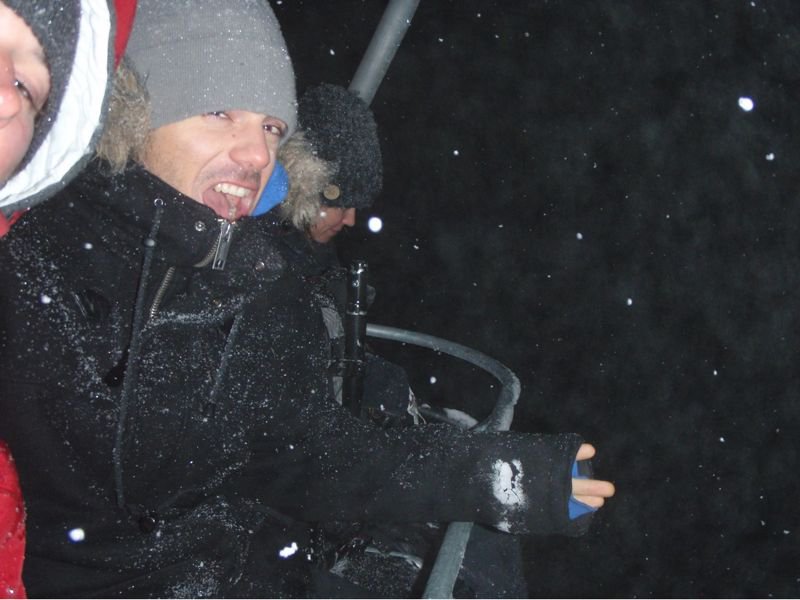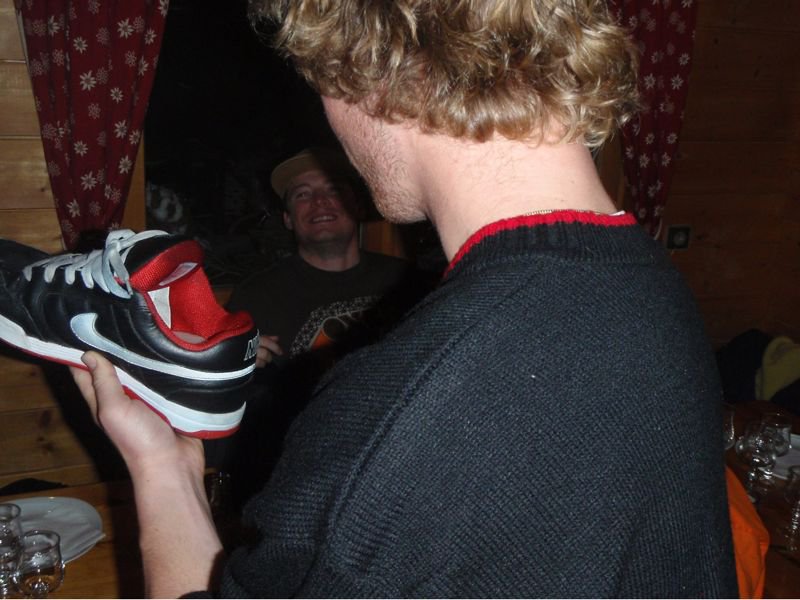 and yes, shoes were involved at the party...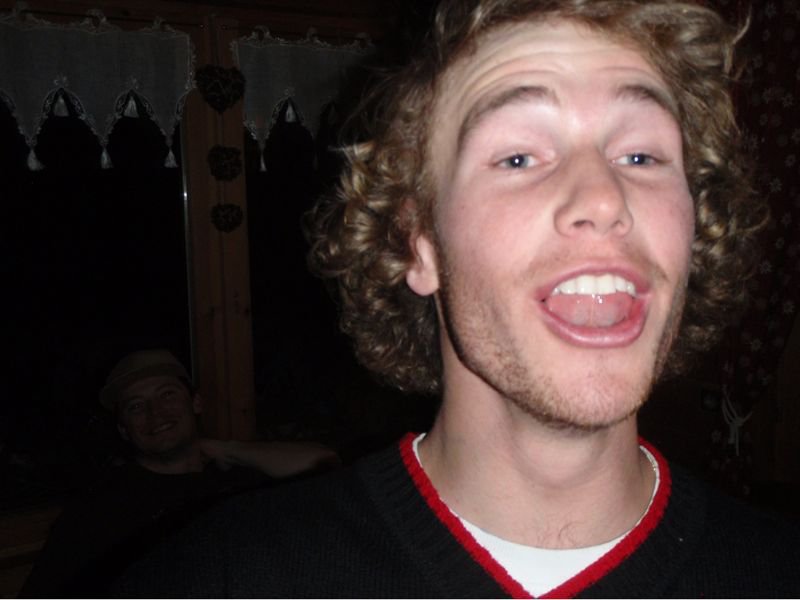 ...and it was Marg, as usual.
Even if the snow and weather wasn't as good as it could have been the riding was amazing and everyone threw down hard all week. Hopefully Oxbow will do another edition of Back To Powder next year, because with a little bit of luck it could be sickest event of the season.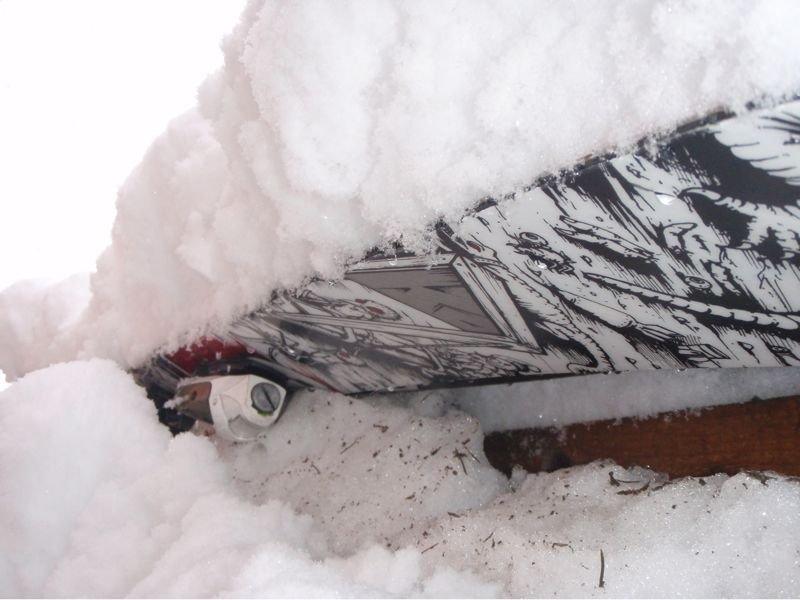 And just to show how things could have been, the day we left it snowed big time…as usual. I went to my good friend Arnaud Kugner's place at Chatel where it had snowed over 40cm of champagne powder. Best days of skiing yet this season…