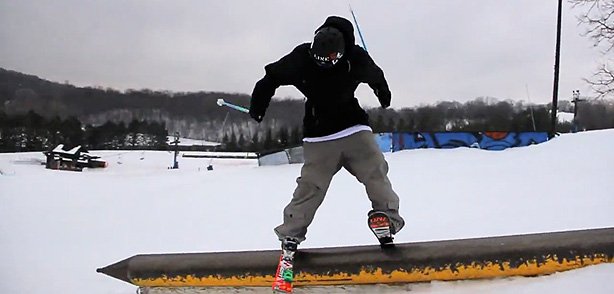 There comes a time when the ski season has to end. I don't like it, you don't like it, nobody likes it, but it has to happen. Don't think of it ending, think of it as the lead up to the next season. There will be a few months off where you can spend your time on Ski Union lapping up the latest news and videos (unless you're rich/sponsored then you'll be jetting off to the other hemisphere to get your fill!).
Line Traveling Circus is with us every year and as I talk about seasons ending, here's the last episode of the season which follows them around the US of A. Much like the previous episode, we remember that the country is as 'flat as a pancake'. The guys hit up a couple of resorts while Andy Parry takes some time off to repair his ACL by delivering pizzas. You've gotta make money somehow right!
America's midwest; a land of undersized ski resorts, oversized doughnuts, and unlimited rope tow park laps. The TC Crew heads to Minnesota and Wisconsin for all that is skiing in the Great Lakes states.
linetravelingcircus.com
facebook.com/Linetravelingcircus
MPORA Action Sports
Related posts:LINE Traveling Circus: Get In The Van The new episode of Line's Traveling Circus! 'Get in the...
LINE Traveling Circus: This Is Stupid I love the Traveling Circus. It pretty much says everything...
LINE: Traveling Circus – Van of Fools I always shed a little tear when the Traveling Circus...