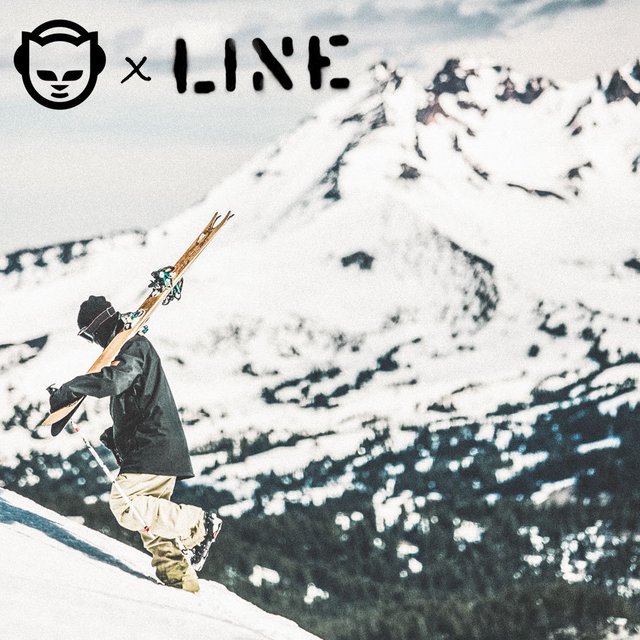 FOR IMMEDIATE RELEASE
LINE SKIS AND NAPSTER AIM TO KEEP MOUNTAIN VIBES HIGH WITH NEW PARTNERSHIP
SEATTLE (January 25, 2017) – Followers of the LINE Traveling Circus series know better than most that a solid soundtrack is just as important as the skiing it's backing up. Thanks to a new partnership with Napster, now a legit, global music streaming service, LINE aims to make it even easier for fans to find and access the music that's streamed daily by their favorite brand and pro skiers alike.
Found on both LINEskis.com and Napster's desktop and mobile apps, fans can enjoy content from a selection of LINE featured skiers. Each athlete will obsessively curate their current favorite tracks into a Napster playlist and publish the selection alongside a bio, photos and their favorite LINE products.
Beginning today, the partnership kicks off with established artist and skier, Eric Pollard, known by many as a key component of LINE's look and feel. With additional experience in film production and editing, Eric knows a thing or two about selecting cuts for the perfect soundtrack.
Every two weeks, LINE will unveil a new skier's playlist, offering fans a listen into the headphones of Khai Krepela, Will Wesson, Hadley Hammer and freestyle magician, Tom Wallisch.
In addition to featured playlists, LINE and Napster will host a monthly photo contest through social media that will extend into the summer. Fans will have a chance to submit entries to win select soft goods and ultimately have a chance at a pair of custom-designed skis with graphics by skier and local artist, Charlie Cultrara. Follow @LINEskis and @napster on Instagram and Facebook for rules on entering.
LINE followers can enjoy a free trial of Napster for 30 days, featuring unlimited streaming of millions of songs, radio stations and curated playlists, then $9.99/month after. For more information, please visit LINEskis.com/napster.
LINE Skis: From the ashes of a dilapidated skiing world full of straight, stiff and un-fun skis, LINE was born in '95 with a mission to grow and rejuvenate skiing by building innovative, high performance, athlete driven ski products to support the next generation of skiers, no matter the young or young-at-heart. In summary, the goal has always been to make skiing MORE FUNNER.
About Napster: Napster is one of the world's leading premium subscription streaming music services. Available in 34 countries, Napster gives members unlimited ad-free access to the music they love anywhere, anytime and on any device - online or off. Whether on the slopes, at home, at work, or in the car, Napster subscribers can download playlists and tracks from a catalog of 40 million songs, and tap into the power of our global Listener Network, to connect with like-minded music fans and discover new music they love every day. Napster is headquartered in Seattle, with offices across the U.S. Latin America and Europe, and its respective logos are trademarks or registered trademarks of Rhapsody International Inc. Follow @Napster on Instagram, Twitter and Facebook, and learn more at http://www.napster.com.
###
Napster PR Contact: Sarah Tobis – stobis@napster.com
LINE PR Contact: Jake Hanson – jake@hayterpr.com