It's a common refrain that "a pair of socks is like gold to a homeless person." And it's to spreading some 'gold' around that Edward Del Guercio, founder of Lift 23, has dedicated the early stages of his socially conscious sock company. He went as far as naming the brand after the original mission: to provide a pair of socks for each of New York City's 23,000 kids in homeless shelter.
At the center of the whole company is, lifelong skier and experienced bootfitter, Ed's perfect ski sock. The sock that became the Lift 23 was developed long before the social side of the business came into existence. The aim was developing a sock with all the performance of lightweight offerings, but the warmth of a medium thickness sock. And it was born the more traditional way, through extensive testing of materials/weaves and then funded as Lift 23 by a successful $15k Indiegogo campaign once Ed had combined bringing the ski socks to market with his desire to give back.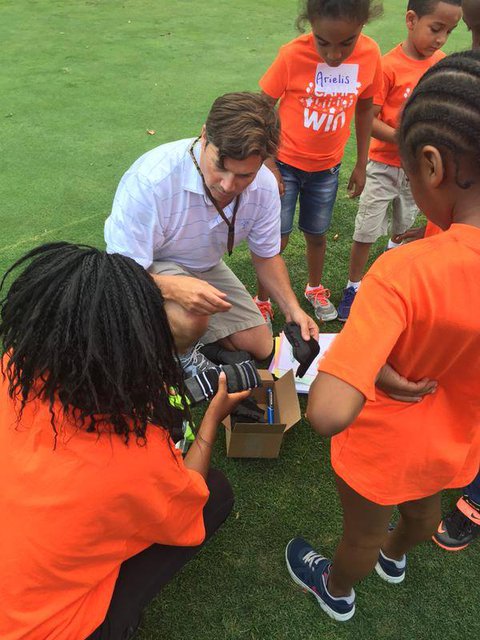 Ed handing out some of the 2,000 pairs already donated
Lift 23 uses the '1 for 1 model', borrowed from Tom's shoes, who donate a pair of shoes for each pair sold. Likewise, for each pair of Lift 23 ski/snow socks sold, the company donates a pair of socks to children in need. While Ed initially set his sights on helping NYC children, the company has expanded its mission and aims to donate socks to children in 15 states. As of press time, Lift 23 has donated 2,000 pairs of socks, with an additional 6,000 scheduled for delivery this holiday season. And Ed believes the brand is on track to deliver the original target of 23,000 pairs by 2017, an impressive start.
Donation socks packaged up with Lollipops and Hershey's Kisses
The snowsports sock behind it all is Merino wool based, because as Del Guercio points out, "it's the best natural wicking fiber available." But, Ed further explained, "its downsides include pilling, slipping and resulting discomfort." So the trial and error based testing period was used to work out those kinks. The final product features a proprietary combination of the finest fibers and materials, including of course, Merino wool. It also has a Lycra-reinforced rib knit cuff, compression zones and a high performance mesh-knit design that ensures ventilation, warmth, and moisture-wicking.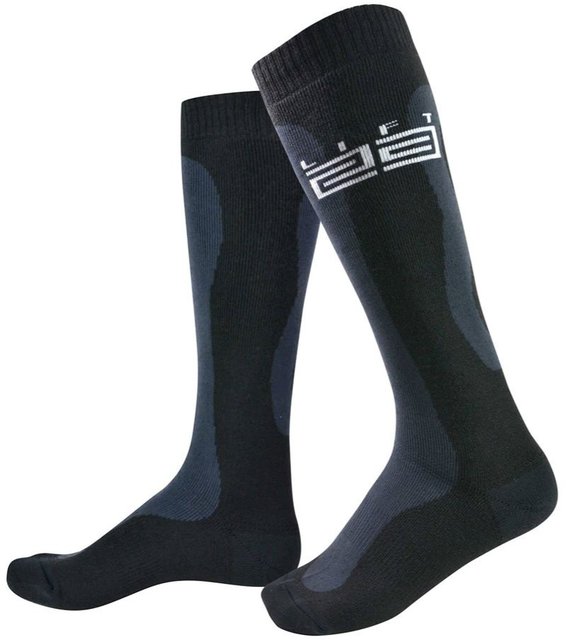 The sock behind it all
And at an equivalent price to other performance socks on the market, it's not hard to see why Lift 23 was such a success on Indiegogo and continues to flourish. What more could you want than knowing you've bought a great product and given something back to people less fortunate than yourself at the same time?
Ed is currently working on other premium socks designed specifically for different outdoor activities. "It's not only about creating high quality, super comfy socks designed for a particular sport, but also about donating socks to kids who truly need them and giving exposure to the organizations that support them," said Del Guercio.