On Saturday, November 19th in Stockholm, Sweden, some of the world's most elite freeskiers will participate in the prestigious big air competition at Stockholm Olympic Stadium known as King of Style.
The total number, right now, of this year's starting field is 24 skiers from nine countries. Superstars ready for the contest include Bobby Brown, Elias Ambühl, Jossi Wells, Jacob Wester and Jon Olsson.
Elias Ambühl at the 2010 King of Style.
Also included in the start list are eight non-established skiers who qualified for the competition via a video qualification. During October, a series of video qualifications was open to the public, and the rules were simple: the participant had to upload a skiing video clip no longer than 60 seconds with himself in the lead role. The video qualification was conducted through Freeride.se for the Nordic countries, Skipass.com for France, Downdays.eu for the rest of Europe and Newschoolers.com for USA and Canada.
King of Style is a big air competition for the world's elite freeskiers. The contest is held at Stockholm Stadium in Stockholm, Sweden, where skiers will compete for a total of $20,000 USD in the highest city ramp for skiers, and the competition is a gold-level event on the Association of Freeskiing Professionals' calendar. Previous King of Style winners include Kevin Rolland (2010), Andreas Håtveit (2009), PK Hunder (2008), Sammy Carlson (2007) and Richard Permin (2006).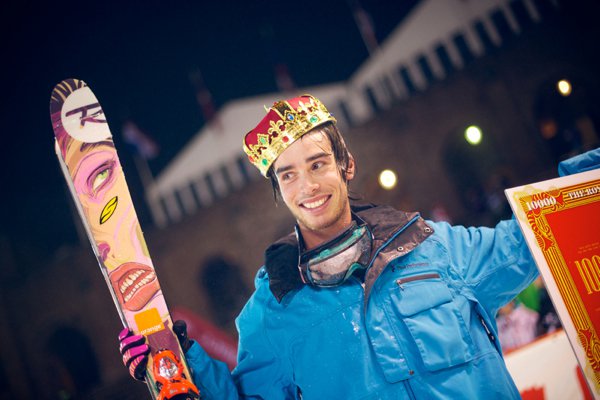 Kevin Rolland, winner of the 2010 King of Style.
The King of Style is part of the Stadium Winter Jam at Stockholm Olympic Stadium, which also hosts a snowboarding World Cup stop, the LG Snowboard FIS World Cup Big Air, which is one of three stops on the World Cup Big Air tour. Here's the current list of athletes who will be participating in the 2011 King of Style...
Invited
 
 Bobby Brown
Jacob Wester
Jon Olsson
Elias Ambühl
Jossi Wells
Simon Dumont
Kai Mahler
Gus Kenworthy
Oscar Scherlin
Jeremy Pancras
Alex Schlopy
Tobias Sedlacek
PK Hunder
James Woods
Fridtjof Fredricsson
Markus Eder
 
Qualified Via Video Qualification
 
Nick Goepper - Newschoolers.com
Tom Granier  - Skipass.com
Anttu Oikkonen - Downdays.eu
 Vegard Øye - Freeride.se

Gaute Silseth - Freeride.se

Cristopher Hjälmeby - Freeride.se

Espen Bergh - Freeride.se

Sig Tveit - Freeride.se
 
Schedule
Saturday, November 19th the Stadion in Stockholm, Sweden
11:00am – The doors open to Stadium Winter Jam

2.30pm – Official Opening / World Premiere for the SWJ anthem

3pm - 4pm – LG Snowboard FIS World Cup Big Air Finals 

4:10pm – Trainspotters at the Monster Energy Scene (Swedish hip hop from the North)

4:30 - 5:30pm – King of Style Finals

5:30pm - 6pm – FMX show with live music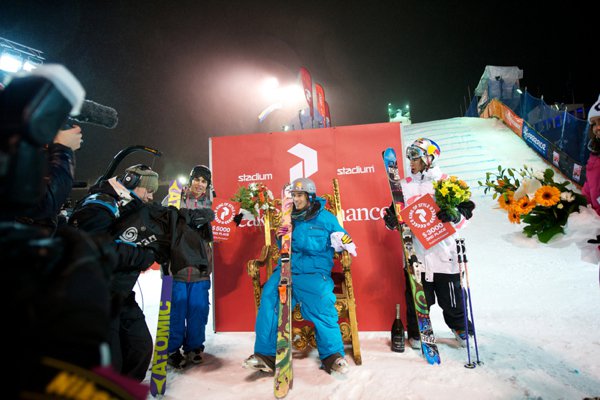 Elias Ambühl, Kevin Rolland and Bene Mayr at the 2010 King of Style.
Stadium Winter Jam is one of the largest winter sports events in Sweden. In front of 26,000 people, the world's best snowboards and skiers offer spectacular jumps and a great show. It takes three weeks to build the 35-meter-high ramp, which consists of 100 tons of steel and is filled with 475 cubic meters of snow sprayed on to the ramp 24 hours before the event. Winter Jam is not just a competition but also a unique winter sports trade show with 30 exhibitors, along with a rail arena where you can test their skills in snowboarding and skiing. For more information on the event, check out http://www.stadiumwinterjam.se/english.