REGISTRATION IS OPEN! http://www.skiroundtop.com/gift-cards-purchase - click on "King of Jib Event"
The last place you would expect to see thousands of dollars worth of prizes at a rail competition is South Central Pennsylvania. Roundtop Mountain Resort in Lewisberry, PA is out to ditch the east coast stereotypes, and put together a large-scale contest for the Mid-Atlantic region.
The first ever King of Jib contest will take place on Saturday February 16th, 2013, and is set to feature a $3000 cash purse with $1500 being awarded to the top skiers and snowboarders respectively ($1000 first place prize, $500 second place). Proclaimed to be "the mid-atlantic region's top rail jam," (rmrparks.com) the event will be sponsored by UA MTN, local car dealership Faulkner Subaru, Giro Snow, Capita, Thirty-Two, Union, Howl, Ashbury, Airblaster, Crab Grab, and Rockstar Energy Drink. While Roundtop Mountain Resort is no stranger to hosting local contests, never before have they taken on a contest of this caliber.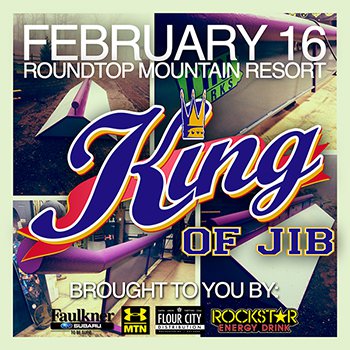 "It got to the point where I needed to push myself to create a regional event that is larger than your regular locals' event. Roundtop's parks have grown each year, and our events are becoming more and more popular. I wanted an event requiring a high quality of riding, and for region of riders to have something similar to Rails 2 Riches." Said event organizer and current Roundtop park supervisor Matt Stambaugh. Stambaugh has been an employee of the mountain since 2005 and has held several different positions throughout his tenure.
"Not only are we going to have a fun set up, this event will help showcase riders abilities from across the Mid-Atlantic and the southern northeast region. Our fantastic sponsors and reps will be in attendance and will be helping provide prizes for the event." Said Stambaugh. "Not only will the event be beneficial for skiers and boarders in competing for cash and prizes, but the level of riding will be so high that it will be great for non-terrain park enthusiasts to watch."
Riders can expect to be at the mountain for the duration of the day, as this will be a day-long contest in combination with the snowboarding division.
"We also have THE best rail jam location I've personally seen. With the J-bar located on site, riders will not have to hike at all which will allow for a higher level of riding" he said. Roundtop Mountain Resort Park Crew (known as RMR Parks colloquially) has created an entirely new park area (which formerly housed an outdated half pipe) that is serviced by a J-Bar lift, which will negate the need to hike entirely.
"Some of the park crew and I sat down and thought about what would be awesome for a rail jam. The first aspect is that there will be no boxes. Riders are competing for thousand bucks, so no boxes. The second aspect is tubes. Tubes are all the rage, and we wanted a tube. With the guidance of park builder Joe Garbacik, we took apart an old wall ride, made a new wall ride and added a tube on top. Our hope is to set this feature on a block so you can hit the flat tube with a tall drop off, or spin off the wall ride." Said Stambaugh. Riders should also expect to see a down flat tube, as well as a down flat down tube.
Interested skiers can find a complete schedule, and all of the registration details on the official event page by clicking here.
Event Features