All photos: Martin Axéll
Kimbo Sessions. There's simply nothing like it. A sentiment perfectly illustrated by the riders' welcome 'meeting', which coincided with Valborgsmässoafton, a celebration which has roots in Pagan traditions, and marks the end of long dark winter and the beginning of summer. On Valborgs, fires are lit to burn away any bad spirits, not that there were any of those in Kläppen this week. The gathering therefore took place next to an all-time bonfire, where beers and spirits of a different kind were order of the day. After an hour or so Kim took to the 'stage', a hastily arranged pile of logs, and introduced the one rule of Kimbo Sessions… don't talk about Kimbo Sessions.
https://www.newschoolers.com/videos/watch/902615/Kimbo-Sessions-2018---Recap-1
No, not really, the only rule is clear up your trash and keep the houses clean. Everything else is a free-for-all. Go to the hill when you want, hit whatever feature you want, ski as little or as much as you want... "Oh", Kim adds, "we've got the keys to the lift, so come find me if you're the first to go up". It really is a dreamland.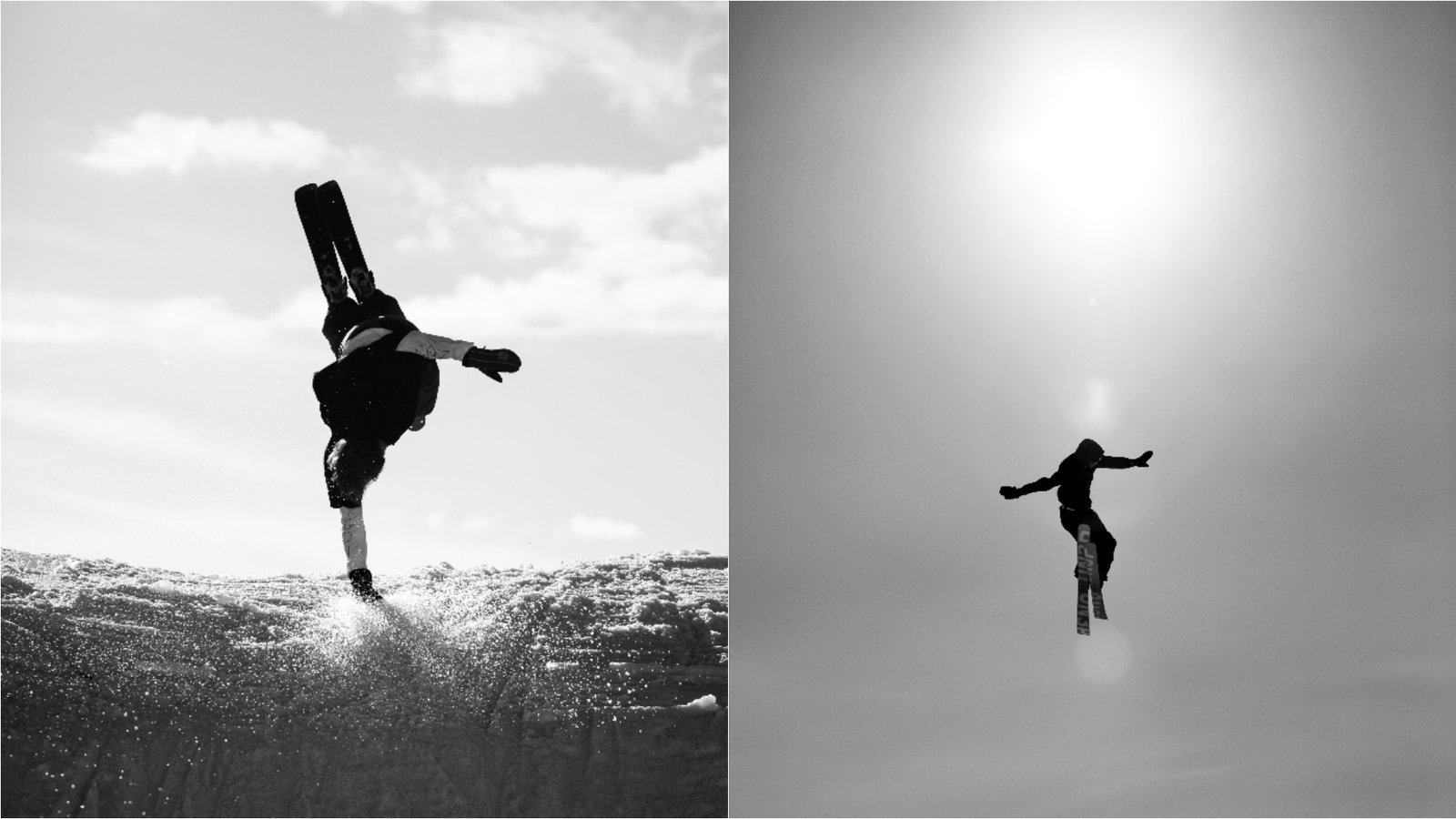 Skiing art
The event has been growing fast over the last three seasons and with good reason. As such, Kim has been fielding requests for spots all winter from a veritable who's who of the industry. How often do you see Parker White and Tanner Hall at the same park shoot? Almost everyone who's here approached Kim for the invite, rather than being invited and making space in their own busy schedules. Essentially, for all the crazy events out there, this is the one that everyone wants to get into because, as a rider, it's the best. After taking to Kläppen to expand the event once again, Kim managed to round up beds for around 60 riders plus a significant number of sofa surfers, making this the biggest Kimbo Sessions to date.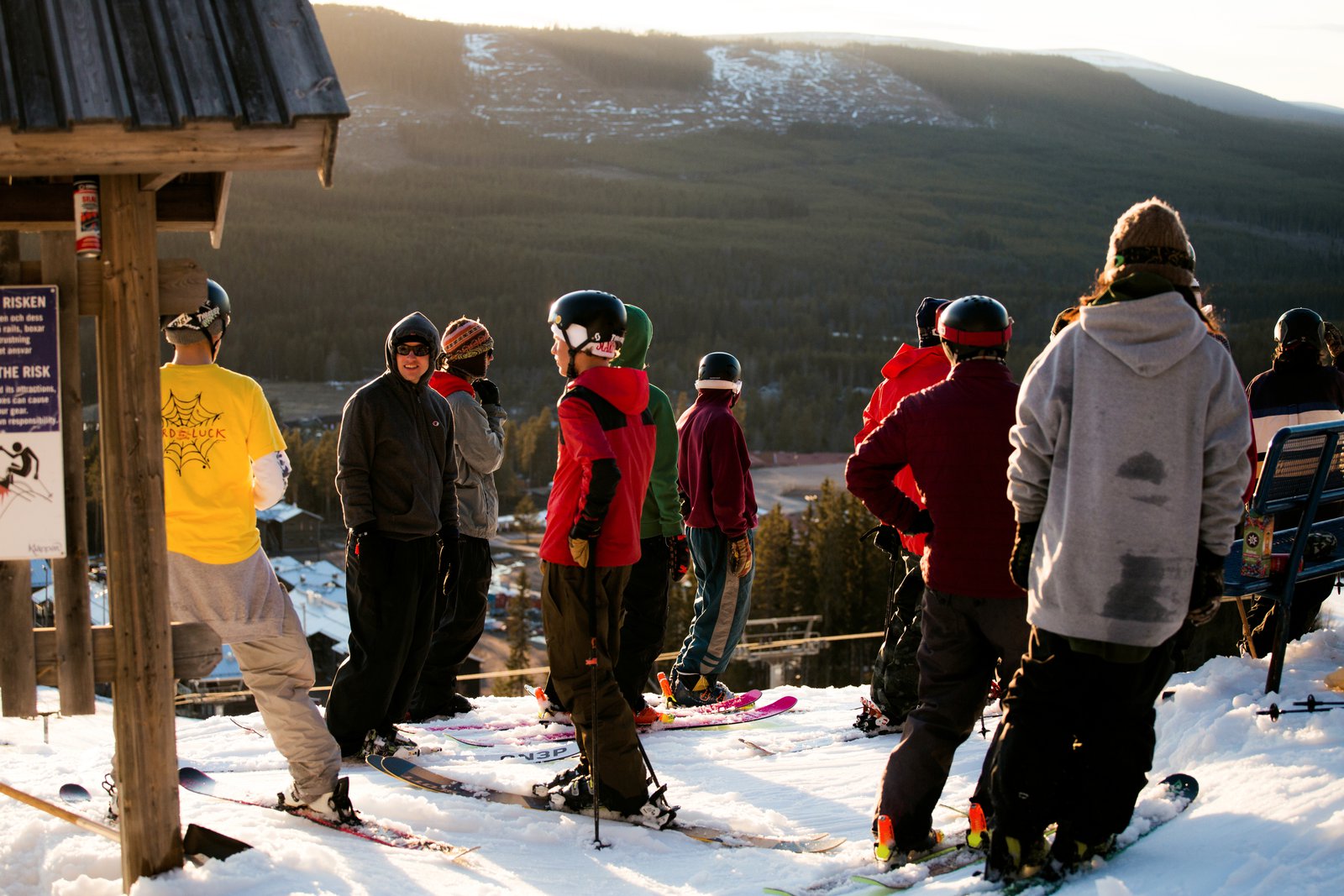 On the hill, it's impossible to keep track of all the craziness being thrown. Being a filmer must be hell because there are always at least three sessions going down… how do you pick? And that doesn't include the games of SLVSH, which are blowing minds and being filled daily: Woodsy's Instabanger, Emil vs Hugo Round 3, a game between two legends that you're just going to have to wait and see. Skiing the course is a ton of fun, but just sitting there and soaking up the vibes is a big part of the experience. At any given time, around half the crew is chilling. Whoops and hollas are near constant because the other 25-30 guys are still throwing the fuck down.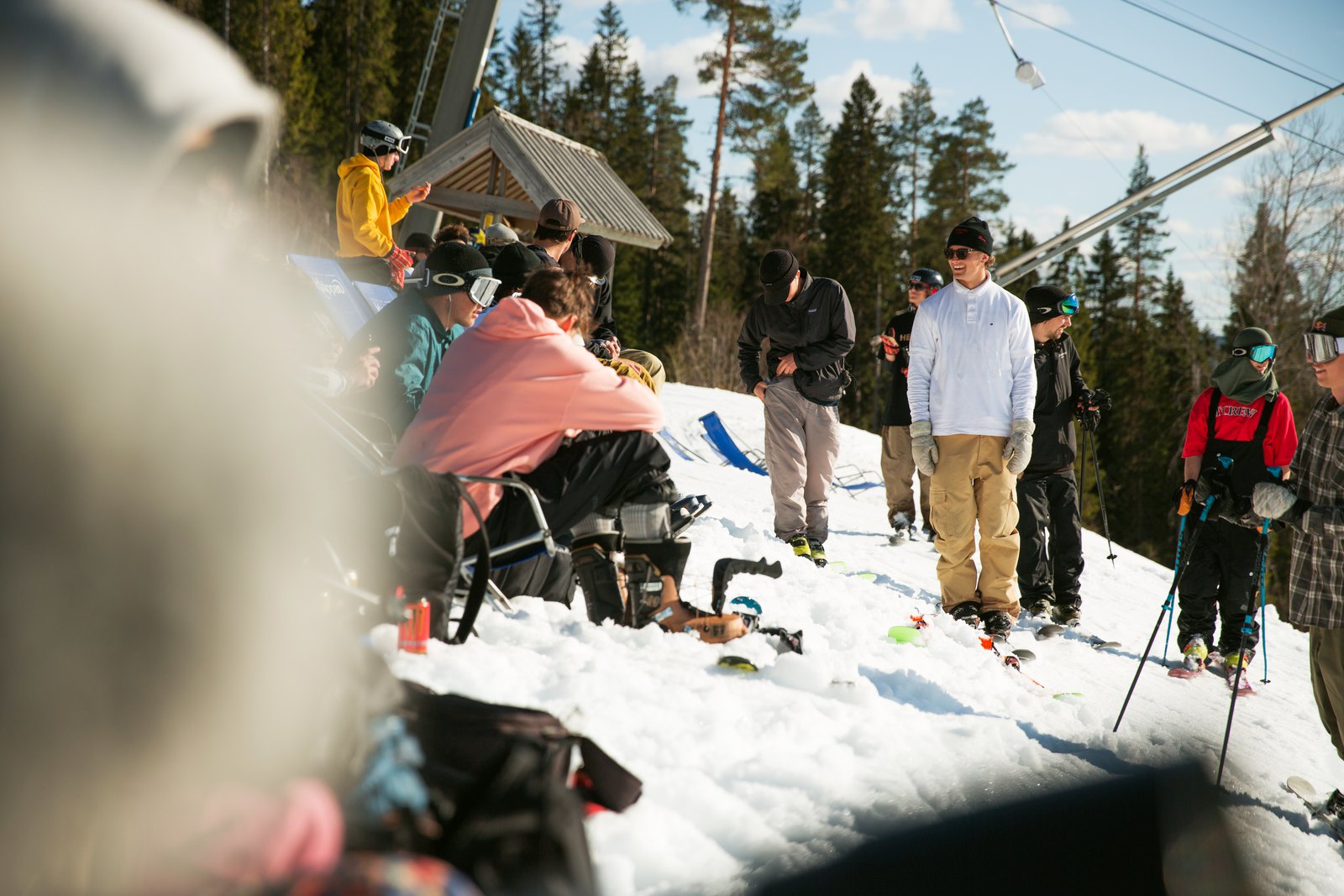 Beers generally started flowing around 2-3pm but the session goes on until 10pm, with the last couple of hours normally being the heaviest for the daily sunset shoot. On the last night, Mango was still skiing when Kim finally shut off the lift at 11. Apres ski, which given that you can ski until 10 was a late-night affair, consisted of bonfires, beer hockey, and somewhat inebriated trips to the 'stu' to drop fire in the booth.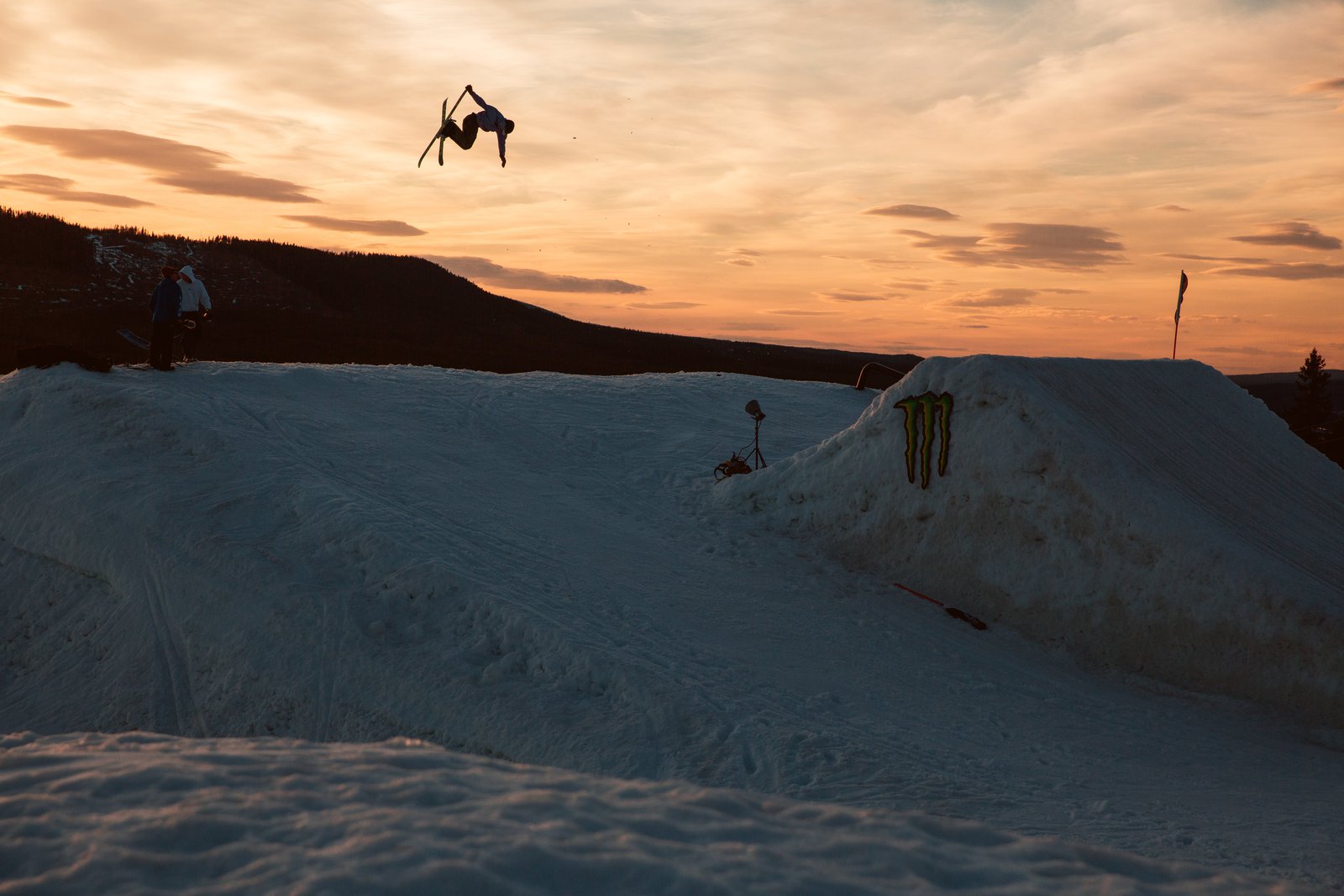 Sunset was off the hook pretty much every day
The toughest part of writing this is deciding which of the stacked field to single out, because literally everyone was throwing down. It seems somewhat redundant to go into depth about who did what tricks because there are so many video recaps coming. There are some guys who definitely do deserve a shoutout though. Johan Lilja, a local legend, was going bigger than anyone, frequently landing 2-3ft from death on the big jump. Emil and Hugo's SLVSH game is yet again one of the best ever and both killed it all week long. Jake Mageau can do things nobody else would even conceive of, he's one of -if not the - most creative and intuitive skiers on the planet right now. LSM, Magnus, Alex Hall, Quinn Wolferman, the list goes on. My pick for rider of the week was probably Parker White. Everything he does stands out, he has that perfect trick selection for each spot, he took lines that nobody else was taking, went hard in the paint in a game of SLVSH (yes, really) and of course he has that style you can only dream of emulating.
https://www.newschoolers.com/videos/watch/902939/Kimbo-Sessions-Part-2--A-couple-hours-at-Kimbo-Sessions-2018
Ultimately though, the skiers voted to crown three winners. Johan Lilja took home the Hardest-Working Award for the tireless hours he put in, keeping the park in shape and shredding all day, every day. Anton Linden took home the Sendiest Rider Award, and he certainly has a screw loose, throwing crazy hand drag doubles and dropping a triple 12 first try (his first ever) out of nowhere on the penultimate night. Rider of the Week was a hotly contested one, and after a close vote, it went to Kryptoskier (Erik Moberg), who was unstoppable from the first day to the last. He might not be that well known right now, but he's going to change the game.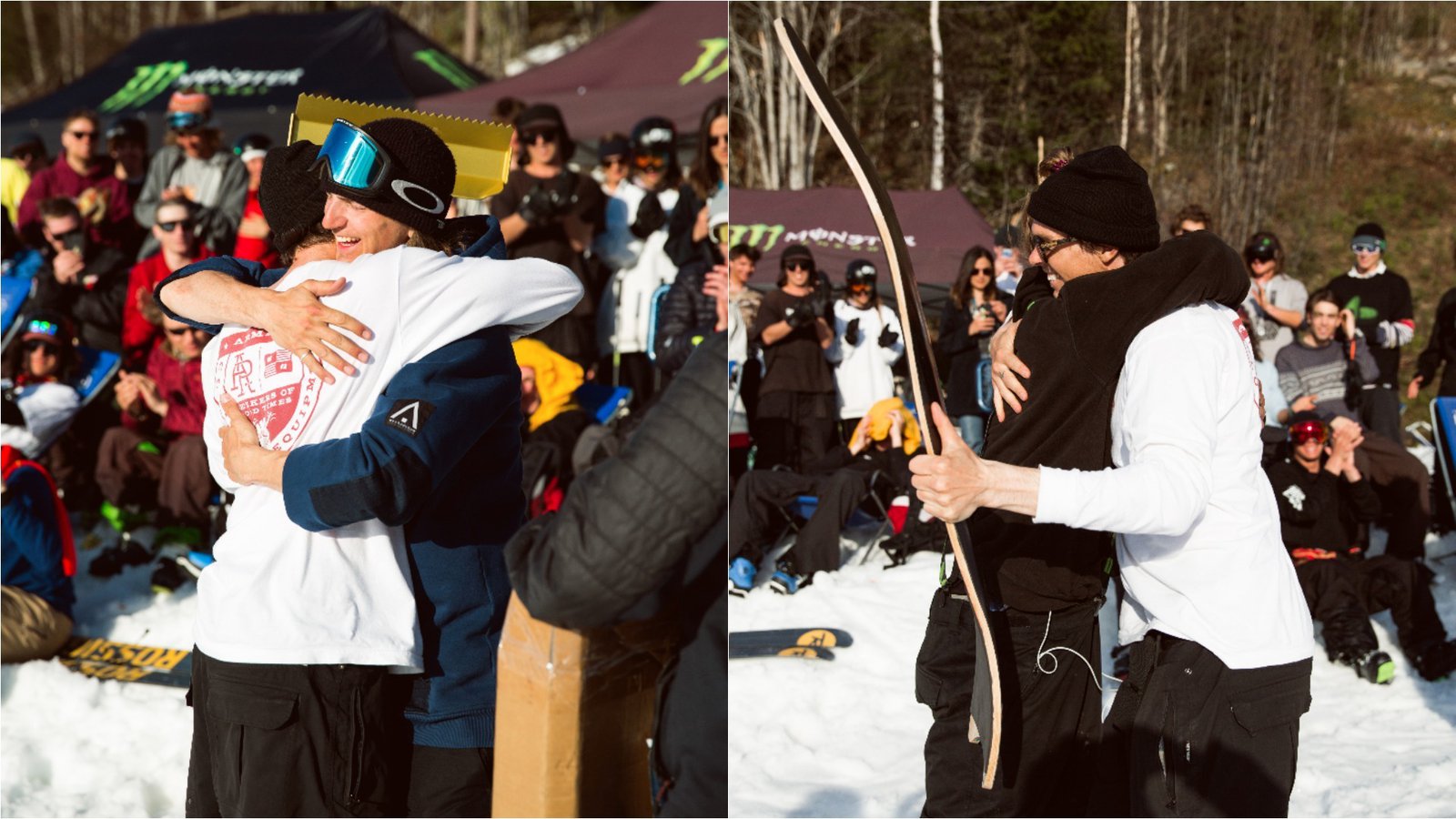 Vibes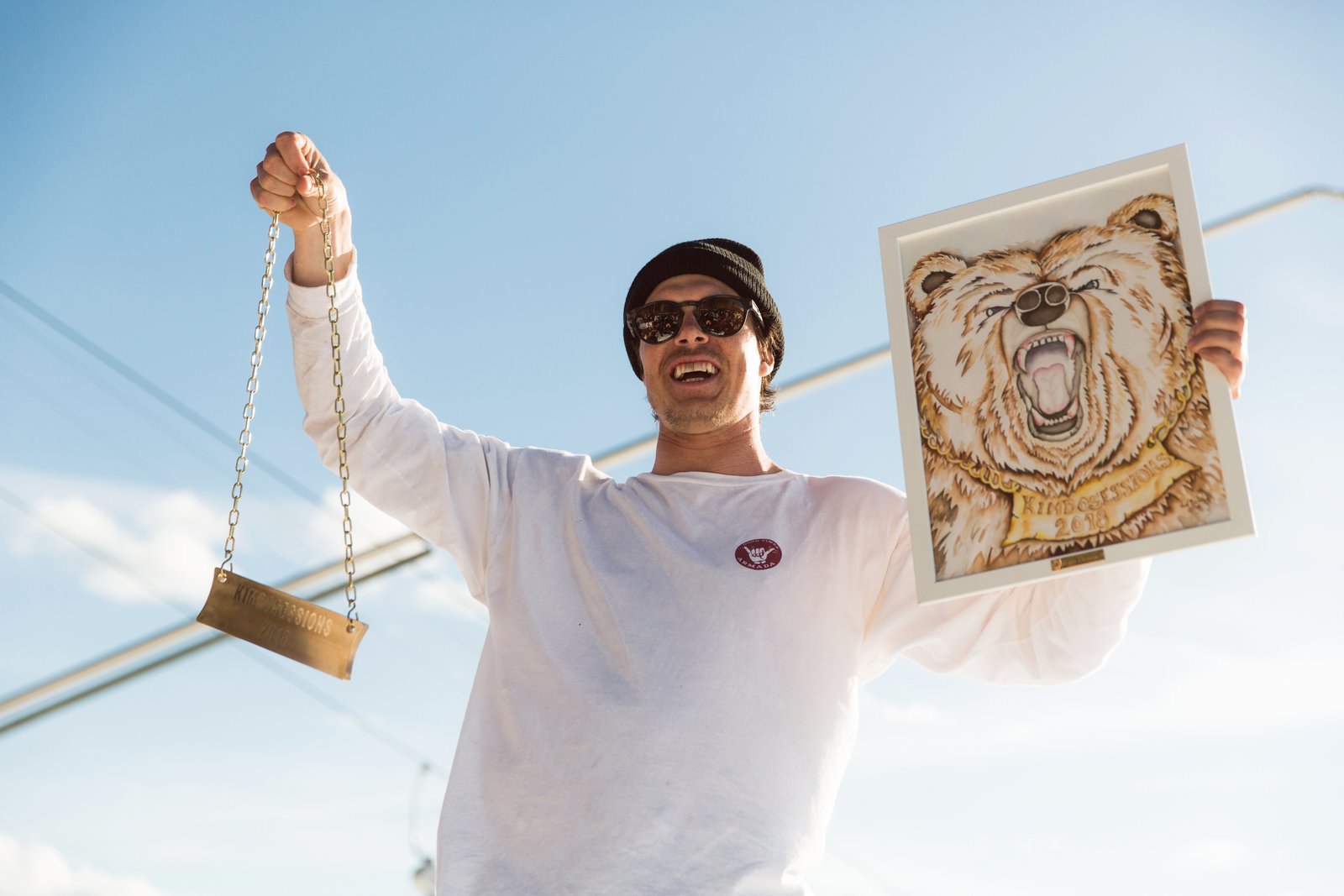 The legend himself, Kimbo, with the Rider Of The Week prizes
Immediately after a short prize giving, which saw Krypto win a one-of-a-kind painting by Kim's dad and some serious bling, and Anton a hand-painted powsnurfer, Jake Carney tried possibly the gnarliest rail transfer in history, gapping from the side of one of the angled kickers to the end of the battleship to waterfall rail. It shouldn't have been possible to get anywhere close to the rail, but nonetheless, he got both feet on. And that pretty much sums up Kimbo Sessions. In the industry climate, it really shouldn't be possible, yet it is. And it's fucking amazing.
https://www.instagram.com/p/BievT_ElCWM/?hl=en&taken-by=newschoolers