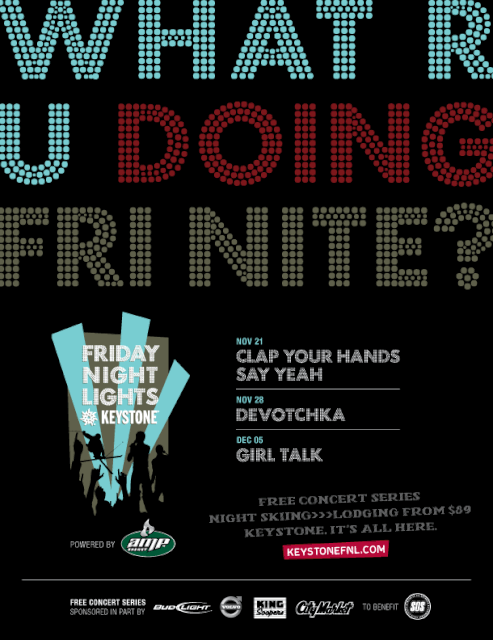 Keystone Resort will be celebrating the return of winter with the Friday Night Lights Concert Series in November and early December 2008. There will be three weekends of night skiing, free concerts, and great lodging deals.
The Friday Night Lights Concert Series will feature:
• Clap Your Hands Say Yeah - November 21
• DeVotchKa - November 28
• Girl Talk - December 5
Check out http://www.KeystoneFNL.com to listen to music from all three bands and get more info. Also there are some great deals on lodging during Friday Night Lights, specials include rooms at the Keystone Inn starting at $89. It's all on http://www.KeystoneFNL.com.
The concerts will be located adjacent to Keystone's new River Run Gondola in the Hunki Dori Parking Lot located in the heart of the River Run Village.
There will be additional entertainment leading up to the concert at the base of the gondola. Also, pre-event parties will be in various locations around River Run.
Concert-goers will be able to purchase food at River Run restaurants. Beverage sales will be sponsored by Bud Light benefiting SOS Outreach, a not-for-profit organization aimed at building character and self-esteem in youth through snowsports. This is an all ages event.
For more information, please visit http://www.KeystoneFNL.com