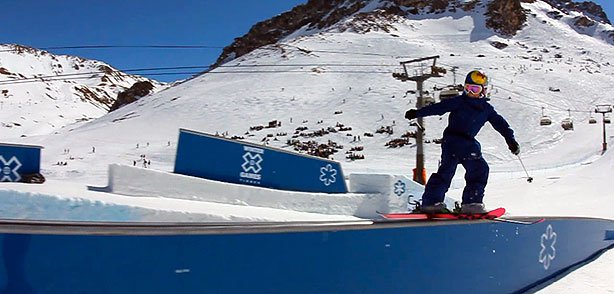 Kelly Sildaru is going from strength to strength and this latest blog update is no exception. She's gone from contest to contest throughout the season so it was only right for her to pop along to the Winter X Games Europe. Unfortunately she wasn't part of the X Games in Tignes but she wanted to get her taste of the course. With the amount of sponsors she already boasts, it was going to be an easy ask to have a few runs of the slopestyle course while the riders were training.
Not only that but she bumps into Andreas Hatveit on a chairlift and tags along with him for a few runs! As if you could as for a better teacher!
Follow Kelly on Facebook.
facebook.com/pages/Kelly-Sildaru/128602437465?ref=ts
More Ski Videos
Related posts:Kelly Sildaru: Videoblog – Episode 2 Fast becoming my new favourite ripper, Kelly Sildaru releases episode...
Kelly Sildaru: Videoblog – Episode 4 After all she's done already, can she possibly be awake...
Kelly Sildaru: 2012 Videoblog – Episode 1 Kelly Sildaru has to be one of the brightest talents...