A guest post by Lara White from PhotoMint.
It's the one of those things that holds many photographers back. Each time you create a set of images, it's more like a blooper reel than a best hits collection unless you cull them ruthlessly. Your image library grows and grows, each set containing hundreds of images, the best ones hiding in there somewhere amongst the slop. Sound familiar?
Culling your best work is absolutely critical to your growth as a photographer. That means getting in there and separating the wheat from the chaff" so to speak-be ruthless. It's hard work to throw away your work, especially for an artist. But in order to learn from your mistakes and grow as a photographer, it must be done. It?s one of the very best ways to learn about your strengths and weaknesses photographically.
Why deleting is different than reviewing
Everyone looks at their work and thinks about what they like and don't like. But until you make an actual decision about each image-is it the very best image, is it good (but not great) or was it just practice-you won't open yourself up to the learning that comes when you actively force yourself to separate the best from the throwaways.
By making decisions about what works and what doesn?t, you begin to train your eye. As an example, let's say you are looking at a dozen good images of a landscape, each one slightly different. By comparing and contrasting several good photos, some are better, some are worse. One image is going to be the best. And everything other image is not the best, and therefore inferior in some way.
Which one is the best, and how do you know? With this question in mind, you are forced to look at the little details in a new way. Maybe one has better exposure or slightly better composition. It might be in the details, and you have to look carefully, but that's where you'll find your greatness-in the little things.
Your work starts to improve
You?ll begin to see when you really ?got it? and what led to that moment, understanding and learning more from the images before and after that one great shot. You?ll see what wasn?t working-was there too much sky or not enough sky? Next time, you?ll compose a little bit better. You?ll remember what you liked. You?ll spend a little less time creating images that you know won?t work.
You'll start spending more time creating images that are better. Each time you'll be able to duplicate a little more of what worked and spend less time on shots that don't work.
Another benefit to editing images is that your portfolio instantly improves as you remove the uninspiring images. You don?t want the throwaways, the garbage, and the mediocre images crowding out the gems. Sift through and delete images that are unexceptional so that great images have a chance to shine. Allow none of the uninspired images to slip through. You don?t really want to show off your average work now, do you?
Learning to see-perspective and composition
Perspective and composition are two key areas that I have improved over the years due to ruthlessly culling images. Each editing or culling session is a lesson in learning what separates a great image from an ordinary image.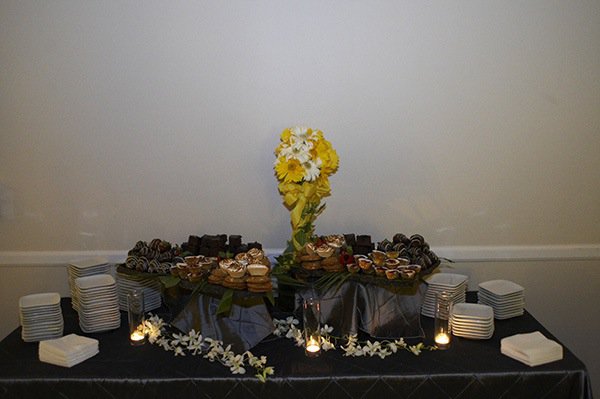 For example, in the dessert table overview image, it's pretty much a straight on shot of the table. It doesn?t work because it's boring, it doesn?t entice the viewer and it doesn?t create any desire for the desserts. There is too much wall and not enough yum.
What did I do wrong in composing the image? The perspective is too high. I need to get lower, at eye level with the desserts. And in order to make the desserts appetizing, they need to seem larger than life.
Compositionally, this means that I would choose a specific dessert and allow it to take up more space in the frame. Finally, so the image doesn?t feel cluttered by too many desserts, I use a low f stop and focus only on one dessert, allowing the rest to become background.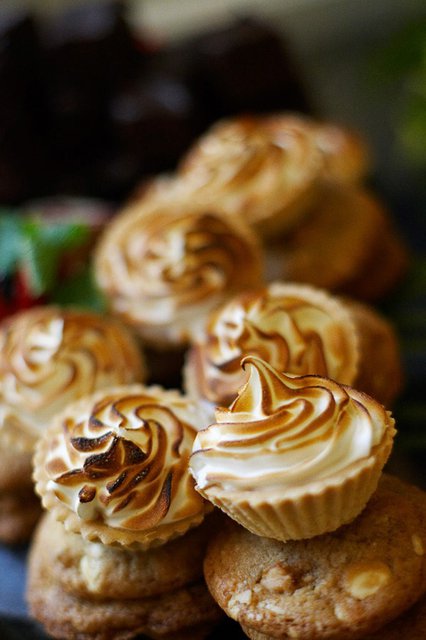 I didn?t learn this instinctively, and I didn?t even learn it at the shoot. The dessert table overview shot actually felt more appropriate, it captured the scene truthfully and was a straightforward shot. But there is nothing unique or interesting about that image. It's the same as anyone would take with a point and shoot.
As photographers, I believe it's our job to say something with the images, to add something more than just what meets the eye. I learned this more in the editing room than on any shoot. The editing or culling process allows me to see what works and why. And even more important, I learn what doesn't work.
So hopefully you are convinced of the tremendous value in editing down your work to only the best. It's one of the fastest ways to improve the quality of your photography work. And who doesn't want to take better images?
Lara White is a professional photographer and author. For more tips on improving the quality of your images, download PhotoMint's free ebook: Get Published: A Guide for Wedding Photographers. For more marketing and business tips for photographers, check out PhotoMint.
Post originally from: Digital Photography Tips.
Check out our more Photography Tips at Photography Tips for Beginners, Portrait Photography Tips and Wedding Photography Tips.
Keep the Best, Delete the Rest