On the first of July I headed out to Whistler and first thing was first, I had to celebrate Canada Day! I went to the party and everywhere I turned I saw fellow skiers and knew people were in town and summer camp had really started! 
I spent a bunch of time cruising in both COC and Momentum camps, props to those guys for hookin it up! Both lanes were sick and had their own unique qualities to them. I worked on some new tricks and filmed with Steve from Salo Freeski TV and so I'll have an edit up soon... stoked! You guys should check that out if you get a chance.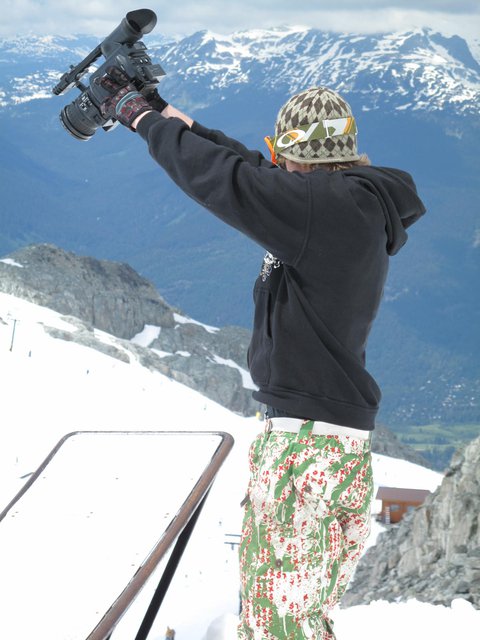 Steve from Salomon Freeski TV  getting the shot, ya Steve!!!!!
I got to go to a sunset shoot at Momentum on this dope step over jump and people were throwing down! So many people are killin it these days.. Paul B, Tj.. shout out to Peter Olenick. For all who thought Peter was done, well he's back and was throwing sick misty 5's to sw back... new double you guys have to check out. Yea Pete!! I also heard Turpin did a triple, which is just insane. hah Turpin is killin it!
Me at the Momentum sunset shoot, shots by Dan Carr who is the man!!
So I guess I can't finish talking about summer in Whistler without mentioning some of the crazy parties. Every friday, COC had theme parties and I mainly went out to those. Trying to keep it mellow since I wanted to ski a lot this summer. First party I went to was a cowbow party. There was actually a mechanical bull in the bar they had brought in and unfortunately I was too late to try it!! Such a bummer, but so awesome anyway. Next week was eurotrash night, so I did my best to come up with something sweet to wear. After putting somewhat of an outfit together, everything came in place when I found leopard print platforms to match my black dress. I definitely got a lot of compliments on those. It wasn't only me that made an effort for the party though.. to my delight and maybe not so much surprise, Peter was dancing in the bar with just a bright yellow speedo, a fanny pack, and sunglasses.
Yeah Pete! Last COC was beach party and I got soaked! Oh and one last party was the midsummer night ball, and what made it so delightful was Schmuck being my date. Industry rumor! oooo haha!
Me and Schmuck as my date haha ....
Well anyways... that's about it! Camps are over so I've just been hanging at the beach with friends. This weekend I'm going to for the first time ever drive across Canada back to the good old east coast.  Soon after that I'll be heading down to Mt. Hood for a women's Freeskier shoot so that should be really fun!!
My pad in Whistler this summer!
Hope you guys are all stoked, I know I am... winter's coming sooner than you know!
See you all soon!
Kaya