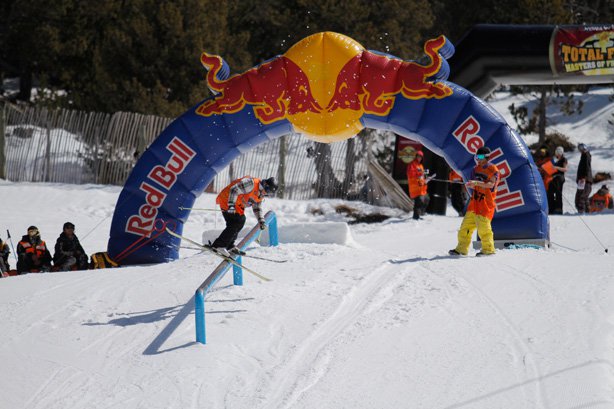 Spring sessions always rule, and the San Miguel Total Fight Masters of Freestyle held in the Andorran resort of Grandvalira was no exception this year, offering the highest quality of riding, burning sunshine, fresh snow and a cheering crowd to keep spirits high. The Coliflor Freestyle shapers spent the previous week carving magic into the slopestyle's five modules, starting with a 10 metre long rail followed by an impressive 2 metres by 4,5 metres San Miguel 'can' and polished off by 3 massive crowd pleaser kickers. The 50 participating riders battled extra hard this year to gain points for the AFP World Tour (Association of Freeskiing Professionals), which the Total Fight is taking part in for the first time in it's history.
Big tricks ruled the day, with only 16 riders out of the original 20 qualifying through to the second round. Elvis Eidsvold who came first in Friday's qualification rounds, ruled the first round with a Switch to BS 2 on the first rail, and a 180 in to 180 out on the San Miguel 'can'. He pulled a Right 9 Mute on the first kicker followed by a Switch Left 9 Tail on the second and polishing off his round with a Double Cork Left 12 on the third and final kicker. Sadly the Spanish rider Alex Parera and the Andorran rider Albert Martinez had to pull out at this point due to injuries. Only 8 out of the original 16 made it through to the next round, in which they would be paired against one another, the pairings were as follows: Austrian rider Tobias Gratz against Norwegian rider Elvis Eidsvold, the Finnish rider Verneri Hannula against his fellow countryman Kalle Leinonen, Austrian rider Lukas Mangold against the Spanish rider Luka Melloni and Andorran rider Noah Albaladejo against fellow Andorran Scotty Jordan.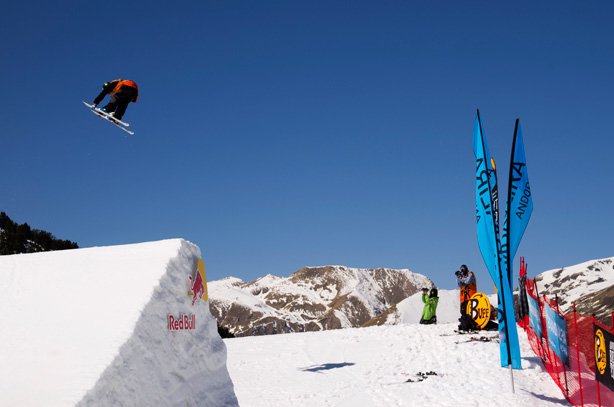 After an intense session, only 4 riders were left in the finals to fight for the title of Master of Freestyle. Elvis Eidsvold was once again dominating the game, but Kalle Leinonen, winner of last year's edition, was hot on his feet. Not to be outshone was the Spanish rider Luca Melloni and the Andorran Scotty Jordan. With only three rounds to prove their worth, the finals promised to be intense.
In the last round of the final, when Elvis Eidsvold's first place seemed to be sealed, the Finnish rider Kalle Leinonen blew everyone away with a 2 In 2 Out on the first rail, a Switch 2 In Switch 2 Out on the San Miguel 'can', a Switch Bio 10 Switch Left on the first kicker followed by a Switch Bio Right Mute on the second kicker and polishing off his stunning round with a Double Cork 12 on the final kicker, scoring him the victory. Elvis Eidsvold came second followed by Luka Melloni.
The prize money for the Total Fight this year was 5.000 ? for Leinonen, 2.000 ? for Eidsvold, 1.000? for Melloni and 500 ? for each rider classified to number 10.
Remarking on his second victory Kalle Leinonen said: "I am genuinely happy to be here again, this is a very organised competition, I can't wait to come back next year."
Spaniard Luka Melloni, who came third, said: "I've been competing here for many years already and it's the first time I've managed to get such a good position. I landed all my tricks and got the necessary points to be on the podium, so I'm happy!"
The party, continued into the night with the Total Fight Night Jibbing and the San Miguel Night Music ? Flaix FM party, with the amazing Crappy Tuesdays DJ's ripping it up.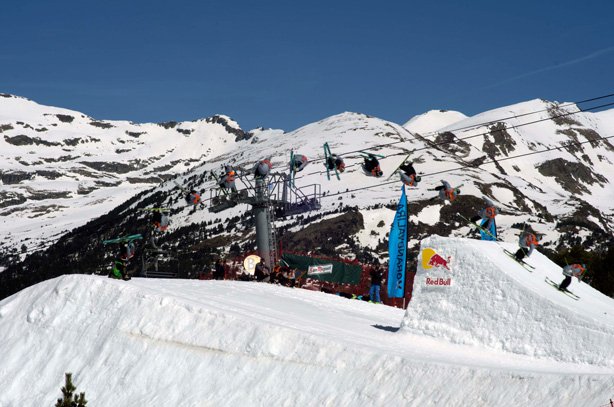 FREESKIING 2012 TOTAL FIGHT RESULTS
Top 16
1- KALLE LEINONEN (FIN ? 4FRONT)
2- ELVIS EIDSVOLD (NOR ? ARMADA)
3- LUKA MELLONI (ESP ? AMPLID)
4- SCOTTY JORDAN (AND ? ATOMIC)
5- VERNERI HANNULA (FIN ? ATOMIC)
6- NOAH ALBALADEJO (AND ? SALOMON)
7- TOBIAS GRATZ (AUT ? ATOMIC)
8- LUCAS MANGOLD (AUT ? K2)
9- JULIEN POIROT (FRA ? ELAN)
10- JOHANNES DREXL (AUT ? ATOMIC)
11- ALEXANDER HEBBE (SWE ? NORDICA)
12- ILKKA HANNULA (FIN ? ATOMIC)
13- VICENT GRAMOND (FRA ? ARMADA)
14- ENRIC FONT (AND)
15- GUILLAUME FERNANDES (AND ? KLINT)
16- DOVAL LOÏC (FRA ? MAZCOL)
Related posts:Kalle Leinonen wins Total Fight Masters of Freestyle The pick of the crop of freeskiers braved the rainy...
GRANDVALIRA READY FOR THE BEST TOTAL FIGHT EVER Andorra's Grandvalira is about to face its best edition of...
GrandValira Total Fight: Masters of Freestyle 2011 In it?s 6th year already, Grandvalira?s Spring freestyle treat, the...