Kumi-Yama at Les Deux Alpes was held over the last four days, and the only thing left to hold is heads after the final party.
.
Kumi-Yama consists of four elements: superpipe, best trick, photography and the piece de resistance is the Kamikaze Slopestyle. In the Kamikaze slopestyle, teams of three, have to simultaneously complete the Japanese inspired course, the winners in the pro section this year were the Downdays Team: Elvis Harsheim, Nicolas Vuigner and Arthur Lungo. Check out the 3D tour of the slopestyle course below, courtesy of Kumi-Yama:
.
KUMI YAMA # 2: Kumi Yama #2 – Set-up Slopestyle – plan 3D
.
David Tchag, won the photography competition, and with it a trip to Japan. While Loic Collomb Patton took the best trick title, with a double in the quarter pipe. We are still searching for superpipe results, but potentially Nicolas Bijassom took best trick in the pipe – if you know, let us know.
.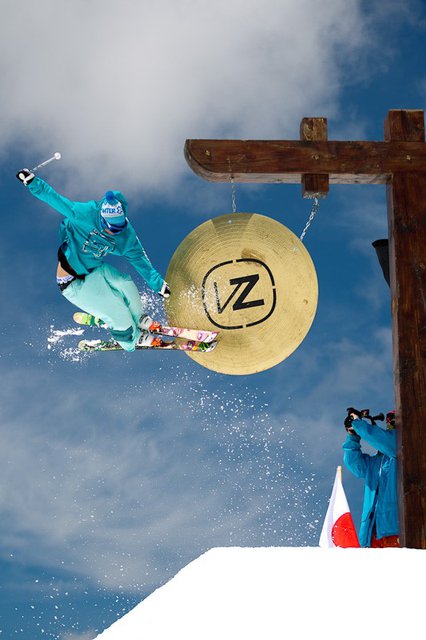 Xavier Bertoni hitting the gong. Photo courtesy of skipass.com