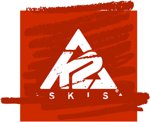 K2 SKIS OFFERS AN EXCLUSIVE SNEAK PEEK AT NEXT SEASON'S GEAR FOR FACEBOOK FANS ONLY
July 29, 2011 (SEATTLE, Washington) - Effective immediately, K2 Skis has blocked its website (http://www.k2skis.com) for anyone that is not a fan of K2 on Facebook in an effort to gain more followers. After becoming a fan, viewers will be treated to a sneak peek of all of K2's 11-12 product offerings, including new ski graphics and designs featuring Rocker profiles. This is a temporary block that will last for a brief period until the official launch of the site to the world on August 11, 2011.
This move comes as no surprise from a brand that is recognized for its unconventional marketing tactics. K2 is known for thinking (and existing) outside the box, as a brand that divides its focus equally between high quality products and fun in the outdoors.
Go to http://www.k2skis.com and become a fan of theirs on Facebook so that you can get the latest news and updates straight from the horse's mouth.
About K2 Skis
Born in the shadows of the Cascades, K2 has rocked the ski world for 49 years. Advancements like K2's BASELINE profiles that combine camber with varying amounts of rocker are carrying the sport into the future by making skiing easier and more fun for first-timers to seasoned pros. K2's products encourage millions of consumers in more than 60 countries to stop working, stop worrying and head to the mountains. To check out K2's complete collection of skis, helmets, poles, tools, bags and accessories, go to k2skis.com.