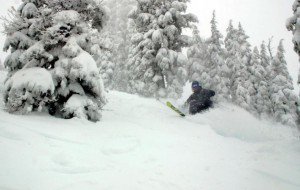 Alpine Meadows picked up another 15 inches in the past 24 hours as of 6 a.m., on top of the 5 inches reported yesterday morning. That brings the storm total up to 20 inches so far. The heaviest snow is moving through this morning with the cold front and then snow showers will continue into Thursday. Should pick up another 15-20 inches today and tonight so the storm totals by morning should be in the 3-4 foot range.
Light snow showers on Thursday will become heavier Thursday night into Friday as another wave rotates in. After picking up around 4-8 more inches tomorrow we could add 1-2 more feet Thursday night and Friday. That will bring us up into the 4-6 foot range for 5 day totals by Saturday.
Then the next wave looks like it will rotate in to our South only bringing us light snow showers Saturday and Sunday with several more inches possible. If the storm comes in a bit further North we could see a little more. By Sunday I expect that we will have 6 day totals in the 5-7 foot range on the mountain.
We begin to dry out on Sunday and Monday, but not for long as another storm dives down the coast bringing us more snow Tuesday and Wednesday. Right now the track of the storm looks a little further to our West down the coast meaning lighter amounts of snow, but that could change. Either way we should at least pick up several more inches with temps staying cold all the way through next week.
As we go into the last weekend of the month and the first week of March the pattern may setup similar to this weeks pattern. So we could be talking more cold and big snow. Stay tuned………