Hello all the Newschoolers!!
We went to the competition with a clear idea, that we want to make short story not worrying about the tricks but
"trying" to create something funny with a plot. We used a lot of time from our first days with filming everything exept skiing and thinking about what kind of shots we will need to complete the story.The kind of "idea" behind the video was from trailer of movie called "Step Brothers". We took some ispiration from it. Competition it self was really nice chill down three day session with two last days of bluebird. Every team was really pushing it hard trying to find also something else to shoot that only kickers up in the mountain. So every day after sessions at the kickers the woods above the village were full of sounds of hard working teams hitting trees,wallrides and what ever they found.We where lucky that we didn´t have and lights or car to be able to film longer days so we were always done right when it got too dark. So we didn´t had dollys, cranas or lights but we had plann and I am happy about the out come. We got a tie with Norway with points but we all desided  that their edit was more about skiing and they deserve to win. 
Gotta give big hand to the everyteam and organizers to make everything happen!!
I HOPE YOU LIKE THE VIDEO!!!!
http://www.newschoolers.com/web/content/viewvideo/id/265969/
Matti and his flat 5 with me and my cam taking a pic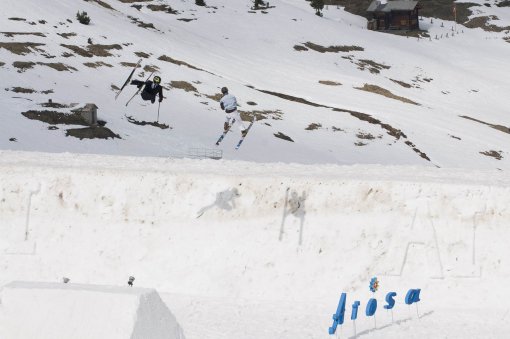 TEAM FINLAND with out any extra cameras
BR
Jussi