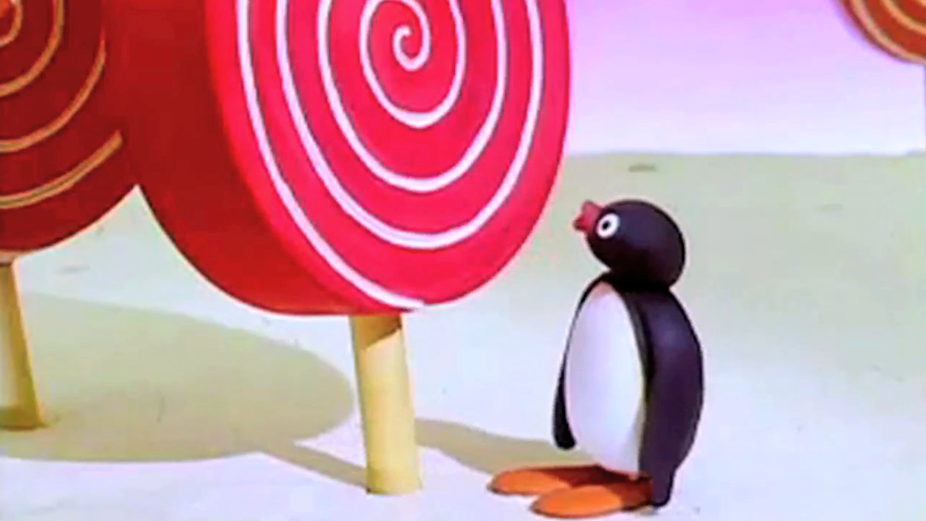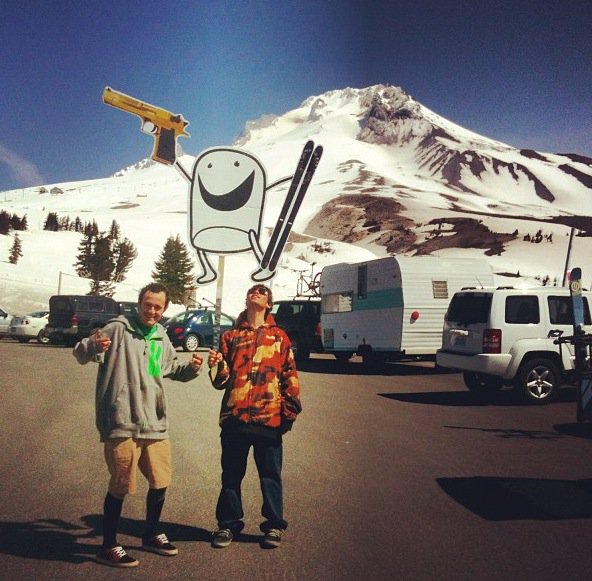 It was July first and Danny "Freed" Schwartz was stoned out of his mind standing on top an in-run of the biggest hit he had ever stepped up to. The Palmer lift might be the most well known chairlift in summer ski operations around the world and it just happens to play home to an enormous unloading station occupied by a few loose ski patrollers and half sleeping lifties.. A perfect roof to jump off, sitting 7000 feet above the oregon countryside. Built into the side of the Mount Hood glacier, the lift shack is buried nearly year round only to make a brief appearance in July and August.
http://www.newschoolers.com/watch/665970.0/Half-on-a-sack
Nearly thirty feet below Danny was a minuscule tranny built out of the notoriously grainy, salted summer snow and as he prepared to drop, it occurred to onlookers that this scraggly young gent had not taken one speed check, marked his takeoff, or stepped on skis in over a month and a half. Early July had never been kind to Danny, the year before he overshot a roller going mach 10, flying nearly 50 feet before knocking himself and his camera out of commission (possibly for good, he has never been the same) upon impact. Later that night, he could be found nursing a concussion at a rowdy fourth of July hood river party taking down shots of tequila before finally blacking out on the floor. The next morning his comrades found him 50 miles away passed out on top of a car in the streets of Government Camp without a clue of how he had gotten there. Knowing his luck few of the homies were surprised when Freed flew thirty feet to flat off the Palmer lift shack resulting in a glorious scorpion and double eject, thus starting the infamous summer of death gaps….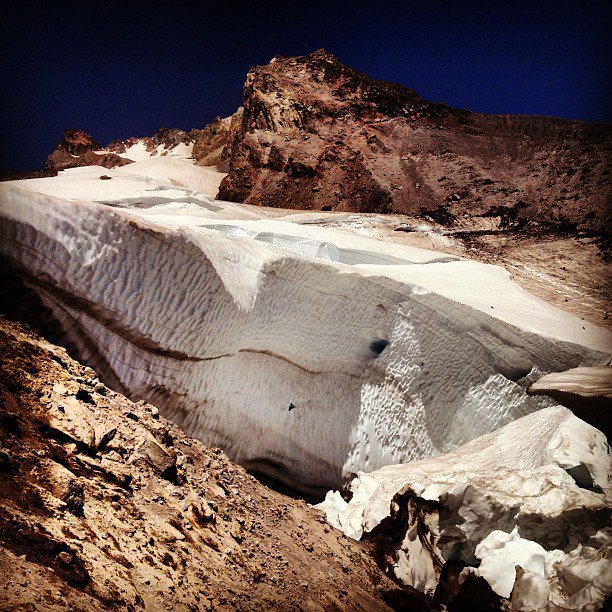 Spring and summertime booters have been sessioned on Hood seemingly since the beginning of time. They have been a mainstay in ski and snowboard movies for almost two decades and for good reason, the snow on Mount Hood sticks around 12 months out of the year, offering up perfect building conditions April through July. The weather, although notoriously fickly, can be absolutely perfect for bronzing, sipping tequila and skiing and when the sun's out.
The terrain is unlike any other mountain in the world; undulations and curvatures give way to massive cornices, bowls and rollers. It holds the type of aspects that northwest skateparks draw their inspiration from and encourages some skiers such as our good friend Maximilliam Smith to go "surfing", with two planks on snow.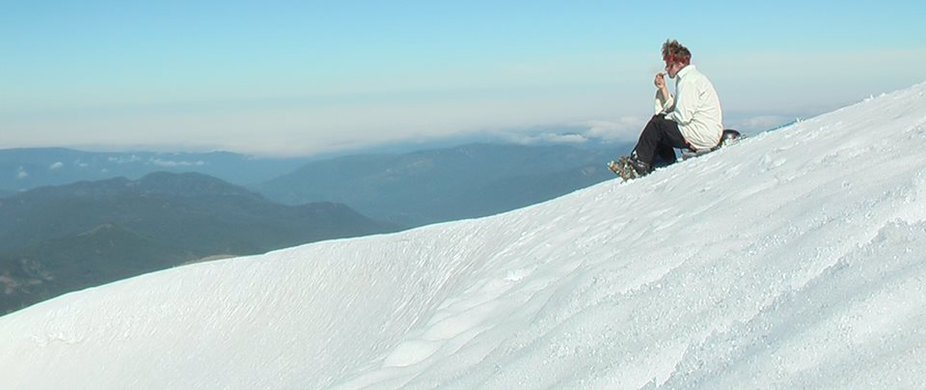 The mountain's influence on locals/ adventurous travelers exploring Hood has always been notable. There are possibilities for jump and jib creations everywhere.
O.G. crew member, Guz Reister, created a Newschoolers thread in the spring of '08 recruiting peeps for a jump session. The setup may not have been very well calculated but an ambitious crew set out to hit one of the most memorable features of their ski/ snowboard careers.
Original 2008 Thread-
http://www.newschoolers.com/ns/forums/readthread/thread_id/363441/
landing?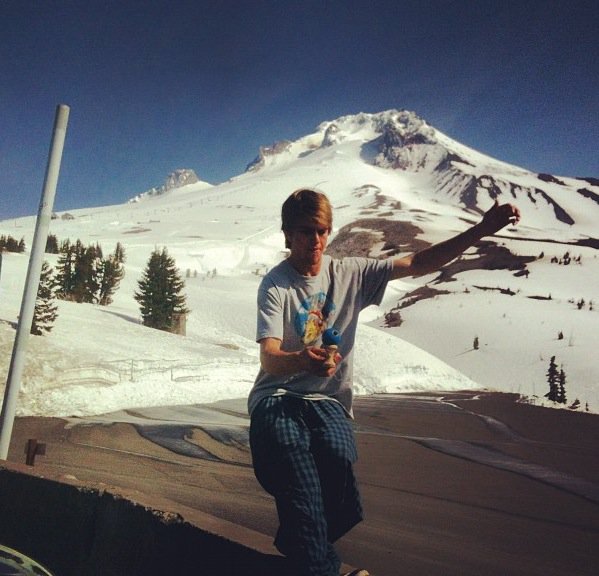 While a crew had been building and hitting smaller jumps up on the mountain and gypsy island for quite some time, it wasn't until the spring of 2012 that the beatniks truly realized the potential of the Timberline resort slackcountry. The Northwest was beckoning come May as it was the last chance to stack shots for a season movie (https://vimeo.com/43291806). With a perfect WCS park setup, sunny days as far as the eye could see, and a hundred dollar Timberline park pass, the crew left Utah hungry, beginning an annual 13 hour pilgrimage to Oregon.
Some moron leased Scrappy Joe a condo at the lavishly equipped Golden Poles community (eviction was soon after, DO NOT go in those hot tubs) and Meeks and Alec Nelson decked out their cars in preparation for some frigid car camping in the Timberline parking lot. Everything was beginning to fall into place. Hood was coming off a snow year of epic proportions and the colossal volcano was blanketed in snow so white you might have been able to see it from Idaho. Having improved their skiing abilities tremendously that first winter in Utah, Anel and Meeks took to the hills, scouting every nook and cornice within a 20 minute traverse of the resort (these guys seriously struggle when it comes to hiking).
What they found outside of the resorts boundaries would have surprised no curious Hood loc-dog as they feasted on potential jump spots with virgin eyes and creative mindsets. It was a surprise when the two were informed that the cornice band far skiers-left of the mile lift was a well known jump spot so in between sessions on the West Coast Sessions quad kink, Alec and Forster decided to go out and give these overhanging snow monsters a run for their money.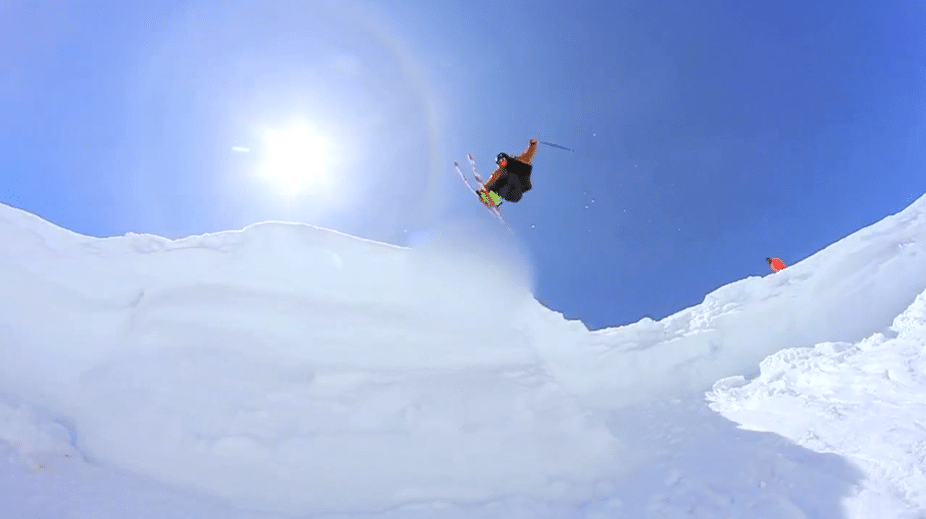 Meeks has jumping abilities comparable to a five year old girl who has never stepped on skis but had his mind set on a pillow style tap and mellow 180 he envisioned sending into the "smooth" transition below. Alec on the other hand, who has quite a bit more active brain cells, decided to take a pass on going big into a flat and short landing, choosing instead to film, throw snowballs and heckle Meeks as he struggled to hike up the hundred feet of landing.
After a couple of classic tomahawks and ejected skis, probably due to the fact that he was STILL wearing his sisters jeans, Forster landed his air with the help of some liquid courage from that 40 OZ PBR, the drink of choice for most govy alcoholics. While it was an all-time jump day for him, as he went on to stomp his 180, it would sadly be Forster's last hurrah in these spring jump sessions. He would go on to botch a nose butter 7 attempt and concuss his way through the spring and summer which in his mind, would always be the dark ages, a time which he retains very little memories.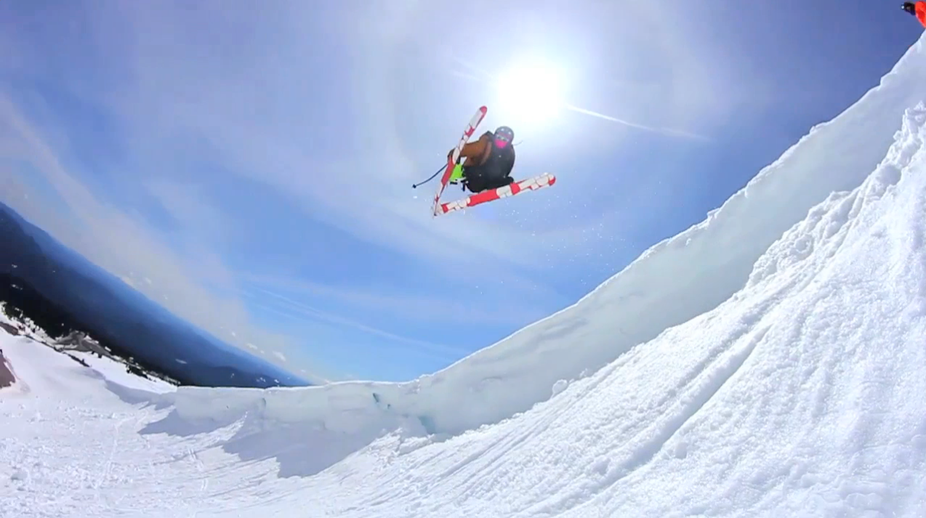 http://www.newschoolers.com/membervideo/493755.0/Let-s-All-Get-Down?s=95328
Just a short hike away from the timberline parking lot lies an immaculate long landing, perfect for building a hip upon. A classic Hood jump spot, this beaut has seen its fair share of bangers, from an appearance of Sammy Carlson in "Yeah Dude" to the site of Henrik Harlaut's best natural air at 2012 IF3, it may be just a little too perfect of a spot for these wannabe's. Earlier that May, 4bi9 had built this thing into a monster suitable for Nicky Keefer to drop a double underflip and Karl Fostvedt to switch 9.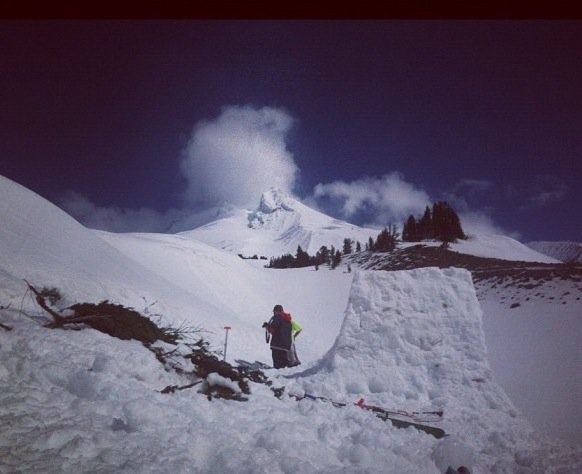 The Hood Crew rolled up to find the jump still in near perfect conditions with little work needed to make shit really pop off. If the past two years have proved anything, it is that the crew really has no problem making use of someone else's jump. I mean, theres no work involved making it ideal for a group of stoney kids with no shovels, let alone shovel skills, to session. As was the protocol that May, Alec, Meeks and underground legend Cam Snyder rose with the sun in the parking lot just in time to catch the mountain before it thawed. A quick traverse across a gully led them to the top of the inrun which they smoothed out quickly, clamoring to put finishing touches on the wu-booter. A few more friends showed up and a session was quickly underway: Alec brought the heat with a textbook cork 7 blunt and flat 3 while Cam took home the bangers of the session with a massive 7 nose. Satisfied for the time being, everyone headed back to the infamous T-line lot for numerous safety meetings and rest as the morning was just a prelude to what was coming that evening.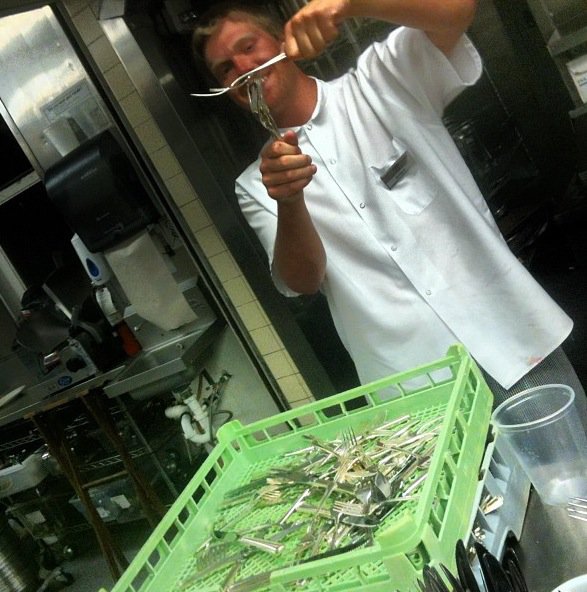 It is to be expected that the crew rolls up to nearly any spot squad deep, doobies and arguments in full tow. This time however, local photographer extraordinare Drew Smalley trailed the pack sucking down grit after grit, skeptical of the abilities of the rag tag gang. Things started to heat up with the big homie Anders Fornelius coming out swinging, needing no time to warm up.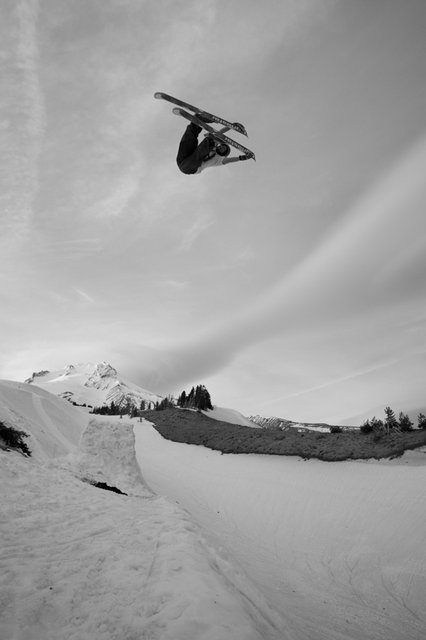 This is pretty standard "A4" right here, Anders is built like a true football player and is known to have survived on nothing but moles and high gravity 40's for weeks on end. His obsession with going huge is nearly as dangerous as his lifestyle and he may just have the nastiest and most dialed cork 7 truck driver in the history of skiing. In between hits he would drop some knowledge on the crew, including the merits of working out, then continue to hike a good twenty or thirty feet above the rest, picking up speed quick. His stoke and massive corked out spins fueled the session with Drew logging classic Hood photos. You know the type, skier upside-down 20 feet in the air, dirty snow and a sunset capped background completed by Mt. Jefferson.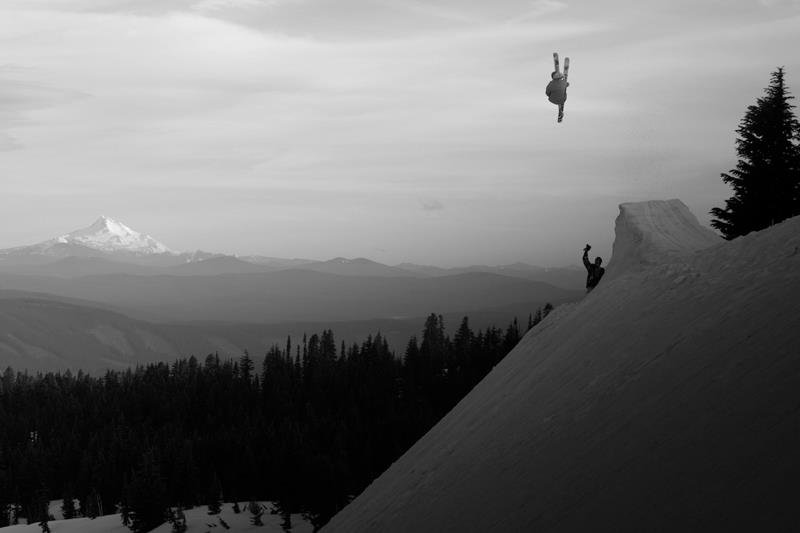 Just as everyone thought things were winding down for Anders he casually mentioned that he was about to send his first double flip, most everyone was skeptical, writing it off as another crackhead "A4" idea. Soon enough though, he was preparing to drop in, his Helly Hansen pants flapping so loudly in the wind that only the crews cheers were louder. Within seconds he was airborne flipping and spinning out of control but by some act of god he pulled it together first hit, and went on to unsucessfully attempt several more dubs.
The session continued on until dark with numerous highlights, Mike Briggs tossed a cork 10 blunt nearly into the stratosphere and Danny Schwartz somehow hung onto a first hit cork seven lead mute, with the sun long gone. Joey Vandermeer AKA Scrappy Joe Young recovered from a fit that nearly brought him to tears (yes the Hood Crew cries too?) and put down the only switch landing of the day, a perfect underflip 540 in a style only Joey can manage. It was a good thing he didn't drive back to Portland like he threatened and the day finally wound down with Meeks smashing his camera against some beer bottles in his backpack, thus ending nearly 12 hours of sessioning.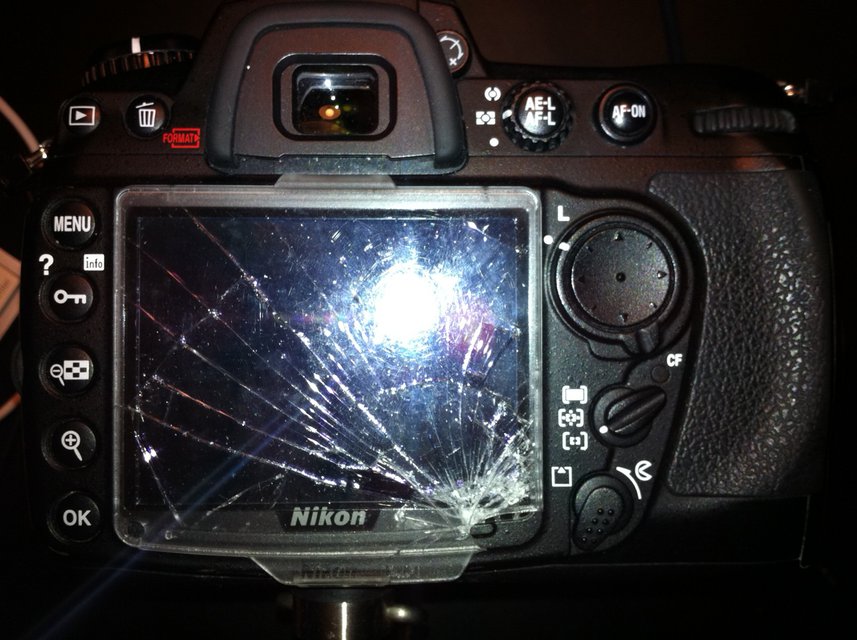 It's safe to say that spring sessions like these are what pulled Shinefest'12 together. While they would take a lot of trial and error, this was a beginning of sorts. It was the end of May and Freed was claiming he would never make another movie due to the fact that he was tired of spending too much time in front of a computer. Luckily this would not turn out to be the case..
(http://www.newschoolers.com/readnews/5529/Freed-?o=2)