Icelantic Skis proudly announces the highly anticipated addition of professional freeskier and entrepreneur Julian Carr to the Icelantic team. A match made in heaven.
Julian, a 10-year veteran and well respected freeski pioneer has quite an impressive resume including a World Record 2 breaking 210' front flip off a cliff in Engleberg, Switzerland (seen below) which won him Powder's Photo of the Year, multiple publications of his personal writing in national media, starring in nine movies and counting, three magazine covers so far, proud recipient of a Sickbird FWT belt buckle and his wildly successful company and cult-­like brand, Discrete Headwear.
Julian's drive and enthusiasm for sport, business, and living a lifestyle supported by passion made him a top candidate for Icelantic when deciding on who fill this coveted spot.
"I've followed Julian for a couple years now, constantly impressed by his ability on the mountain, his seemingly fearless nature, in the air, and now with Discrete. I know what it takes to put your neck out there, and with the combination of this passion both on the mountain and off, we're stoked to welcome Julian to the team and we look forward to feeding each other's fire and evolving both the Icelantic team as well as our respective brands." Says Icelantic Founder, Ben Anderson.
Julian taught himself to ski in eighth grade with a background in skateboarding and virtually no knowledge of what "mainstream skiing" was. He claims that this innocence is what drove him to develop the style of skiing that distinguishes him from the crowd. Another, seemingly match made in heaven for Icelantic Skis who, like Julian, tends to beat to the rhythm of their own drum.
Julian Carr
"It's an honor to be working with Julian. I've admired this guy for years, even stolen his front flip technique on a small scale here and there. I've watched Julian develop his career and his business and it makes sense now, working with him what makes him so successful – he is balanced, on his skis and in his office. Julian is a ripper, a passionate character and an effective communicator, a true professional. I appreciate what he brings to our industry and the way he embodies the sport of skiing on and off the hill," says Icelantic Team Manager, Scotty VerMerris.
In addition to skiing and business, Julian has taken an active role in his local Utah community and in his personal development where he enjoys trail running, writing, traveling, eating veggies and constantly pushing the limits of skiing and living.
"I am so fired up to work with Icelantic. Their skis are amazing, their crew is amazing, and they are always looking to create the best product and the most creative way to connect with their customers. I love the formula. Can't wait to shred on Icelantic!" - Julian Carr.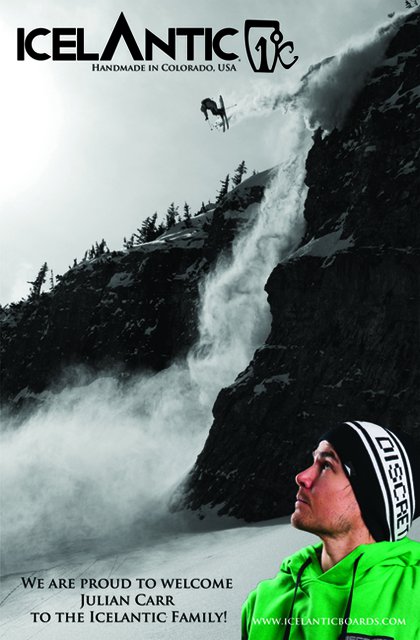 Welcome to the family, Julian!
Julian Carr's Memoirs From The Mountain - Episode 9