Words by Jeff Schmuck
Photos by Erik Wibaeus
After a long, hard day of sessioning yesterday from 6am-6pm everyone woke up a tad on the later side today in time for this evening's night session on the Trick Buster at the fourth day of the Jon Olsson Super Sessions in Trysil, Norway.
With cloudy weather forecasted for the morning Jon gave everyone the better part of the day off and as a result a whole lot of napping, surfing and facebooking ensued, although a few of the teams appeared to be out and about on top secret scouting missions in search of urban and other features to add to their video.
Right around the time the sun was supposed to set (had it been visible) our jump-thirsty wolfpack headed back up to the base of the hill for another go-around on the Trick Buster, and to say the session was epic would be a fairly ridiculous understatement.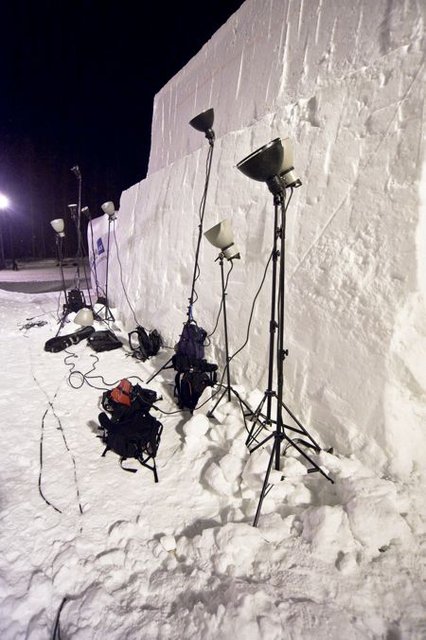 the flash jungle
There was little to no warm-up tonight as on top of the fact that everyone was incredibly ancy to ski after the day off (especially the Prince of Attention Deficit Disorder Tom Wallisch), after hitting the jump yesterday morning everyone had the speed and pop figured out so things got real serious real quick.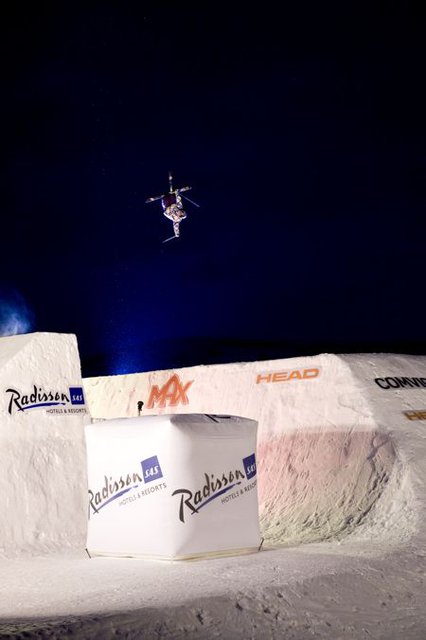 Luke Van Valin gets in on the act and takes the lead in the backflip competition between him, Peter Olenick and Bobby Brown. Check out the latest episode of NSTV below for details...
I can't recall ever seeing such a huge variety of tricks (from slow, stylish spins to flawless doubles) thrown in such a condensed period of time, and as a result it was rather intense to try to keep up with the impressive whirlwind of everything that was going down (plus I was filming for Chug Life 4 and I suck at filming so I needed to focus on that as well!), but here's some of the finer points of what each of the seven stacked teams got up to...
Team Norway's antics were on point and highlighted by an air-follow cam of a different kind from Jon Håtveit...via some paragliding. Based on what we've seen from these guys so far it'd be fair to say that their video will have quite possibly the most creative and impressive shots, and everytime they're out on the hill I yearn for the awards gala more and more so I can watch their video.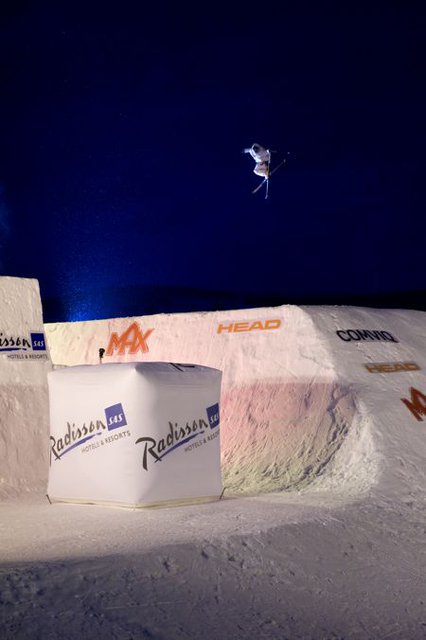 Andreas Håtveit
Team Sweden on the other hand took a page out of Jon Håtveit's book tonight as Jon Olsson decided to bust out some air follow cams (after he was done busting out a bouquet of doubles that is) on Jacob Wester, who was throwing flatspin 5's, 7's and kangaroo flips.
Team USA were also scoring themselves some pretty unique shots by strapping cameras to Colby West and John Symms' foreheads, which will be extra enjoyable to see, and hear, considering both of them were loudly chanting "USA, USA, USA" virtually every trip down the in-run.
Team Europe was bringing a 20 cc dose of supreme style to the party as expected, with Laurent Favre airing out some of his finest one of a kind grabs while his partner Henrik Harluat was stomping kangaroo flips and rodeo 9's with shifties that no doubt everyone on this site will be salivating over once his team's video drops.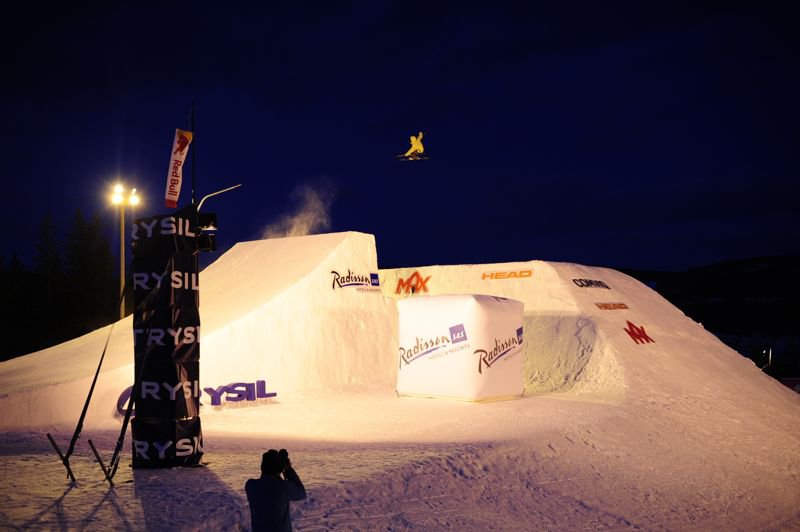 Russ Henshaw
Team Down Under's Russ Henshaw was killing it like an ax murderer from start to finish, throwing textbook switch 9's, 10's, 12's and perhaps even a 14 unless my and Bobby Brown's eyes were mistaken...although we didn't have a clear view of the landing from where we were sitting (so I guess that means we'll all have to wait for their video). Jossi Wells was giving it his all as well although he's presently extremely under the weather, and a result he didn't look quite like his usual self tonight. Here's hoping he gets better asap.
Team America was making a lot of noise as well, with more bio 7's, 9's and 10's from Simon Dumont along with an attempted double misty 14, while the prodigal son Tom Wallisch was bringing switch cork 9's, switch doubles and everything else in between.
Tom Wallisch
And last but not least, Team Canada were crushing it. Period. TJ busted out his gorgeous double that we haven't had the pleasure of seeing since Tignes Airwaves along with some TJ-esque switch 5's, 9's and 10's with some patented high mute grabs that he made famous, while Chug was throwing flatspin 5's, rightside 9's and switch doubles as well...and he was trying them both ways.
Thus ended a bangeriffic night session at the fourth day of the Jon Olsson Super Sessions. The plan for tomorrow is up in the air as the forecast is calling for some uglier weather, so stay tuned to NS for the latest and greatest, along with http://www.josupersessions.com, http://www.jon-olsson.com and http://www.jacobwester.com.